Eye of newt, hair of bat, and '100 Wicked Little Witch Stories'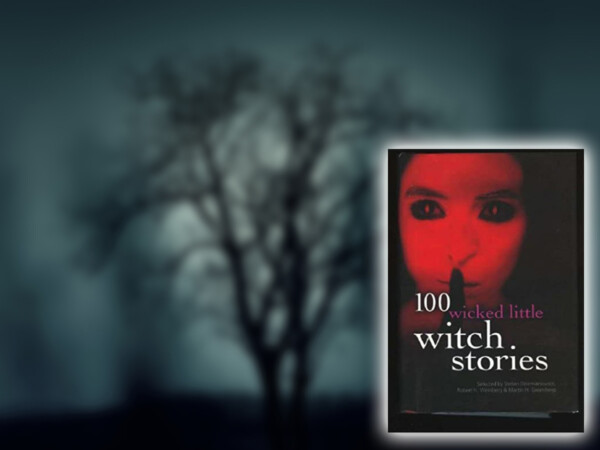 The genesis of my story, "I Feel My Body Grow," in "100 Wicked Little Witch Stories" was simple: I wanted to sell a story to "100 Wicked Little Witch Stories."
During the '90s writer and editor Stefan Dziemianowicz edited a number of anthologies for Barnes & Noble, all of them centered around very short stories. Seems publishers love short shorts, and I'm not sure if that's because they can get more in each books or that readers prefer very short stories. As a reader I have no druthers either way, though I will pause before committing to a novelette or novella. I didn't read Stephen King's "The Mist" for many years because of that bias.
When I heard Dziemianowicz was editing a book of witch stories I tried to come up with something that would fit his premise. I knew nothing about witches except what I'd seen in movies or TV. I knew a couple of people who claimed to be witches but their witchhood had less to do with eye of newt and hair of bat but the whole Mother Earth and Gaia thing, which I dismissed as a New Age hippie trend.
What I wanted was a witch for the modern ages, maybe not an evil witch but one who was vengeful. I came up with just such a creature:
Cancer.
Cancer is the modern scourge. We think of it as evil though it has no conscious intent – it merely is.
But I asked: What if it did have conscious intent?
"I Feel My Body Grow" is the answer.
This is a creepy story and when I re-read it recently I was gratified to see it holds up well, from 1995 to this writing in 2023. I think it would make a terrific feature in a horror anthology movie like "Tales from the Crypt" or "Twilight Zone."
I don't believe "I Feel My Body Grow" will leave you lying awake tonight jumping at every sound. I do hope it stays with you.
Oh, and one more thing. This story was converted into a vlog, which is posted on YouTube. Check it out! Witchy voice and all. Follow this link.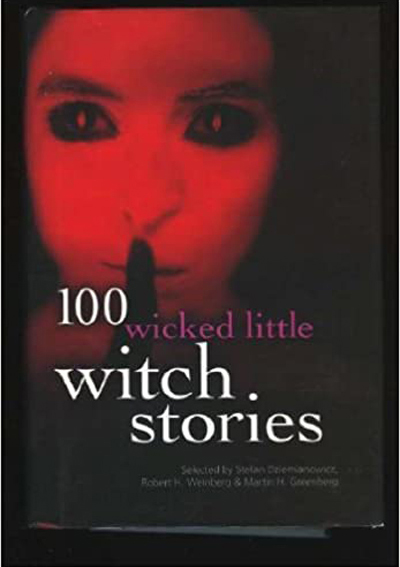 From Amazon
"I admit that when I bought this book, I didn't have very high expectations for it. I mean, I'd never heard of it before, but I took a chance and bought it anyway. And I loved it. The stories are all so different; some were funny, others were dark and foreboding, and some were exciting."
– Chayleen Anderson
The witches who populate these 100 delightfully scary stories include practitioners of white witchcraft and devotees of black magic. Most are female, some are male, and a few are thoroughly unclassifiable. They can be born witches or made witches, and may mix simple love potions or volatile concoctions that threaten all we hold dear. Some resent not receiving the treatment they feel they deserve from lesser mortals; yet other witches don't even realize that they wield any special influence at all. The many writers who take on this ever-fascinating character (so fundamentally human unlike her more paranormal, ghostly brethren) include Juleen Brantingham ("Burning in the Light"), Joe R. Landsdale ("By the Hair of the Head"), Simon McCaffery ("Blood Mary"), Terry Campbell ("Retrocurses"), Lawrence Shimel ("Coming Out of the Broom Closet"), and a coven of others.
About the author:
Del Stone Jr. is a professional fiction writer. He is known primarily for his work in the contemporary dark fiction field, but has also published science fiction and contemporary fantasy. Stone's stories, poetry and scripts have appeared in publications such as Amazing Stories, Eldritch Tales, and Bantam-Spectra's Full Spectrum. His short fiction has been published in The Year's Best Horror Stories XXII; Alfred Hitchcock's Mystery Magazine; the Pocket Books anthology More Phobias; the Barnes & Noble anthologies 100 Wicked Little Witch Stories, Horrors! 365 Scary Stories, and 100 Astounding Little Alien Stories; the HWA anthology Psychos; and other short fiction venues, like Blood Muse, Live Without a Net, Zombiesque and Sex Macabre. Stone's comic book debut was in the Clive Barker series of books, Hellraiser, published by Marvel/Epic and reprinted in The Best of Hellraiser anthology. He has also published stories in Penthouse Comix, and worked with artist Dave Dorman on many projects, including the illustrated novella "Roadkill," a short story for the Andrew Vachss anthology Underground from Dark Horse, an ashcan titled "December" for Hero Illustrated, and several of Dorman's Wasted Lands novellas and comics, such as Rail from Image and "The Uninvited." Stone's novel, Dead Heat, won the 1996 International Horror Guild's award for best first novel and was a runner-up for the Bram Stoker Award. Stone has also been a finalist for the IHG award for short fiction, the British Fantasy Award for best novella, and a semifinalist for the Nebula and Writers of the Future awards. His stories have appeared in anthologies that have won the Bram Stoker Award and the World Fantasy Award. Two of his works were optioned for film, the novella "Black Tide" and short story "Crisis Line."
Stone recently retired after a 41-year career in journalism. He won numerous awards for his work, and in 1986 was named Florida's best columnist in his circulation division by the Florida Society of Newspaper Editors. In 2001 he received an honorable mention from the National Lesbian and Gay Journalists Association for his essay "When Freedom of Speech Ends" and in 2003 he was voted Best of the Best in the category of columnists by Emerald Coast Magazine. He participated in book signings and awareness campaigns, and was a guest on local television and radio programs.
As an addendum, Stone is single, kills tomatoes and morning glories with ruthless efficiency, once tied the stem of a cocktail cherry in a knot with his tongue, and carries a permanent scar on his chest after having been shot with a paintball gun. He's in his 60s as of this writing but doesn't look a day over 94.
Contact Del at [email protected]. He is also on Facebook, twitter, Pinterest, tumblr, TikTok, Ello and Instagram. Visit his website at delstonejr.com .