Del reviews 'Don't Look Up'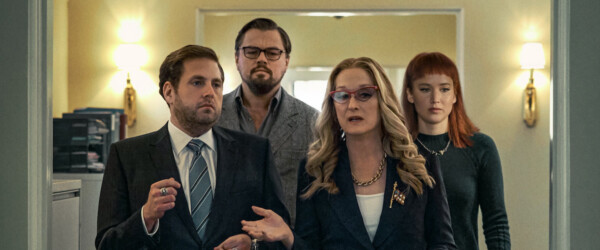 "Don't Look Up" Starring Leonardo DiCaprio, Jennifer Lawrence, Meryl Streep, Cate Blanchett, Rob Morgan, Jonah Hill, Mark Rylance, Tyler Perry, Timothee Chalamet, Ron Pearlman, Ariana Grande, Kid Cudi and others. Directed by Adam McKay. Two hours, 18 minutes. Rated R. Netflix.
Del's take
An existential threat is hurtling our way and what does the president of the United States want to do?
"Sit tight and assess," decides President Orlean (Meryl Streep), who fears an approaching apocalypse might cost her party the midterm elections.
That's the message of "Don't Look Up," a hilarious yet stinging denunciation of many things – our leadership's response to the climate change crisis, the empty-headedness of American culture, the corrosive influence of social media and metrics, and the dehumanizing fist of runaway capitalism. It is the new "Idiocracy" and it arrives just in time to skewer all the people who deserve a sharp stick in the eye.
The story is about a milquetoast, Walter Mitty-style astronomer (Leonardo DiCaprio as Professor Randall Mindy) and his edgy PhD candidate assistant (Jennifer Lawrence as Kate Dibiasky) who discover a planet-killing comet that will smack Earth in six months. They discreetly sound the alarm only to discover the authorities, who don't understand the science and don't care, will not respond to the crisis unless it serves their interests. So Mindy and Dibiasky whistleblow the story to the media, where it lands with an apathetic thud. Most people are more invested in the breakup of two popular singers, Riley Bina (Ariana Grande) and DJ Chello (Kid Cudi). As doom becomes an undeniable reality the government staggers into action by entrusting the fate of the planet to a whackjob Elon Musk-style billionaire (Mark Rylance as Peter Isherwell), who wants to break up the comet into smaller pieces and let them collide with the Earth so the fragments can be mined – by his telecommunications company, Bash – for precious metals crucial to the manufacture of smart phones. All that's left is negotiating with the countries to be annihilated over how much money they want for their dead.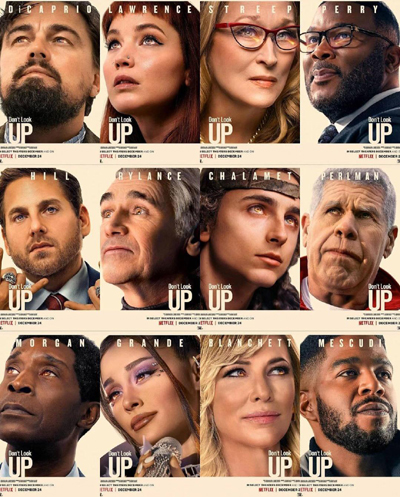 "Don't Look Up" offers more Oscar-fueled star power than a map of the Milky Way, and many of the performances are better than strong. DiCaprio as hapless Dr. Mindy channels a furious Howard Beale (Peter Finch in "Network") when he finally revolts against the frustrating ennui of 21st century America, while Jennifer Lawrence effectively portrays the optimism of youth as it dashed against the rocks of the corrupt, self-serving inertia that serves as leadership these days. Meryl Streep evokes a dumb-as-a-box-of-rocks, Donald Trump-style president whose only strong suit is a kind of animal cunning, while Cate Blanchett, as the glib yet shallow peroxide blonde who leads Dr. Mindy astray and then abandons him when he becomes a liability, perfectly portrays the fickleness of American media.
A few other performances worth mentioning: Ariana Grande is a hilarious Riley Bina, as is Mark Rylance as Isherwell, which I suspect is a composite of Musk and Steve Jobs. And Jonah Hill as the juvenile White House chief of staff (and Orlean's son) makes you want to reach through the screen and slap him. The one performance that left me cold was Timothee Chalamet's Yule, though at one point he offers a prayer for the ages.
"Don't Look Up" has gotten mixed reviews. Nick Allen of RogerEbert.com calls it "McKay's worst film yet" while Charles Bramesco of The Guardian dismisses it as a "disaster." The New York Times and CNN were more merciful. The complaint centers around the jokes and caricatures, which they say are lowbrow. I would argue that in an age where attention spans near a half-life of a nanosecond, the lack of "razor-sharp wit" is as much commentary as the jokes and characters themselves.
I enjoyed the hell out of "Don't Look Up" and I thought it communicated exactly what the "Let's Go Brandon" crowd needs to hear – that they're a bunch of fucking idiots who are screwing up the country and the planet with their selfish ignorance. The fact that this message was delivered with a hammer, not a scalpel, is a strike in the movie's favor. Do you seriously think people who believe vaccines are evil and Donald Trump is still the president would notice or respond to "razor sharp wit"? Give me a break.
Isherwell brags that his algorithms are so good they can predict when and how President Orlean will die. She will be eaten by a "bronteroc."
I won't tell you what that means. To find out you must watch past the credits. But it's pretty damned funny.
Meanwhile, check out "Don't Look Up." Pay no heed to the critics – it's funny as hell and I think you'll enjoy it, unless you're one of the people being skewered. And who knows? If you have a sense of humor, you too might get a laugh.
I rate it a solid A.
Del Stone Jr. is a former journalist and writer.