I visited the mall the other day. It was sad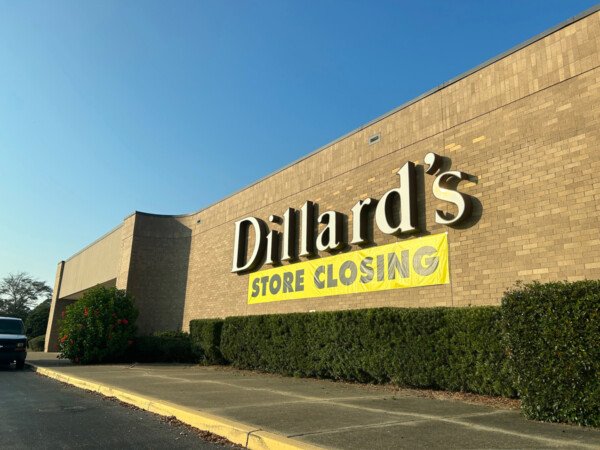 I visited Santa Rosa Mall the other day. It was sad.
Sears was shuttered. I almost never shopped there unless I needed a belt. Sears always had a large selection of belts for guys with beer guts like yours truly.
When we were kids we looked forward to the arrival of the Sears catalog. I would pore over the toy section, dreaming of the airplanes, slot car racers and train sets that rumbled across those pages.
No, we never used it for toilet paper. But our parents probably did.
Belk has been closed many years. They had cool shirts and those wonderful Polo towels I still use. But I hated their mirrors. I would try on a new pair of pants or shorts, look in the mirror and hate what looked back at me.
The food court is a pale shadow of its former self. A few restaurants cling to existence, but it's nothing like it used to be.
I miss the bookstore, theater and arcade. I miss the crowds that thronged its concourses. I miss going into the music store and browsing the CDs while Thompson Twins and "Into the Groove" played from overhead speakers.
I grieve for the mall, and I can't understand what has happened — not just to it but people, too. Why would people rather visit a strip shopping center, or shop online? It's an absolute pain in the you-know-what to return a pair of shoes you ordered from an online store and they don't fit.
I have written about what the mall could become — a "mall" of medical facilities and doctors, for instance. But one community in Bristol, Virginia, came up with a novel solution I know would work here.
Two developers are turning their town's mall into a casino, hotel and convention center.
The casino is to be situated in one of the empty anchor stores while the remainder is occupied by hotel rooms, a children's area with swimming pools, restaurants and retailers.
They expect this complex to bring in 2,000 jobs at the outset, growing to 5,000 with an average annual income of $46,000.
Think of it: Jobs, income for Mary Esther, more money for the state and a revival of a once thriving center of commerce. The state would have to change its laws, but that's not an impossible obstacle.
Why not roll the dice on a casino?
About the author:
Del Stone Jr. is a professional fiction writer. He is known primarily for his work in the contemporary dark fiction field, but has also published science fiction and contemporary fantasy. Stone's stories, poetry and scripts have appeared in publications such as Amazing Stories, Eldritch Tales, and Bantam-Spectra's Full Spectrum. His short fiction has been published in The Year's Best Horror Stories XXII; Alfred Hitchcock's Mystery Magazine; the Pocket Books anthology More Phobias; the Barnes & Noble anthologies 100 Wicked Little Witch Stories, Horrors! 365 Scary Stories, and 100 Astounding Little Alien Stories; the HWA anthology Psychos; and other short fiction venues, like Blood Muse, Live Without a Net, Zombiesque and Sex Macabre. Stone's comic book debut was in the Clive Barker series of books, Hellraiser, published by Marvel/Epic and reprinted in The Best of Hellraiser anthology. He has also published stories in Penthouse Comix, and worked with artist Dave Dorman on many projects, including the illustrated novella "Roadkill," a short story for the Andrew Vachss anthology Underground from Dark Horse, an ashcan titled "December" for Hero Illustrated, and several of Dorman's Wasted Lands novellas and comics, such as Rail from Image and "The Uninvited." Stone's novel, Dead Heat, won the 1996 International Horror Guild's award for best first novel and was a runner-up for the Bram Stoker Award. Stone has also been a finalist for the IHG award for short fiction, the British Fantasy Award for best novella, and a semifinalist for the Nebula and Writers of the Future awards. His stories have appeared in anthologies that have won the Bram Stoker Award and the World Fantasy Award. Two of his works were optioned for film, the novella "Black Tide" and short story "Crisis Line."
Stone recently retired after a 41-year career in journalism. He won numerous awards for his work, and in 1986 was named Florida's best columnist in his circulation division by the Florida Society of Newspaper Editors. In 2001 he received an honorable mention from the National Lesbian and Gay Journalists Association for his essay "When Freedom of Speech Ends" and in 2003 he was voted Best of the Best in the category of columnists by Emerald Coast Magazine. He participated in book signings and awareness campaigns, and was a guest on local television and radio programs.
As an addendum, Stone is single, kills tomatoes and morning glories with ruthless efficiency, once tied the stem of a cocktail cherry in a knot with his tongue, and carries a permanent scar on his chest after having been shot with a paintball gun. He's in his 60s as of this writing but doesn't look a day over 94.
Contact Del at [email protected]. He is also on Facebook, twitter, Pinterest, tumblr, TikTok, Ello and Instagram. Visit his website at delstonejr.com .