That cat will need all of his nine lives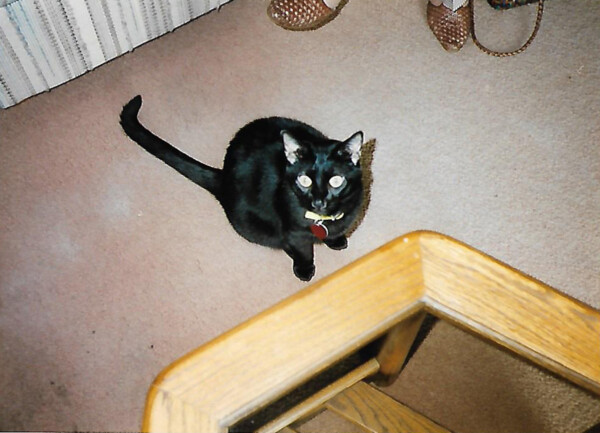 Today's cat itinerary:
5 a.m. – Sit outside the big guy's door and meow frantically as if to shout, "The house is on fire!" When he's standing in front of you, wild-eyed and hair sticking out at crazy angles and screaming, "What's the matter, kitty?" stare at him blankly. Then walk away.
5:15 a.m. – Go spelunking inside the couch, using the entrance you just created by sharpening your claws.
5:30 a.m. – Make sure all the dirty dishes in the sink are licked clean.
6 a.m. – The big guy just got out of the shower. Lap up all the water in the bottom of the bathtub. Then take a long swig from the toilet.
6:30 a.m. – The big guy just got back from jogging and he's all sweaty. Leap into his arms and rub all over him, especially if you're shedding.
7 a.m. – Meow piteously as if you were starving, as he replaces the dry food in your dish with NEW dry food. Look at it. Walk away.
7:30 a.m. – He's brushing you. For no reason whatsoever, BITE him.
8 a.m. – He's leaving for work. Follow him to the door. Gaze up at him with that I-Know-You're-Leaving-And-I'll-Be-Here-All-Day-Alone-But-I-Guess-It-Beats-The-Kitty-Gas-Chamber-Down-At-PAWS look.
8:01 a.m. – He's gone, thank God. Thought he'd NEVER leave. Now, down to business.
8:15 a.m. – Traipse across all the cabinets, the kitchen table, the stereo, the TV, and all the other places you're not allowed to go when the big guy is here.
8:30 a.m. – Sharpen your claws on the BACK of the stereo speaker so the big guy won't see it until they replace the carpeting.
9 a.m. – Wallow in that basket of fresh laundry, getting cat hair on his dress pants and work shirts.
9:30 a.m. – Take a break.
Noon – Have a brunch of VCR wiring.
1 p.m. – Practice rappelling down his collection of Polo shirts hanging in the closet.
2 p.m. – Uh oh. It's hairball time. Find a nice clean spot on the carpet.
3 p.m. – Climb upside down on the bottom of the box springs, ripping the fabric in the process.
4 p.m. – Find the one breakable item in the house and accidentally knock it off the shelf, breaking it. Hide the pieces under the couch. The big guy will find it next time he moves.
5 p.m. – A door slams. It's the big guy! He's home. Hooray!
5:10 p.m. – Saunter downstairs to see what the big guy's doing. Don't be TOO friendly – he doesn't need to think he's wanted … very much.
6 p.m. – Hey! A strange cat approaches the sliding glass door. Bow up, raise your hackles, spit, hiss, then fight with the interloper through the screen door.
7 p.m. – the big guy is on the phone, which means he's not lavishing attention on you. Look him squarely in the eye, rake your claws across the couch and run like hell.
8 p.m. – He finally sits down. Good. You needed a warm lap to curl up on and sleep. He really is good for something.
About that photo … Jason's off the hook. I was within a hairsbreadth of publishing the photo when a rush of nay votes spared Jason the indignity of having his, uh, girlish figure displayed before all. Next time, I'll ask for our readers' forgiveness, not their permission. Got it, Jason?
This column was originally published in the November 5, 1997 Northwest Florida Daily News and is used with permission.
About the author:
Del Stone Jr. is a professional fiction writer. He is known primarily for his work in the contemporary dark fiction field, but has also published science fiction and contemporary fantasy. Stone's stories, poetry and scripts have appeared in publications such as Amazing Stories, Eldritch Tales, and Bantam-Spectra's Full Spectrum. His short fiction has been published in The Year's Best Horror Stories XXII; Alfred Hitchcock's Mystery Magazine; the Pocket Books anthology More Phobias; the Barnes & Noble anthologies 100 Wicked Little Witch Stories, Horrors! 365 Scary Stories, and 100 Astounding Little Alien Stories; the HWA anthology Psychos; and other short fiction venues, like Blood Muse, Live Without a Net, Zombiesque and Sex Macabre. Stone's comic book debut was in the Clive Barker series of books, Hellraiser, published by Marvel/Epic and reprinted in The Best of Hellraiser anthology. He has also published stories in Penthouse Comix, and worked with artist Dave Dorman on many projects, including the illustrated novella "Roadkill," a short story for the Andrew Vachss anthology Underground from Dark Horse, an ashcan titled "December" for Hero Illustrated, and several of Dorman's Wasted Lands novellas and comics, such as Rail from Image and "The Uninvited." Stone's novel, Dead Heat, won the 1996 International Horror Guild's award for best first novel and was a runner-up for the Bram Stoker Award. Stone has also been a finalist for the IHG award for short fiction, the British Fantasy Award for best novella, and a semifinalist for the Nebula and Writers of the Future awards. His stories have appeared in anthologies that have won the Bram Stoker Award and the World Fantasy Award. Two of his works were optioned for film, the novella "Black Tide" and short story "Crisis Line."
Stone recently retired after a 41-year career in journalism. He won numerous awards for his work, and in 1986 was named Florida's best columnist in his circulation division by the Florida Society of Newspaper Editors. In 2001 he received an honorable mention from the National Lesbian and Gay Journalists Association for his essay "When Freedom of Speech Ends" and in 2003 he was voted Best of the Best in the category of columnists by Emerald Coast Magazine. He participated in book signings and awareness campaigns, and was a guest on local television and radio programs.
As an addendum, Stone is single, kills tomatoes and morning glories with ruthless efficiency, once tied the stem of a cocktail cherry in a knot with his tongue, and carries a permanent scar on his chest after having been shot with a paintball gun. He's in his 60s as of this writing but doesn't look a day over 94.
Contact Del at [email protected]. He is also on Facebook, twitter, Pinterest, tumblr, TikTok, Ello and Instagram. Visit his website at delstonejr.com .