My final farewell to Maggie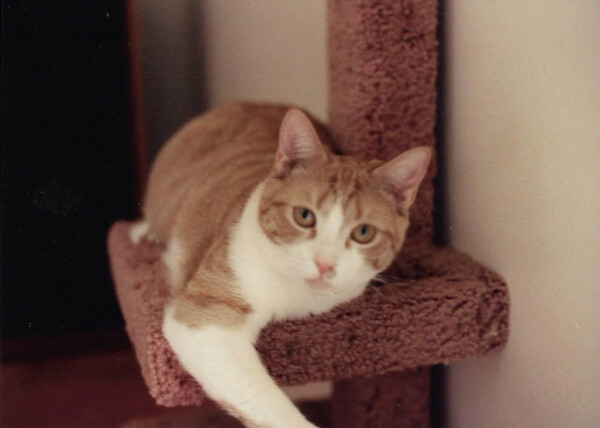 Monday night, I bought a coffin for Maggie.
I chose a white satin-finish hatbox, the right size for a 4-pound cat.
I wanted to bury her in Mom's back yard so she could be outside. We lived near a busy road and she never got to be outside when she was alive.
Maggie came into my life in 1991. She was a companion for my other cat, Pavlov. Little did I know she would steal my heart.
I found her at PAWS. She was snuggled with a littermate and I took her home with me. Over the years I wondered what happened to that littermate. I hope somebody took him home, too.
Maggie was the cat Pavlov never became. While Pavlov grew fat and earthbound, Maggie lolled in the window, drinking the sun. She preferred high places and once disappeared on the roof, reappearing on a neighbor's patio. That prompted a midnight visit from Mom, Dad and Dad's extension ladder.
But her favorite place was my lap. Summer or winter – it didn't matter. She would climb aboard, make biscuits with her claws and abruptly plop down, sleeping for as long as I cared to sit still. I can't count the times I remained on the couch long after I needed to use the bathroom because I didn't want to disturb the cat.
I knew she would live forever.
In July, Maggie began to act strangely. She refused the litter box, using the mat in front. I thought she was upset over the hurricane. I laid out plastic sheeting and newspapers.
She began to lose weight. Her hip bones showed and her fur, which had always shone a lustrous tabby orange, became dull and scruffy. Something was wrong. I took her to our longtime vet, Kelly Haeusler at Airport Vet in Destin.
The diagnosis shocked me. Her kidneys were shutting down, a common malady among older cats. Her life could be prolonged by IVs but the end was inevitable.
I opted for the IVs. It became our daily ritual – a session in the bathroom with a needled hooked under skin. The fluids would form a comical pocket around her shoulders, giving her the look of a lion with a mane.
At first she gained weight and I was hopeful. But then she began to slide downhill. I watched her go from 7 pounds to 6, then 5. Her throat was so dry she could not meow. Toward the end, it hurt too much to lie down.
On her last day, I took her outside and let her stand in the grass. She made little squeaking sounds and bobbed her head, as if trying to take in the entire world in a single moment. I had to hold her up. She was light as a soul.
Then we made the long drive to Destin. I held her as the needle went in and her life floated away from me like a dandelion seed on the wind, something beautiful and irreplaceable lost to me forever.
I know that someday I will be happy again, but never in precisely the same way and that makes me cry.
But at least she can lie down now. And she will always be outside.
I hope I gave Maggie a good life.
I hope she knows how much I love her.
This column was published in the December 24, 2005 edition of the Northwest Florida Daily News and is used with permission.
About the author:
Del Stone Jr. is a professional fiction writer. He is known primarily for his work in the contemporary dark fiction field, but has also published science fiction and contemporary fantasy. Stone's stories, poetry and scripts have appeared in publications such as Amazing Stories, Eldritch Tales, and Bantam-Spectra's Full Spectrum. His short fiction has been published in The Year's Best Horror Stories XXII; Alfred Hitchcock's Mystery Magazine; the Pocket Books anthology More Phobias; the Barnes & Noble anthologies 100 Wicked Little Witch Stories, Horrors! 365 Scary Stories, and 100 Astounding Little Alien Stories; the HWA anthology Psychos; and other short fiction venues, like Blood Muse, Live Without a Net, Zombiesque and Sex Macabre. Stone's comic book debut was in the Clive Barker series of books, Hellraiser, published by Marvel/Epic and reprinted in The Best of Hellraiser anthology. He has also published stories in Penthouse Comix, and worked with artist Dave Dorman on many projects, including the illustrated novella "Roadkill," a short story for the Andrew Vachss anthology Underground from Dark Horse, an ashcan titled "December" for Hero Illustrated, and several of Dorman's Wasted Lands novellas and comics, such as Rail from Image and "The Uninvited." Stone's novel, Dead Heat, won the 1996 International Horror Guild's award for best first novel and was a runner-up for the Bram Stoker Award. Stone has also been a finalist for the IHG award for short fiction, the British Fantasy Award for best novella, and a semifinalist for the Nebula and Writers of the Future awards. His stories have appeared in anthologies that have won the Bram Stoker Award and the World Fantasy Award. Two of his works were optioned for film, the novella "Black Tide" and short story "Crisis Line."
Stone recently retired after a 41-year career in journalism. He won numerous awards for his work, and in 1986 was named Florida's best columnist in his circulation division by the Florida Society of Newspaper Editors. In 2001 he received an honorable mention from the National Lesbian and Gay Journalists Association for his essay "When Freedom of Speech Ends" and in 2003 he was voted Best of the Best in the category of columnists by Emerald Coast Magazine. He participated in book signings and awareness campaigns, and was a guest on local television and radio programs.
As an addendum, Stone is single, kills tomatoes and morning glories with ruthless efficiency, once tied the stem of a cocktail cherry in a knot with his tongue, and carries a permanent scar on his chest after having been shot with a paintball gun. He's in his 60s as of this writing but doesn't look a day over 94.
Contact Del at [email protected]. He is also on Facebook, twitter, Pinterest, tumblr, TikTok, Ello and Instagram. Visit his website at delstonejr.com .