Del reviews 'Don't Look Up'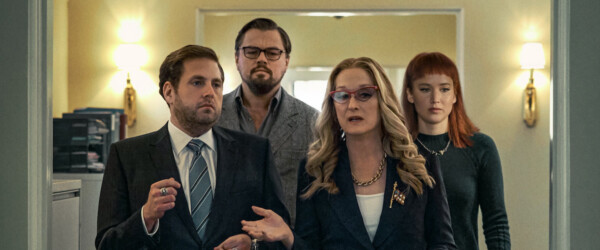 "Don't Look Up" Starring Leonardo DiCaprio, Jennifer Lawrence, Meryl Streep, Cate Blanchett, Rob Morgan, Jonah Hill, Mark Rylance, Tyler Perry, Timothee Chalamet, Ron Pearlman, Ariana Grande, Kid Cudi and others. Directed by Adam McKay. Two hours, 18 minutes. Rated R. Netflix.
Del's take
An existential threat is hurtling our way and what does the president of the United States want to do?
"Sit tight and assess," decides President Orlean (Meryl Streep), who fears an approaching apocalypse might cost her party the midterm elections.
That's the message of "Don't Look Up," a hilarious yet stinging denunciation of many things – our leadership's response to the climate change crisis, the empty-headedness of American culture, the corrosive influence of social media and metrics, and the dehumanizing fist of runaway capitalism. It is the new "Idiocracy" and it arrives just in time to skewer all the people who deserve a sharp stick in the eye.
The story is about a milquetoast, Walter Mitty-style astronomer (Leonardo DiCaprio as Professor Randall Mindy) and his edgy PhD candidate assistant (Jennifer Lawrence as Kate Dibiasky) who discover a planet-killing comet that will smack Earth in six months. They discreetly sound the alarm only to discover the authorities, who don't understand the science and don't care, will not respond to the crisis unless it serves their interests. So Mindy and Dibiasky whistleblow the story to the media, where it lands with an apathetic thud. Most people are more invested in the breakup of two popular singers, Riley Bina (Ariana Grande) and DJ Chello (Kid Cudi). As doom becomes an undeniable reality the government staggers into action by entrusting the fate of the planet to a whackjob Elon Musk-style billionaire (Mark Rylance as Peter Isherwell), who wants to break up the comet into smaller pieces and let them collide with the Earth so the fragments can be mined – by his telecommunications company, Bash – for precious metals crucial to the manufacture of smart phones. All that's left is negotiating with the countries to be annihilated over how much money they want for their dead.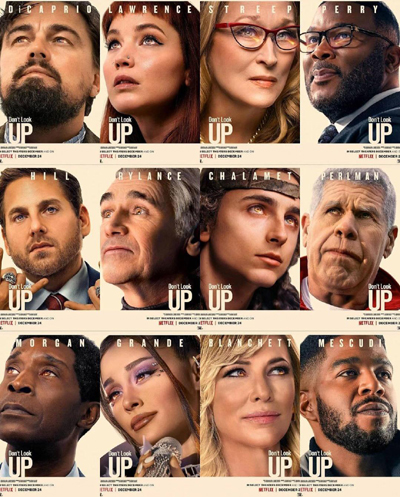 "Don't Look Up" offers more Oscar-fueled star power than a map of the Milky Way, and many of the performances are better than strong. DiCaprio as hapless Dr. Mindy channels a furious Howard Beale (Peter Finch in "Network") when he finally revolts against the frustrating ennui of 21st century America, while Jennifer Lawrence effectively portrays the optimism of youth as it dashed against the rocks of the corrupt, self-serving inertia that serves as leadership these days. Meryl Streep evokes a dumb-as-a-box-of-rocks, Donald Trump-style president whose only strong suit is a kind of animal cunning, while Cate Blanchett, as the glib yet shallow peroxide blonde who leads Dr. Mindy astray and then abandons him when he becomes a liability, perfectly portrays the fickleness of American media.
A few other performances worth mentioning: Ariana Grande is a hilarious Riley Bina, as is Mark Rylance as Isherwell, which I suspect is a composite of Musk and Steve Jobs. And Jonah Hill as the juvenile White House chief of staff (and Orlean's son) makes you want to reach through the screen and slap him. The one performance that left me cold was Timothee Chalamet's Yule, though at one point he offers a prayer for the ages.
"Don't Look Up" has gotten mixed reviews. Nick Allen of RogerEbert.com calls it "McKay's worst film yet" while Charles Bramesco of The Guardian dismisses it as a "disaster." The New York Times and CNN were more merciful. The complaint centers around the jokes and caricatures, which they say are lowbrow. I would argue that in an age where attention spans near a half-life of a nanosecond, the lack of "razor-sharp wit" is as much commentary as the jokes and characters themselves.
I enjoyed the hell out of "Don't Look Up" and I thought it communicated exactly what the "Let's Go Brandon" crowd needs to hear – that they're a bunch of fucking idiots who are screwing up the country and the planet with their selfish ignorance. The fact that this message was delivered with a hammer, not a scalpel, is a strike in the movie's favor. Do you seriously think people who believe vaccines are evil and Donald Trump is still the president would notice or respond to "razor sharp wit"? Give me a break.
Isherwell brags that his algorithms are so good they can predict when and how President Orlean will die. She will be eaten by a "bronteroc."
I won't tell you what that means. To find out you must watch past the credits. But it's pretty damned funny.
Meanwhile, check out "Don't Look Up." Pay no heed to the critics – it's funny as hell and I think you'll enjoy it, unless you're one of the people being skewered. And who knows? If you have a sense of humor, you too might get a laugh.
I rate it a solid A.
Del Stone Jr. is a former journalist and writer.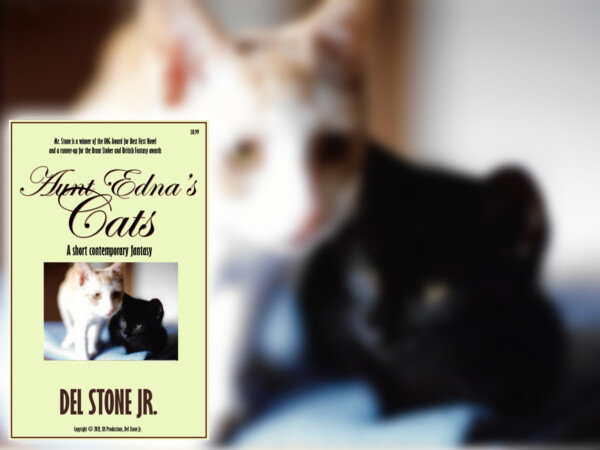 In 1993 I decided I needed a dose of furry companionship. I went to the animal shelter and picked out a cat. A black cat. I named him Pavlov. Get it?
Moving on, that first night, when I came home from work, Pavlov came tumbling down the stairs to see who had arrived to entertain him. He had been at the house alone after my friend Lurene dropped him off. She had picked him up from the vet where his, er, equipment had been snipped off.
One thing about Pavlov I noticed immediately – he sure was noisy. I believe cat people use the term "vocal." I would use the term "pain in the ass," because after five minutes of meowing I was having serious second thoughts about my new status as cat daddy.
My friends Mike and Gerdy had another idea. "Why not get another kitty to keep him company? Two cats are no more trouble than one." Knowing what I know now, I'd love to go back in time and argue that point. Two cats are no more trouble than one? Maybe in some parallel universe, but not this one.
But that seemed a logical solution, so a couple of days later I was back at the animal shelter adopting a tail-less tabby kitty I named Magpie, or Maggie for short.
The plan worked. Maggie kept Pavlov company and I regained my wits. While Pavlov veered off into some weird, Lovecraftian territory of evil and revenge – he once crapped on the floor after I yelled at him, and he shredded the shower curtain and destroyed the toilet paper in return for another scolding – Maggie became the love of my life. She was the most innocent kitty to walk the earth, and she loved me. My lap was hers, and she would fight Pavlov for it.
It was Pavlov and Maggie who became the inspiration for the following story, "Aunt Edna's Cats."
This piece began its life as a column that ran too long, so I decided to rewrite it into a slightly longer piece and sell it to a magazine for cat aficionados. It was considered by many and one national publication almost bought it, but then bailed at the last moment.
Then when day I spotted a reference to a Barnes & Noble anthology called "Crafty Cat Crimes" edited by Stefan Dziemianowicz, Robert Weinberg and Martin Geenberg. It was a collection of stories about cats and their roles in mysteries.
I loved those Barnes & Noble anthologies, not just because they bought my stories but they paid so reliably and well. The editors were obliging, provided good feedback and conducted themselves professionally. I received royalty payments for those stories for many years.
I modified my column and shipped it off to Stefan, who got back to me with suggestions about how to improve it. I followed his advice, resubmitted it and voila! It was accepted.
I'm glad Pavlov and Maggie were "immortalized" in a short story that saw print. They were good kitties and deserve to be remembered. Maggie crossed the Rainbow Bridge in 2005, and Pavlov in 2009. I'm sure the people who live in the townhouse I rented are still finding kitty toenails and litter in all the corners.
If you have a cat, give it a hug for me. Maybe one day I will again feel the warm presence of a kitty in my lap and hear the sound of a purr monster warming up.
If you'd like to order a copy of "Aunt Edna's Cats," follow this link. And remember, you don't need a Kindle device to read a Kindle book. Simply download the free Kindle app to your phone or table.
(Cover image courtesy of Del Stone Jr.)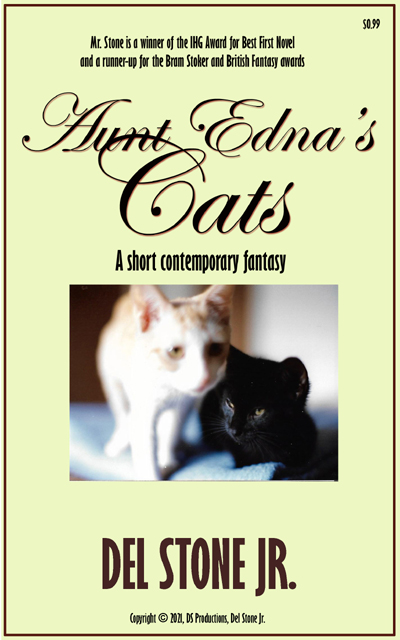 From Amazon
Dotty old Aunt Edna has left her kitties with her nephew while she goes off on some damn-fool adventure, like searching for D.B. Cooper's ill-gotten stash of cash, or tracking down the hidden location of Shangri-la.
She chose her nephew because he's reliable, a stay-at-home who is averse to anything that might disrupt his carefully choreographed schedule for life.
Cats, by nature, don't follow any schedule and in no time the nephew's daily routine has fallen to kitty-shredded bits.
But when they start bringing him certain kinds of gifts, as cats are wont to do, the nephew begins to suspect batty old Aunt Edna had a larger purpose in mind when she asked him to take care of her beloved furbabies. And maybe, just maybe, his life might become a lot more interesting if he just took the hint.
"Aunt Edna's Cats" is a story that all cat lovers will instantly understand and appreciate, but it's more than that. If you have ever felt a little too settled in your day-to-day existence, maybe you should consider a visit to the local animal shelter, where a new life awaits, that of a cat mommy or daddy.
About the author:
Del Stone Jr. is a professional fiction writer. He is known primarily for his work in the contemporary dark fiction field, but has also published science fiction and contemporary fantasy. Stone's stories, poetry and scripts have appeared in publications such as Amazing Stories, Eldritch Tales, and Bantam-Spectra's Full Spectrum. His short fiction has been published in The Year's Best Horror Stories XXII; Alfred Hitchcock's Mystery Magazine; the Pocket Books anthology More Phobias; the Barnes & Noble anthologies 100 Wicked Little Witch Stories, Horrors! 365 Scary Stories, and 100 Astounding Little Alien Stories; the HWA anthology Psychos; and other short fiction venues, like Blood Muse, Live Without a Net, Zombiesque and Sex Macabre. Stone's comic book debut was in the Clive Barker series of books, Hellraiser, published by Marvel/Epic and reprinted in The Best of Hellraiser anthology. He has also published stories in Penthouse Comix, and worked with artist Dave Dorman on many projects, including the illustrated novella "Roadkill," a short story for the Andrew Vachss anthology Underground from Dark Horse, an ashcan titled "December" for Hero Illustrated, and several of Dorman's Wasted Lands novellas and comics, such as Rail from Image and "The Uninvited." Stone's novel, Dead Heat, won the 1996 International Horror Guild's award for best first novel and was a runner-up for the Bram Stoker Award. Stone has also been a finalist for the IHG award for short fiction, the British Fantasy Award for best novella, and a semifinalist for the Nebula and Writers of the Future awards. His stories have appeared in anthologies that have won the Bram Stoker Award and the World Fantasy Award. Two of his works were optioned for film, the novella "Black Tide" and short story "Crisis Line."
Stone recently retired after a 41-year career in journalism. He won numerous awards for his work, and in 1986 was named Florida's best columnist in his circulation division by the Florida Society of Newspaper Editors. In 2001 he received an honorable mention from the National Lesbian and Gay Journalists Association for his essay "When Freedom of Speech Ends" and in 2003 he was voted Best of the Best in the category of columnists by Emerald Coast Magazine. He participated in book signings and awareness campaigns, and was a guest on local television and radio programs.
As an addendum, Stone is single, kills tomatoes and morning glories with ruthless efficiency, once tied the stem of a cocktail cherry in a knot with his tongue, and carries a permanent scar on his chest after having been shot with a paintball gun. He's in his 60s as of this writing but doesn't look a day over 94.
Contact Del at [email protected]. He is also on Facebook, twitter, Pinterest, tumblr, TikTok, Ello and Instagram. Visit his website at delstonejr.com .
About this book:
"Aunt Edna's Cats" is a 2,055-word contemporary fantasy short story.
The book's total length is 4,830 words.