Del and Mladen review 'Wham!'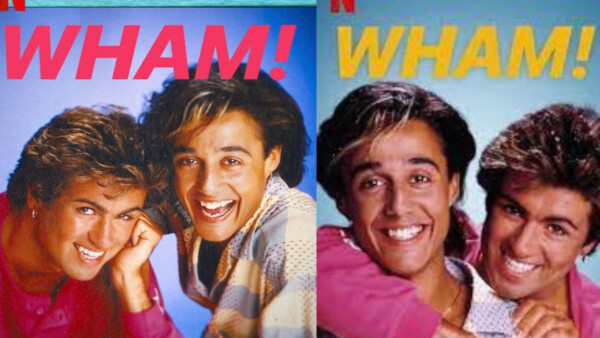 "Wham!" Starring Andrew Ridgeley and George Michael. Directed by Chris Smith. 1 hour, 32 minutes. Rated TV-14. Netflix.
Del's take
"Wham!" the eponymous documentary about the British pop duo who were part of the Second British Invasion, raises as many questions about their 1986 breakup as it answers. But you'll be hard-pressed to find a more fascinating glimpse into the ascendency of a pop music phenomenon, the music industry itself, and the uniquely strange pop scene of the 1980s.
What's known is that Andrew Ridgeley and George Michael met as adolescents who shared a love of music. As they aged into teenagers, the two joined at least one band, a short-lived ska effort called The Executive. When that failed they created Wham! and Ridgeley began courting the record industry for a contract. He eventually landed a deal with Mark Dean of Innervision records.
They released a pair of songs – "Wham Rap (Enjoy What You Do)!" and "Club Tropicana" (which required, ahem, a fact-finding trip to the Pikes in Ibeza). Those efforts generated only lukewarm interest, but a fortuitous appearance on the BBC program "Top of the Pops," where they performed their song "Young Guns (Go for It)," propelled the duo to greater success, and their debut album, "Fantastic," soared to No. 1 on the UK charts.
A switch to Epic/Columbia was followed by global fame. The singles everybody knows – "Wake Me Up Before You Go Go" and "Careless Whispers" – sent their sophomore album, "Make It Big," to No. 1 in the United States and established Wham! as an equal to bands like Culture Club and Duran Duran, two other New Wave powerhouses.
But all was not well within Wham! Depending on whom you ask, either Michael was under self-imposed pressure to succeed due to a diminished sense of worth because of his homosexuality, or he was unhappy with the pop music role assigned to Wham! by record company executives who wanted the band to keep churning out danceable earworms. Either way, Michael wanted to pursue a solo career and Ridgeley agreed to the dismantling of Wham!, which took place in 1986 after a final single and a sold-out concert at London's Wembley Stadium.
(The documentary does not address Michael's solo career and his death in 2016, or Ridgeley's descent into obscurity.)
Obviously for people who came of age in the '80s, "Wham!" the documentary will evoke nostalgic memories of those happy songs. But there's a note of melancholy that can't be ignored, and it mostly focuses on Ridgeley.
While you can sympathize with Michael, a gay man imprisoned in his closet by fame, your heart goes out to Ridgeley, who, according to the film, voluntarily stepped back and allowed Michael to seize the spotlight for himself. This saintly altruism strikes me as iffy, but the documentary pitches it as an act of love and sacrifice, by a friend, for a friend. Other sources point out Michael was critical of Wham! and didn't like the shallowness of their songs. Either way, what matters is Ridgeley and Michael remained friends under circumstances that would have brought others to blows. My impression, again based on the documentary, is that Ridgeley was the prime motivator in that respect.
What's undeniable is that "Wham!" shows what it takes to succeed in any endeavor – talent, of course, but also perseverance, hard work, and a little bit of luck. It does this through archived footage, family scrapbook clippings, vintage interviews, and entertainment news reports from that time. You'll come away with a better understanding of Ridgeley and Michael as human beings, their obvious affection for one another, and how they grappled with their personal demons.
"Wham!" the documentary is streaming on Netflix.
I grade it an A-.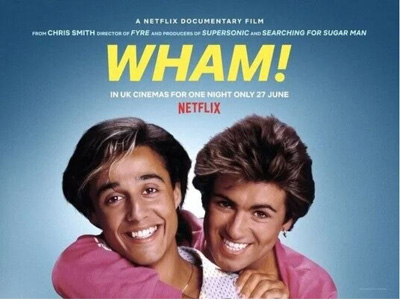 Mladen's take
The all-consuming disinterest. I can't overcome the indifference, Del. I grew up listening to '80s music. Pretty much loved it all but all I needed to know then, and all I need to know now, is that A) Deborah Harry was hot and B) her untamed, naturally imperfect, and perfectly charismatic voice was exactly what Blondie needed. I don't care about the lives of the band members who moved me in stereo or shocked me like a monkey or let me know that video killed the radio star or woke me up before they go-go-ed. All I care about is the lyrics and the music they created. You forcing me to watch "Wham!," the biopic about Wham!, drives my distaste for biopics deeper than the Mariana Trench.
Let me be clear. If you have a favorite musician, author, actor, athlete, or some other kind of paparazzi bait, never, ever through infinity should you try to learn anything about them. Why? Because they'll turn out to be human and humans are always disappointing. The less you know about your favorite singers, the more you'll enjoy their music. To know anything significant about the creator of something wonderful risks ruining that something wonderful because its source, inevitably, will not be. Listen to the songs. That's all. Why listen to me? Because I'm Your Man.
I don't care about Andrew selflessly letting George go solo. I don't care about George's angst about being gay. What I care about is the ideas folks with unique talents or good fortune offer to me. Wham! offered very little to me compared to U2 in their early years or the great and mighty The Clash, who were taking shots at cruel Thatcher and her besotted Tories about the same time Wham! was wiggling their butts in short shorts at teenaged girls. But, I acknowledge that Wham! was an international phenom.
If you like Frank Sinatra, learn nothing about him. If you like the Sex Pistols, learning nothing about Sid Vicious. What should you do? Listen to the Pistols cover of Sinatra's "My Way." The band took "My Way," a song dripping with brazen conceit and sung so mopey-like by Sinatra that you're unable to recognize its arrogance, and turned into a tour de force. "My Way" by the Pistols is kinetic, brash, and undisguised. Sid and his boys tell you to fuck off because they're better than you in every way possible. Love it because that's the story "My Way" is supposed to tell. Learn anything about Sid and you may vomit, which may lead you to never listen to the punkers again, though, as a band, they did some crazy and provocative shit.
If you like Wham!'s trite but lyrical lyrics – all their popular songs were about personal relationships – and jaunty disco-ish melodies, do not watch "Wham!." You'll be disappointed. It'll take just one scene to make you second-guess your attraction to the band and its music. Pay attention to George's reaction when one of Wham!'s most popular songs gets stuck at No. 2 on the pop charts because another spurring famine relief in Ethiopia hits No. 1.
Yeah, just listen to the music on your Walkman because video does kill the radio stars.
Mladen Rudman is a former technical writer and newspaper reporter. Del Stone Jr. is a former journalist and writer.