On Sunday, Mom and I went to a garage sale at the Murder House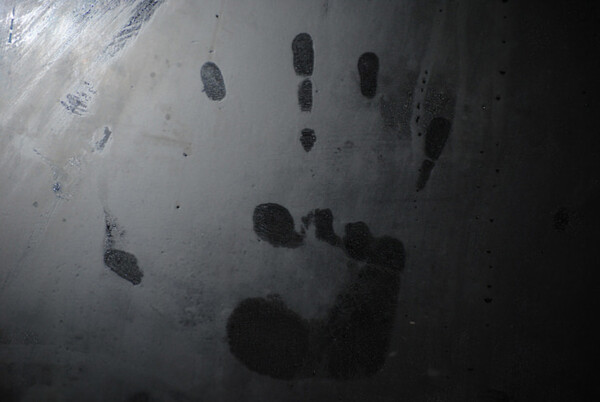 On Sunday, Mom and I went to a garage sale at the Murder House.
"Murder House" is how the neighborhood describes the residence at 11 Pryor Road in Fort Walton Beach. Last month, William Butler snapped and stabbed his wife to death, then loaded a shotgun and killed his son and daughter. Another son managed to escape by climbing out a bedroom window and fleeing to a neighbor's house.
I don't know what compelled me to go there, because I have felt nothing but horror over those awful events, and pity for the 17-year-old who is now an orphan. I am not the kind of person to gawk at car accidents and I have no interest in the terrible things that sometime happen in our midst.
Still, there I was, feeling shitty at looking over their stuff … but looking nonetheless. This is what I saw.
At least one member of the Butler family was an avid fisherman. Leaning against the side of the house was a corn stack of fishing rods and reels, surrounded by tackle boxes with every kind of fishing lure you can imagine, the hooks all rusted, suggestive of salt water, not fresh water. Bluefish and speckled trout, not bream and bigmouth bass.
One table featured heaps of camouflaged clothing, which to me said: paintball. But it wasn't paintball, because there were no masks or "markers" (i.e. guns). Instead, sitting on the ground next to camo table were two sets of archery equipment. Maybe a family member was into bowhunting.
I saw a lot of old technology, including boxes that contained reel-to-reel tape. Old movie soundtracks, music from the '50s and '60s. In some cases the tapes fluttered from the boxes like old, brittle streamers. Who listens to that stuff anymore? Where do you even find a reel-to-reel tape recorder/player? Ebay?
There were several laptops, and I could tell without looking too closely they were old. How? Because they were thick, with lots of ports for peripherals that probably no longer existed. One tablet had a shattered screen.
Another box contained hundreds of vinyl records. I could imagine collectors snapping up those LPs. I did not even look at them because I have nothing that will play a 33, but I could have bought something there that did. I saw numerous hi-fi's and record players of varying sophistication.
There were other things – clothes, knick-knacks, candleholders, computer parts, and a paperback book with the cover ripped off.
Then, in one box, I found the item that sent me and Mom on our way.
A yearbook. From Meigs Middle School. Belonging to Katelyn Butler, who was only 14 years old when the world ended. Signed by her friends. Testimonials about their friendship, her future, the usual stuff. Notes tucked into the pages, in envelopes I didn't open. Color photos.
Her short life, captured in a few glossy pages.
So we left.
I didn't buy anything. I felt like a ghoul for even being there.
And now I feel even more horrible for a family I didn't know, but one that, through their tragedy, brought a little more meaning to my life.
About the author:
Del Stone Jr. is a professional fiction writer. He is known primarily for his work in the contemporary dark fiction field, but has also published science fiction and contemporary fantasy. Stone's stories, poetry and scripts have appeared in publications such as Amazing Stories, Eldritch Tales, and Bantam-Spectra's Full Spectrum. His short fiction has been published in The Year's Best Horror Stories XXII; Alfred Hitchcock's Mystery Magazine; the Pocket Books anthology More Phobias; the Barnes & Noble anthologies 100 Wicked Little Witch Stories, Horrors! 365 Scary Stories, and 100 Astounding Little Alien Stories; the HWA anthology Psychos; and other short fiction venues, like Blood Muse, Live Without a Net, Zombiesque and Sex Macabre. Stone's comic book debut was in the Clive Barker series of books, Hellraiser, published by Marvel/Epic and reprinted in The Best of Hellraiser anthology. He has also published stories in Penthouse Comix, and worked with artist Dave Dorman on many projects, including the illustrated novella "Roadkill," a short story for the Andrew Vachss anthology Underground from Dark Horse, an ashcan titled "December" for Hero Illustrated, and several of Dorman's Wasted Lands novellas and comics, such as Rail from Image and "The Uninvited." Stone's novel, Dead Heat, won the 1996 International Horror Guild's award for best first novel and was a runner-up for the Bram Stoker Award. Stone has also been a finalist for the IHG award for short fiction, the British Fantasy Award for best novella, and a semifinalist for the Nebula and Writers of the Future awards. His stories have appeared in anthologies that have won the Bram Stoker Award and the World Fantasy Award. Two of his works were optioned for film, the novella "Black Tide" and short story "Crisis Line."
Stone recently retired after a 41-year career in journalism. He won numerous awards for his work, and in 1986 was named Florida's best columnist in his circulation division by the Florida Society of Newspaper Editors. In 2001 he received an honorable mention from the National Lesbian and Gay Journalists Association for his essay "When Freedom of Speech Ends" and in 2003 he was voted Best of the Best in the category of columnists by Emerald Coast Magazine. He participated in book signings and awareness campaigns, and was a guest on local television and radio programs.
As an addendum, Stone is single, kills tomatoes and morning glories with ruthless efficiency, once tied the stem of a cocktail cherry in a knot with his tongue, and carries a permanent scar on his chest after having been shot with a paintball gun. He's in his 60s as of this writing but doesn't look a day over 94.
Contact Del at [email protected]. He is also on Facebook, twitter, Pinterest, tumblr, TikTok, Ello and Instagram. Visit his website at delstonejr.com .