A penny here, a penny there and soon you're talking about real money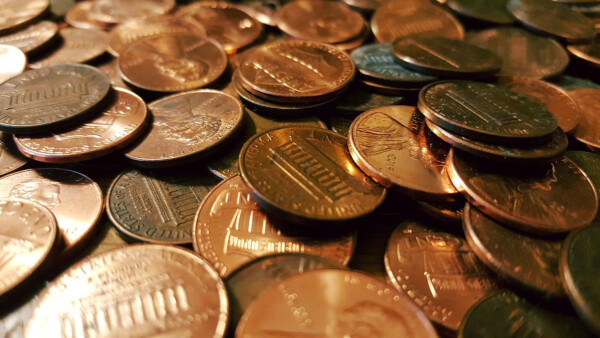 The power of pennies: Squirreled away inside Aunt Wendy's recent gift of chocolate chip cookies was a container of pennies.
I think everyone must have a container of pennies sitting around the house. Mine is in the kitchen, next to the microwave.
Now, Aunt Wendy's was too.
Typically I let the penny jar fill until it's overflowing. With the addition of Aunt Wendy's donation, which I'd estimate to be $10 to $15, the jar was approaching that point. Still, I did not want to start rolling pennies. It's so much work for so little return.
Or so I thought.
One day recently, my wallet turned up devoid of money. Not an unusual occurrence. But this time, instead of raiding the ATM machine, I had another option.
I rolled up $5 in pennies to buy gas. Then, I needed to mail a book to a store owner. I rolled up $2 in pennies for the postage. I needed $10 to pay my bowling league fees for the week. I started rolling.
Get this: I needed $3 to buy more penny rolls. Guess how I paid for them?
In the process of rolling all those pennies, I discovered $10 in quarters, $8 in dimes and $2 in nickels which had also found their way into the penny jar. Wow! That paid for dinner at Cuco's in Pensacola, soft drinks for the ride to the Bush concert and a fab cookie at Books-A-Million.
I guess the moral of this story is: Good things come in one-cent packages.
Cool movie of the week: Tonight, AMC will broadcast the cinematic rendition of Edward Albee's drama, "Who's Afraid of Virginia Woolf?"
I remember watching this movie as a young teen. While my tastes in cinema leaned to monster movies, science fiction, war stores and shoot-'em ups, I was mesmerized by the powerful interplay of emotions between Richard Burton, Elizabeth Taylor, George Segal and Sandy Dennis.
Don't miss this landmark film, at 7:30 tonight on Channel 33.
A lunch bunch in need: The folks at OASIS are looking for a few good individuals, church groups and/or service organizations to provide and prepare a regular Thursday luncheon.
These luncheons benefit OASIS clients, caregivers, volunteers and board members who are able to attend, and they help maintain the support network that keeps OASIS clients and helpers going.
Donations are welcome. Meantime, if you've got questions, give Carol Boughton a call at 897-2687.
Redneck computer terms: "Hard drive," as in trying to climb a steep, muddy hill with three flat tires and pulling a trailer load of fertilizer.
This week's wire weirdness: BANGKOK, Thailand (AP) – A spooked elephant killed an Australian man at a tourist show in northern Thailand a day after two villagers were stomped to death elsewhere by rogue elephants.
Words that should be words: This week's word is "lysdexic," for people who hear it one way and repeat it backward. This word is courtesy of Daily News Staff Writer Jeff Newell, an admitted lysdexic.
This column was originally published in the Northwest Florida Daily News on March 26, 1997 and is used with permission.
About the author:
Del Stone Jr. is a professional fiction writer. He is known primarily for his work in the contemporary dark fiction field, but has also published science fiction and contemporary fantasy. Stone's stories, poetry and scripts have appeared in publications such as Amazing Stories, Eldritch Tales, and Bantam-Spectra's Full Spectrum. His short fiction has been published in The Year's Best Horror Stories XXII; Alfred Hitchcock's Mystery Magazine; the Pocket Books anthology More Phobias; the Barnes & Noble anthologies 100 Wicked Little Witch Stories, Horrors! 365 Scary Stories, and 100 Astounding Little Alien Stories; the HWA anthology Psychos; and other short fiction venues, like Blood Muse, Live Without a Net, Zombiesque and Sex Macabre. Stone's comic book debut was in the Clive Barker series of books, Hellraiser, published by Marvel/Epic and reprinted in The Best of Hellraiser anthology. He has also published stories in Penthouse Comix, and worked with artist Dave Dorman on many projects, including the illustrated novella "Roadkill," a short story for the Andrew Vachss anthology Underground from Dark Horse, an ashcan titled "December" for Hero Illustrated, and several of Dorman's Wasted Lands novellas and comics, such as Rail from Image and "The Uninvited." Stone's novel, Dead Heat, won the 1996 International Horror Guild's award for best first novel and was a runner-up for the Bram Stoker Award. Stone has also been a finalist for the IHG award for short fiction, the British Fantasy Award for best novella, and a semifinalist for the Nebula and Writers of the Future awards. His stories have appeared in anthologies that have won the Bram Stoker Award and the World Fantasy Award. Two of his works were optioned for film, the novella "Black Tide" and short story "Crisis Line."
Stone recently retired after a 41-year career in journalism. He won numerous awards for his work, and in 1986 was named Florida's best columnist in his circulation division by the Florida Society of Newspaper Editors. In 2001 he received an honorable mention from the National Lesbian and Gay Journalists Association for his essay "When Freedom of Speech Ends" and in 2003 he was voted Best of the Best in the category of columnists by Emerald Coast Magazine. He participated in book signings and awareness campaigns, and was a guest on local television and radio programs.
As an addendum, Stone is single, kills tomatoes and morning glories with ruthless efficiency, once tied the stem of a cocktail cherry in a knot with his tongue, and carries a permanent scar on his chest after having been shot with a paintball gun. He's in his 60s as of this writing but doesn't look a day over 94.
Contact Del at [email protected]. He is also on Facebook, twitter, Pinterest, tumblr, TikTok, Ello and Instagram. Visit his website at delstonejr.com .