Let's not spank the kids; let's spank the parents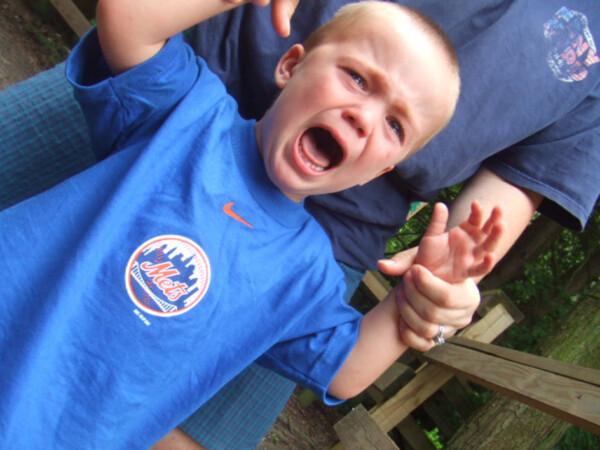 The other day, as I paid for a tank of gas, the lady behind the cash register offered to give me her son.
"Take him. He's yours," she said exasperatedly.
I felt my eyes darting, minnow-like. Where was this son? I half expected to see him crying under the counter, trussed in shrink wrap and bar-coded and ready for delivery. But no child lay in sight. I began to breathe easier.
Why, I asked, would she want to give away her son?
"I can't do a thing with him," she declared, throwing up her hands. "Twelve years old and he's back-talking the teacher, so he gets suspended from school."
At least he didn't blow the teacher's head off.
"You can't discipline kids anymore," she went on. "They're not afraid of you because they know if you lift a finger against them the state will have you arrested for abuse."
A germ of truth in that. I thought back to a relation who told me her 10-year-old threatened to call their state's division of social services if she gave him a whipping.
(She wouldn't really have given him a whipping. There comes a point when the whipper suffers more physical harm than the whippee, and I think this person had traveled well across that line.)
But she and the clerk raise an interesting point, one that has been debated since the invention of children. Does it do any good to spank a kid?
I made the mistake one time of saying I thought spankings were all right, which brought an immediate and venomous rejoinder from some of the mothers on the newsroom staff, who snidely reminded me that as a single, childless man, I was probably unfit to state an opinion on the subject.
Au contraire. I am uniquely qualified to state an opinion on the subject, having suffered innumerable screaming children in movie theaters, temper tantrums at restaurants, and other assorted conniptions and spazzolopolisms. And while it is true that once – how horrid – I believed such behavior should be greeted with a swat on the behind, I have since modified my beliefs.
It is the parents who need the spanking.
Really.
That little incomplete person who is screaming and pounding the table and squeezing his cheeks into various shades of purple can hardly be held responsible for his behavior. He's just trying to elicit a desirable response – the parent buys him the toy, or gives him the ketchup bottle to spray his fellow diners. Can the little nipper be faulted? Heck, no. I'd say it makes him pretty smart.
But the parent who teaches him to act that way by giving him what he wants – now, that's a different story. Maybe a swat on the fanny would remind Mom or Dad that the quick and easy solution to these outbursts is not the best solution. I think as a culture we've grown accustomed to ease and convenience, and it permeates everything we do, right down to our child-rearing.
As for my clerk, well, good luck, ma'am. The kid is 12, and the die may be cast. At 12, parental oversight takes a back seat to the possibly corrupting influence of the world at large.
But I see a bunch of wailing little fit-pitchers out there. …
This column was published in the May 20, 1998 edition of the Northwest Florida Daily News and is used with permission.
About the author:
Del Stone Jr. is a professional fiction writer. He is known primarily for his work in the contemporary dark fiction field, but has also published science fiction and contemporary fantasy. Stone's stories, poetry and scripts have appeared in publications such as Amazing Stories, Eldritch Tales, and Bantam-Spectra's Full Spectrum. His short fiction has been published in The Year's Best Horror Stories XXII; Alfred Hitchcock's Mystery Magazine; the Pocket Books anthology More Phobias; the Barnes & Noble anthologies 100 Wicked Little Witch Stories, Horrors! 365 Scary Stories, and 100 Astounding Little Alien Stories; the HWA anthology Psychos; and other short fiction venues, like Blood Muse, Live Without a Net, Zombiesque and Sex Macabre. Stone's comic book debut was in the Clive Barker series of books, Hellraiser, published by Marvel/Epic and reprinted in The Best of Hellraiser anthology. He has also published stories in Penthouse Comix, and worked with artist Dave Dorman on many projects, including the illustrated novella "Roadkill," a short story for the Andrew Vachss anthology Underground from Dark Horse, an ashcan titled "December" for Hero Illustrated, and several of Dorman's Wasted Lands novellas and comics, such as Rail from Image and "The Uninvited." Stone's novel, Dead Heat, won the 1996 International Horror Guild's award for best first novel and was a runner-up for the Bram Stoker Award. Stone has also been a finalist for the IHG award for short fiction, the British Fantasy Award for best novella, and a semifinalist for the Nebula and Writers of the Future awards. His stories have appeared in anthologies that have won the Bram Stoker Award and the World Fantasy Award. Two of his works were optioned for film, the novella "Black Tide" and short story "Crisis Line."
Stone recently retired after a 41-year career in journalism. He won numerous awards for his work, and in 1986 was named Florida's best columnist in his circulation division by the Florida Society of Newspaper Editors. In 2001 he received an honorable mention from the National Lesbian and Gay Journalists Association for his essay "When Freedom of Speech Ends" and in 2003 he was voted Best of the Best in the category of columnists by Emerald Coast Magazine. He participated in book signings and awareness campaigns, and was a guest on local television and radio programs.
As an addendum, Stone is single, kills tomatoes and morning glories with ruthless efficiency, once tied the stem of a cocktail cherry in a knot with his tongue, and carries a permanent scar on his chest after having been shot with a paintball gun. He's in his 60s as of this writing but doesn't look a day over 94.
Contact Del at [email protected]. He is also on Facebook, twitter, Pinterest, tumblr, TikTok, Ello and Instagram. Visit his website at delstonejr.com .