Del and Mladen review 'The Turkey Bowl'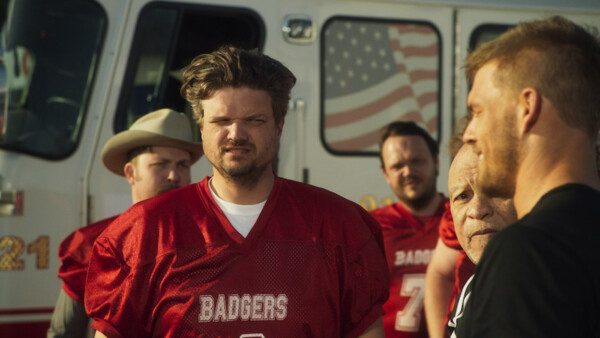 "The Turkey Bowl" Starring Ryan Hansen, Matt Jones, Alan Ritchson, Kristen Hager and Barry Switzer. Directed by Greg Coolidge. 2 hours. Rated R. Hulu, Epix, DIRECTV.
Del's take
After your gut has been stuffed, your nap wrapped up, the football games watched and the dishes scrubbed to gleaming perfection, plop your ass down in the recliner and dial up "The Turkey Bowl" on Hulu or Epix to complete your Thanksgiving Day playlist.
Like Aunt Martha's green bean casserole, "The Turkey Bowl" is neither bland nor tart. It's a vaguely smile-inducing low-fi comedy that tries hard to be a lot of things but in the end simply fails to offend, which means people will like it OK but nobody will ask for the recipe. That's my Cliff Notes review and I'm sticking to it.
The story is about Hodges (Ryan Hansen) who exchanges his small-town Oklahoma roots for the big city. He has a high-powered girlfriend (Blair Bomar as Ashley Sinclair) whose father (Sean McGraw as Sen. Sinclair) is running for president, and a successful business career in Chicago that allows him to never visit Mom and Dad or any of his former friends back home, including a semi-jilted ex-girlfriend, Jen (Kristen Hager). His plan to propose to Ashley over the Thanksgiving holiday at Daddy's ski lodge in Colorado is derailed when he learns his best friend from high school, Mitchell (Matt Jones), has died. So he returns for the funeral, only to discover it was all a ruse to lure him back for a legendary football game between the Putnam Badgers, for which he quarterbacked, and cross-town rivals the Noble Knights. The score was tied 7-7 when a sudden storm moved in and the game was never finished. That proved to be a thorn in the side of the Badgers, who hadn't beaten the Knights since the 1950s, and Hodges' former team members (now in the 30s and grossly out of shape) are strapping on the cleats to finish the game and with luck, bring home a win for the Badgers.
What follows is a series of events that can best be described as farce, some of which you already know and can easily predict the outcome – does Hodges reconnect with Jen? Do the Badgers win the game? Is Hodges able to hide his hometown antics from Ashley and her dad? I won't give you the answers, but I'd lay money on your best guesses.
You've seen "The Turkey Bowl" a dozen times before, but that doesn't mean you can't enjoy it again. Expect crude language and nudity, and lots of physical humor mixed with meant-to-be-funny dialogue and sight gags (at one point Hodges is placed under "arrest" and cuffed with an ankle bracelet, which turns out to be a dog's shock collar).
The problem with "The Turkey Bowl" is that it never lives up to its hilarious potential. The story and actors offer the promise of an extremely funny movie, with absurdity layered on absurdity like the hilarious classics of the past like "Airplane!" and "Christmas Vacation," but somehow the jokes fall flat. My humble guess is the timing is off. Director Coolidge could have profited from tighter editing. It's as if "Animal House" had been remade by The Hallmark Channel.
Still, as Thanksgiving movie fare goes it's not a bad way to spend that part of the night between sneaking leftovers from the fridge and falling into a turkey-induced coma that carries you through to the morning. Look for a funny performance from Niceville's own Alan Ritchson, and who would have thought Barry Switzer, former head coach of Oklahoma Sooners and the Dallas Cowboys, could not only act but be so funny?
"The Turkey Bowl" is no "Planes, Trains and Automobiles" and it will not become part of your Thanksgiving lore, but you could do worse. Did Bruce Willis ever make a Thanksgiving movie?
I give "The Turkey Bowl" a grade of B.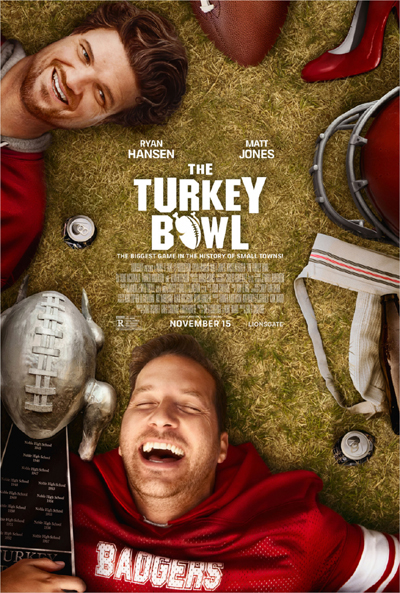 Mladen's take
I watched "The Turkey Bowl" with a sour cranberries taste in my mouth that eventually subsided. The movie reminded me of my most ignominious act in high school. I dropped what would've been the winning touchdown pass during my school's Homecoming football game. All I did was misjudge the trajectory of the approaching football by a couple of inches. Rather than the football floating over my right shoulder pad into my hands it hit it. Too much deflection. I was unable to adjust position to pluck the tumbling pigskin from the cool autumn air.
So, yeah, Del, much obliged for semi‑ruining my holidays because you chose "The Turkey Bowl" for us to review. You are responsible for traumatizing me with something I did decades ago.
The dropped pass memory triggered by Del is mitigated by the fact that for a few years after graduating high school, me and a group of high school friends would play a turkey-ish bowl of our own when we converged on the hometown for the holidays. I can't recall if it was for Thanksgiving or during Christmas. The games weren't against our county rival but they were fun. Sometimes there was snow on the ground.
Oh, the film. "The Turkey Bowl" is good enough to rationalize spending 120 minutes of your time if you're properly fed and reclined to allow those weird semi-sleep states that I sometimes reach when I'm trying to avoid napping because it'll screw my regular sleep. It's also an adequate substitute for classic holiday – yes, I'm clumping Thanksgiving and Christmas together because, it seems, the U.S. is no longer interested in recognizing the two as events separated by time – movies such as "Planes, Trains, and Automobiles," "Christmas Vacation," "Home Alone," and that overrated black-and-white one with whiny children and mysticism-tinged Christianity.
"The Turkey Bowl" takes patience. It's like putting a meal into the crockpot. At first it's raw but gets cooked and better fit for digestion over time. The beginning of the film annoyed me. It was campy, juvenile, and the acting a bit off. And, of course, there were cliches, particularly the one about old, out-of-shape men trying to relive their glorious youth by doing something nostalgic.
I wish the interaction among the Badgers when they were together, whether drinking or practicing for the bowl, was funnier. However, the scenes with our hero Hodges and his ex-girl Jen chit-chatting about this and that are charming. Also neatly set up was the contrast between Hodges's blue-collar parents accepting him for who he is and his fiancée's elitist liberal politicians trying to keep the image that they're good, pure, and helpful intact. Hodges's Mom eventually accepts that he's a vegetarian and starts preparing vegetarian meals for him along with the hotdog casseroles and fried chicken for the Fox News-watching Dad. Hodges's prospective father-in-law sics his bodyguard to spy on Hodges to make sure he does nothing to embarrass the politics- and money-driven U.S. senator who wants to be president.
"The Turkey Bowl" is a mash of movies we've all seen about a hometown boy leaving the hometown to do something great, coming back for some reason, and then staying for the simpler, happier life.
But, Del, a grade of B for the movie? No. Maybe you're getting feely squishy because T-day and X-mas day are approaching and you want to be generous to show goodwill, but no. "The Turkey Bowl" is an intermittently entertaining film, which means it deserves a mid-grade grade. The movie is a C. It has just enough warmth and humor to make it an acceptable holiday flick. It will not become, for better or worse, a holiday classic.
Mladen Rudman is a former journalist and technical writer. Del Stone Jr. is a former journalist and author.