Today I left flowers on Mom's grave for Mother's Day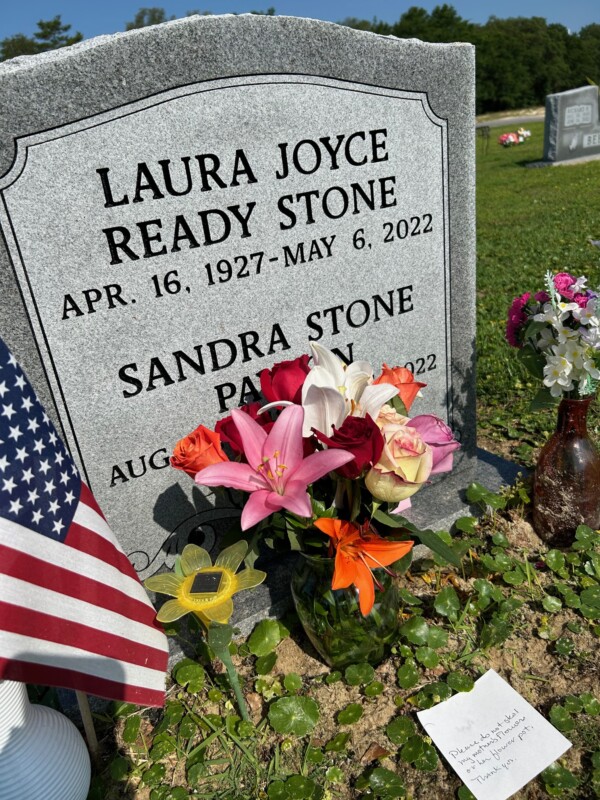 Today I took flowers to my mother's and sister's gravesite. They were both mothers and it was my duty and a pleasure to remember them.
I used a mixture of flowers from Mom's yard blended with a dozen roses I bought at Wal-Mart. I had the foresight to bring pruning shears, water, a packet of cut-flower food, and a glass vase I found beside the road (Mom would have loved that as she was an inveterate scrounger who often found treasures others had put to the curb).
I also included a note asking other cemetery visitors to please not steal my mother's flowers and the vase, as that has become a problem lately.
The flowers came out better than I expected – I am by no means an artist at arranging flowers. With luck it will last more than a day or two.
I also included the card I got for Mom last year. I had bought it weeks before her death and hid it in my chest-of-drawers, meaning to give it to her on Mother's Day. I didn't find it again until after she passed.
Mom has been gone for just over a year. I still find items around the house that make me think she's in the living room, sleeping in the recliner as something awful plays on the TV – cage fighting, American Ninja or boxing. She loved those sports and I've decided that's because they featured sweaty, shirtless men doing the things sweaty, shirtless men do.
My sister's ashes are buried with Mom, so I left a separate bunch of flowers for her. She will have been gone a year in early July.
I hope Mom, Sandie and Mom's friend from Spain, Judi Krozier, are living it up in a shared afterlife, and there is wine, music I wouldn't like, some kind of Southern-fried goodness, and lots and lots of sweaty, shirtless men.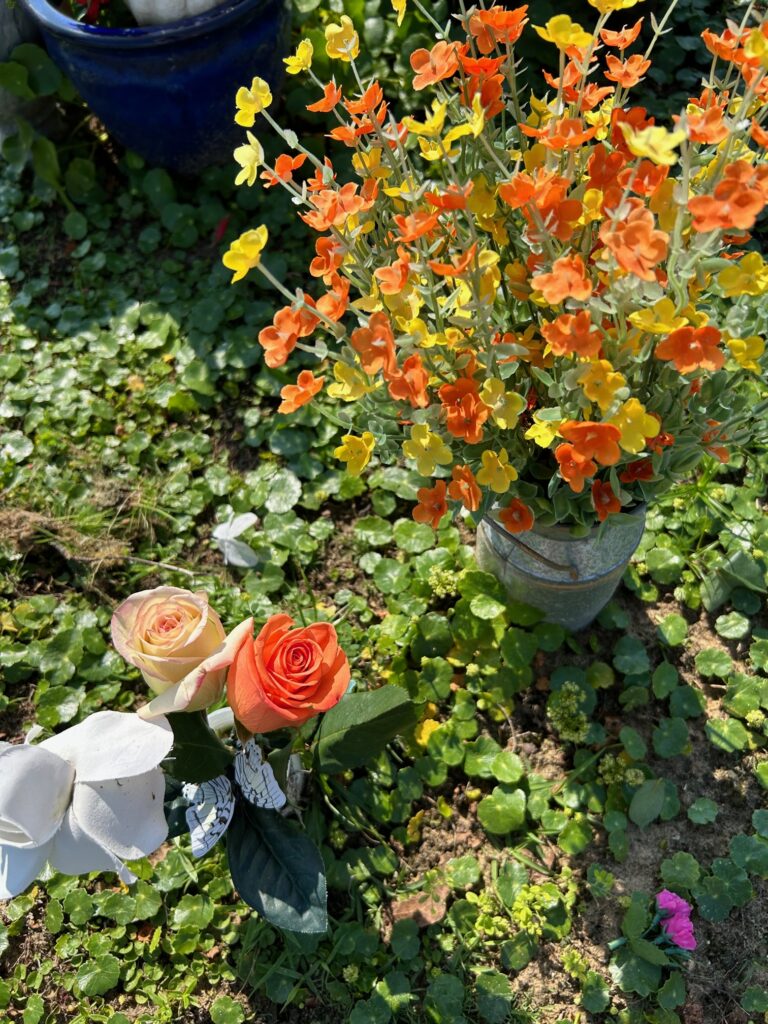 About the author:
Del Stone Jr. is a professional fiction writer. He is known primarily for his work in the contemporary dark fiction field, but has also published science fiction and contemporary fantasy. Stone's stories, poetry and scripts have appeared in publications such as Amazing Stories, Eldritch Tales, and Bantam-Spectra's Full Spectrum. His short fiction has been published in The Year's Best Horror Stories XXII; Alfred Hitchcock's Mystery Magazine; the Pocket Books anthology More Phobias; the Barnes & Noble anthologies 100 Wicked Little Witch Stories, Horrors! 365 Scary Stories, and 100 Astounding Little Alien Stories; the HWA anthology Psychos; and other short fiction venues, like Blood Muse, Live Without a Net, Zombiesque and Sex Macabre. Stone's comic book debut was in the Clive Barker series of books, Hellraiser, published by Marvel/Epic and reprinted in The Best of Hellraiser anthology. He has also published stories in Penthouse Comix, and worked with artist Dave Dorman on many projects, including the illustrated novella "Roadkill," a short story for the Andrew Vachss anthology Underground from Dark Horse, an ashcan titled "December" for Hero Illustrated, and several of Dorman's Wasted Lands novellas and comics, such as Rail from Image and "The Uninvited." Stone's novel, Dead Heat, won the 1996 International Horror Guild's award for best first novel and was a runner-up for the Bram Stoker Award. Stone has also been a finalist for the IHG award for short fiction, the British Fantasy Award for best novella, and a semifinalist for the Nebula and Writers of the Future awards. His stories have appeared in anthologies that have won the Bram Stoker Award and the World Fantasy Award. Two of his works were optioned for film, the novella "Black Tide" and short story "Crisis Line."
Stone recently retired after a 41-year career in journalism. He won numerous awards for his work, and in 1986 was named Florida's best columnist in his circulation division by the Florida Society of Newspaper Editors. In 2001 he received an honorable mention from the National Lesbian and Gay Journalists Association for his essay "When Freedom of Speech Ends" and in 2003 he was voted Best of the Best in the category of columnists by Emerald Coast Magazine. He participated in book signings and awareness campaigns, and was a guest on local television and radio programs.
As an addendum, Stone is single, kills tomatoes and morning glories with ruthless efficiency, once tied the stem of a cocktail cherry in a knot with his tongue, and carries a permanent scar on his chest after having been shot with a paintball gun. He's in his 60s as of this writing but doesn't look a day over 94.
Contact Del at [email protected]. He is also on Facebook, twitter, Pinterest, tumblr, TikTok, Ello and Instagram. Visit his website at delstonejr.com .