Del reviews 'Dungeons & Dragons: Honor Among Thieves'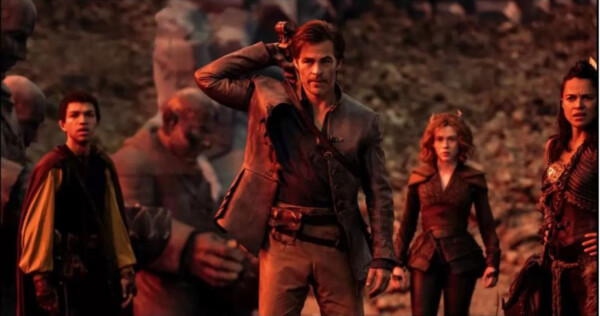 "Dungeons & Dragons: Honor Among Thieves" Starring Chris Pine, Michelle Rodriguez, Justice Smith, Sophia Lillis and Hugh Grant. Directed by John Francis Daley and Jonathan Goldstein. 2 hours, 14 minutes. Rated PG-13. Theatrical release.
Del's take
"Honor Among Thieves" is silly, stupid, fun, and undeniably entertaining, even for an avowed hater of all things fantasy. Yet there's little meat on the ribs of this escapist fantasy showing at a theater near you – assuming a theater near you remains in operation.
The story is about widower Edgin Darvis (Chris Pine), whose wife was killed by a vile group of conjurers known as the Red Wizards. Edgin, along with growling sidekick Holga (Michelle Rodriguez), half-baked wizard Simon (Justice Smith) and shapeshifter druid Doric (Sophia Lillis) embark on a quest to retrieve a relic that can bring back Edgin's wife. Along the way they must free Edgin's estranged daughter Kira (Chloe Coleman) from the clutches of Forge Fitzwilliam (Hugh Grant), a former ally who has turned traitor, and thwart the restoration of the Red Wizards, led by Sofina (Daisy Head).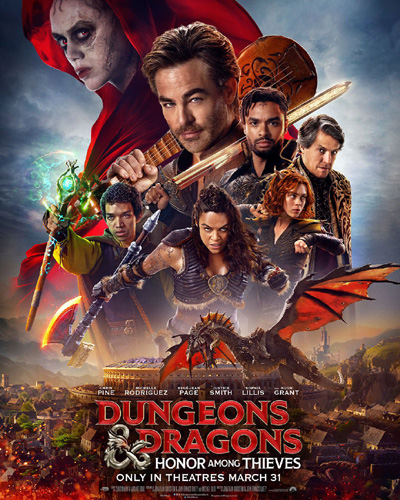 It's not as complicated as it sounds.
The journey takes them through various magical realms where they meet new friends and defeat old enemies. Talking corpses, overweight dragons, raging owlbears and magic portals make for a colorful if not eventful quest.
Humor is pervasive, which suggests "Honor Among Thieves" does not take itself that seriously. And with Chris Pine leading the campaign, how could it? Pine imbues Edgin with plenty of James Tiberious Kirk – alternating swagger and joke-cracking – as he and his merry band of adventurers tumble from one cliffhanger to the next. The movie's standout performer is Smith as fumbling Simon, the wizard with a heart of gold. Simon pines for Doric (Lillis) and along the way discovers that with sufficient self confidence he can reasonably go toe-to-toe with a powerful mage like Sofina.
"Honor Among Thieves" closely follows the Marvel model of moviemaking – lots of action, gorgeous special effects, not much in the way of character development or world-building, and a thin plot to frame the action sequences without telling too much of a story. Entertaining, yes. Memorable? Hardly. It's like having a Mimosa and Eggs Benedict for brunch: By mid-afternoon you're already wondering what's for dinner.
As quests go "Honor Among Thieves" doesn't compare to "Lord of the Rings." It's like "Narnia" with dirty jokes. You'll be entertained but a day later you won't remember a thing.
But do see the movie in a theater if possible. Only a theater can deliver the grandeur, and the shared experience, that all movies deserve.
I give "Dungeons & Dragons: Honor Among Thieves" a solid B. It was entertaining and well acted, but the story was forgettable.
Del Stone Jr. is a writer and former journalist.