Wednesday was Take-the-Cats to the Vet Day. Oh boy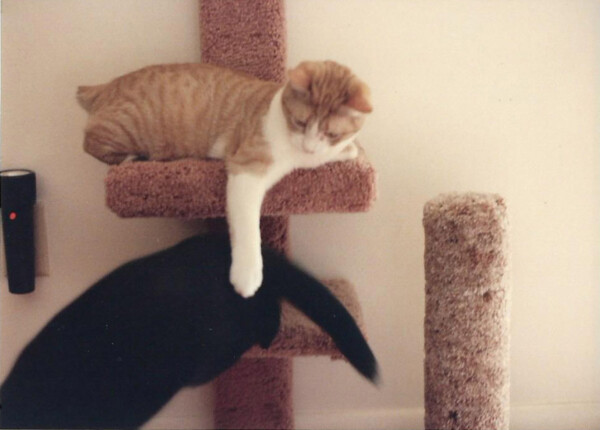 Photo courtesy of Del Stone Jr.
—
Wednesday was Take the Cats to the Vet Day.
Lest you think this is a trivial subject unworthy of a column, let me assure you I am tired of solving world peace, curing fatal diseases or fending off overtures from Jennifer Lopez or the Republican National Committee.
Besides, preparing for this trip required more planning than D-Day.
To say, "The cats don't like going to the vet" is like saying, "Godzilla doesn't like Tokyo," meaning these normally placid animals are transformed into screeching, fur-covered Obama bin Ladens once the pet carriers come out of the closet.
Worse, these cats, Pavlov and Maggie, are fully mission-capable – they have fangs and claws, and they know how to use hem. All allegiances are off on Vet Day.
My first step was to close all the doors in the house while the cats napped blissfully in the living room. They instantly knew something was up. Maybe I was giving off Vet Vibes. But they slunk off to parts unknown – until they realized I'd cut off all their hiding places.
That's when the screeching began.
I managed to get them into the pet carriers. Maggie has a set of claws that would cause Jack the Ripper to swoon with envy, and she likes to rake them across my wrists, which I think would make her an excellent interrogator of Iraqi POWs. But I successfully dodged her attempts to blood me and headed out for the vet.
In Destin.
Traffic, to put it delicately, sucked. A rainy Wednesday afternoon and it was wall-to-wall SUVs and vans from places like Tennessee, George and Hell. The wailing of damned souls from the back seat seemed the perfect musical accompaniment to road conditions.
As we crept into Destin I heard the sound of a kitty stomach being emptied inside the pet carrier. To quote an old Richard Pryor album, "The funk rolled out – it knocked me to my $@%& knees!" Now I was wailing.
A mere 43 minutes later we arrived at the vet's office, where I spent the next 15 minutes trying to conceal the evidence of Palov's indiscretion. "Oh, don't worry about it," said the vet, who explained she'd been covered with every disgusting substance an animal can emit. She went on to relate a truly gross story about her assistant getting hit in the eye by something so utterly revolting that even I can't repeat it.
Four inoculations, two collar tags and a credit card swipe later, we were creeping back to Fort Walton Beach. The out-of-town drivers were in full Bonehead Mode. Something about a vacation lobotomizes the courtesy lobe of one's brain, I guess.
When I got the cats home they crashed, I cleaned out their carriers – Windex was OK but what I needed was a flame-thrower – and then I, like the ungrateful beasts, crashed.
But at least now they won't give me rabies. Existential angst, maybe. But not rabies.
About the author:
Del Stone Jr. is a professional fiction writer. He is known primarily for his work in the contemporary dark fiction field, but has also published science fiction and contemporary fantasy. Stone's stories, poetry and scripts have appeared in publications such as Amazing Stories, Eldritch Tales, and Bantam-Spectra's Full Spectrum. His short fiction has been published in The Year's Best Horror Stories XXII; Alfred Hitchcock's Mystery Magazine; the Pocket Books anthology More Phobias; the Barnes & Noble anthologies 100 Wicked Little Witch Stories, Horrors! 365 Scary Stories, and 100 Astounding Little Alien Stories; the HWA anthology Psychos; and other short fiction venues, like Blood Muse, Live Without a Net, Zombiesque and Sex Macabre. Stone's comic book debut was in the Clive Barker series of books, Hellraiser, published by Marvel/Epic and reprinted in The Best of Hellraiser anthology. He has also published stories in Penthouse Comix, and worked with artist Dave Dorman on many projects, including the illustrated novella "Roadkill," a short story for the Andrew Vachss anthology Underground from Dark Horse, an ashcan titled "December" for Hero Illustrated, and several of Dorman's Wasted Lands novellas and comics, such as Rail from Image and "The Uninvited." Stone's novel, Dead Heat, won the 1996 International Horror Guild's award for best first novel and was a runner-up for the Bram Stoker Award. Stone has also been a finalist for the IHG award for short fiction, the British Fantasy Award for best novella, and a semifinalist for the Nebula and Writers of the Future awards. His stories have appeared in anthologies that have won the Bram Stoker Award and the World Fantasy Award. Two of his works were optioned for film, the novella "Black Tide" and short story "Crisis Line."
Stone recently retired after a 41-year career in journalism. He won numerous awards for his work, and in 1986 was named Florida's best columnist in his circulation division by the Florida Society of Newspaper Editors. In 2001 he received an honorable mention from the National Lesbian and Gay Journalists Association for his essay "When Freedom of Speech Ends" and in 2003 he was voted Best of the Best in the category of columnists by Emerald Coast Magazine. He participated in book signings and awareness campaigns, and was a guest on local television and radio programs.
As an addendum, Stone is single, kills tomatoes and morning glories with ruthless efficiency, once tied the stem of a cocktail cherry in a knot with his tongue, and carries a permanent scar on his chest after having been shot with a paintball gun. He's in his 60s as of this writing but doesn't look a day over 94.
Contact Del at [email protected]. He is also on Facebook, twitter, Pinterest, tumblr, TikTok, Ello and Instagram. Visit his website at delstonejr.com .