It's time to put a stop to cellular hellular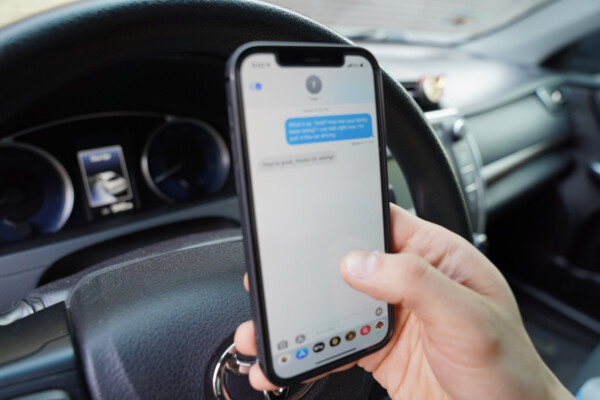 They got mail: Last week I asked you guys to e-mail birthday greetings to Karen Jarnigan (formerly Wolf) and Tavel Bell (formerly Cowen), who both used to work at the Daily News and then moved along to bigger and better things.
Wow, did you e-mail!
By Friday afternoon, Karen had raked in almost 70 messages and electronic birthday cards. And Tavel reported a similar avalanche – so many she hadn't been able to count them all yet.
It was part birthday surprise and part birthday joke, and I thought they'd be a tad aggravated. But guess what?
THEY LOVED IT!
Karen said it was the coolest birthday gift she'd ever gotten, and Tavel, who was at the hospital in Ramstein, Germany, tending to a sick husband, said she really, really needed something to cheer her up.
So y'all done good, Karen and Tavel asked me to tell you that.
Cellular hellular: I was maneuvering for my life in the parking lot of a local grocery store when Mr. Middle-Aged Flabby White Guy driving a six-wheeled Extended Cab Surrogate Manhoodmobile nearly flattened me like a beer can.
Couple of days later, Mr. Silver Streak Mid-Life Crisis Guy behind the wheel of a drop-top Corvette almost sideswiped my little Nissan on Racetrack Dragstrip.
What did these two men have in common, besides a desperate need of sexual validation?
They were both yakking on cellular telephones while driving.
Now I see where country singer George Jones is near death after plowing into a bridge abutment because he couldn't handle his cell phone and his SUV at the same time.
The message is clear: It's way past time we took these things out of the hands of motor vehicle operators.
I know what you're thinking: "Hey, Slick you'll pry my cell phone out of my cold, dead fingers."
Yeah, well, I just hope you don't take some innocent bystander with you, Dealmaker.
I think it's strange that in Florida, where you CAN'T drive a motorcycle without a helmet, you CAN'T drive a car unless you're belted in like John freaking Glenn, and you CAN'T drive your kid to soccer riot practice unless he's locked in a plastic shell, it's perfectly A-OK to maneuver a two-ton vehicle with one finger while you're blabbering on a cell phone.
What's the difference between cell phone impairment and knocking back a few vodka tonics and going for a spin?
Not a thing, Sherlock.
So here's a suggestion for the Northwest Florida political brain trust: Introduce a bill this legislative session that penalizes cell phone users who jive while they drive.
It'll be unpopular, and it'll require political cojones, but it's the right thing to do.
Cell phone users have no business being on the streets.
Dodged a bullet the other day: Jim dropped by the office Wednesday and said – almost mournfully – that I was looking good and he wouldn't be getting his hands on me anytime soon.
Jim works for Emerald Coast Funeral Home.
This column was originally published in the Northwest Florida Daily News on March 10, 1999 and is used with permission.
About the author:
Del Stone Jr. is a professional fiction writer. He is known primarily for his work in the contemporary dark fiction field, but has also published science fiction and contemporary fantasy. Stone's stories, poetry and scripts have appeared in publications such as Amazing Stories, Eldritch Tales, and Bantam-Spectra's Full Spectrum. His short fiction has been published in The Year's Best Horror Stories XXII; Alfred Hitchcock's Mystery Magazine; the Pocket Books anthology More Phobias; the Barnes & Noble anthologies 100 Wicked Little Witch Stories, Horrors! 365 Scary Stories, and 100 Astounding Little Alien Stories; the HWA anthology Psychos; and other short fiction venues, like Blood Muse, Live Without a Net, Zombiesque and Sex Macabre. Stone's comic book debut was in the Clive Barker series of books, Hellraiser, published by Marvel/Epic and reprinted in The Best of Hellraiser anthology. He has also published stories in Penthouse Comix, and worked with artist Dave Dorman on many projects, including the illustrated novella "Roadkill," a short story for the Andrew Vachss anthology Underground from Dark Horse, an ashcan titled "December" for Hero Illustrated, and several of Dorman's Wasted Lands novellas and comics, such as Rail from Image and "The Uninvited." Stone's novel, Dead Heat, won the 1996 International Horror Guild's award for best first novel and was a runner-up for the Bram Stoker Award. Stone has also been a finalist for the IHG award for short fiction, the British Fantasy Award for best novella, and a semifinalist for the Nebula and Writers of the Future awards. His stories have appeared in anthologies that have won the Bram Stoker Award and the World Fantasy Award. Two of his works were optioned for film, the novella "Black Tide" and short story "Crisis Line."
Stone recently retired after a 41-year career in journalism. He won numerous awards for his work, and in 1986 was named Florida's best columnist in his circulation division by the Florida Society of Newspaper Editors. In 2001 he received an honorable mention from the National Lesbian and Gay Journalists Association for his essay "When Freedom of Speech Ends" and in 2003 he was voted Best of the Best in the category of columnists by Emerald Coast Magazine. He participated in book signings and awareness campaigns, and was a guest on local television and radio programs.
As an addendum, Stone is single, kills tomatoes and morning glories with ruthless efficiency, once tied the stem of a cocktail cherry in a knot with his tongue, and carries a permanent scar on his chest after having been shot with a paintball gun. He's in his 60s as of this writing but doesn't look a day over 94.
Contact Del at [email protected]. He is also on Facebook, twitter, Pinterest, tumblr, TikTok, Ello and Instagram. Visit his website at delstonejr.com .