Next Halloween, remember this story, 'Trick-or-Treat'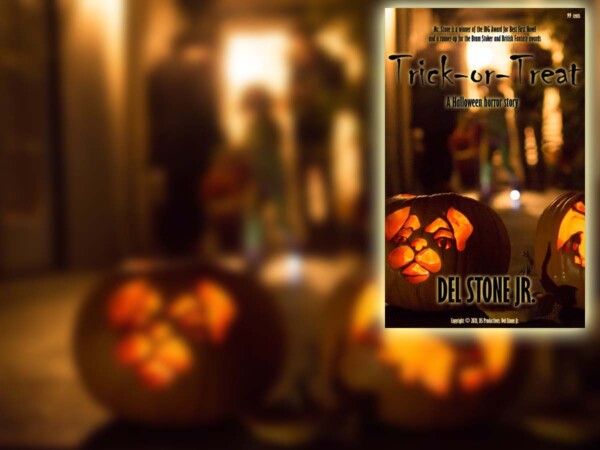 This is a short story, and it is short even for that. I say up front because I don't want you to think you've been tricked out of your money (pardon the seasonal pun). At 99 cents, "Trick-or-Treat" is priced the lowest Amazon allows. If you don't think a story of that length is worth a buck, please don't buy this book.
Now, about "Trick-or-Treat": I wrote the story back in the '80s, and you'll notice dated references to corded telephones and so forth. True story: The first cordless phone I ever saw was in the film "Terms of Endearment." I remember thinking it was a trendy piece of technology I would never be able to afford, but a few years later I would own, and cherish, a Sony cordless phone.
I present to you the story as I wrote it, warts and all. I have not rewritten it or revised it in any way except to correct typos and misspellings.
Of the story I remember it was my first Halloween away from my parents. I had bought an old house across town and was a little nervous about being a homeowner. Suddenly I was responsible for a monster debt – $45,000 – and a huge obligation of repairs and maintenance. It meant I could not quit my job, nor could I suddenly up and leave for a job in another state. I was home "bound."
The genesis of the story itself, I'm unsure of. The protagonist, Clifton, bears no resemblance to anyone I know either physically or spiritually. I have never experienced his kind of anger – I wouldn't want to.
The story is set in the living room of that old house, and when I envision the activities taking place, they are framed by that house and neighborhood. I can see the yellowish door with the diamond-shaped window. I can see the tan shag carpeting, the sloped driveway, the buggy carport and the paint peeling from the frame.
I can even see Clifton standing in the living room during the climax that, to this day, shocks me and makes me wonder what the heck is wrong with a person who could think of a resolution so diabolical.
If you gave me your 99 cents (of which I get to keep 35; Amazon collects the rest), then I thank you and hope you enjoy "Trick-or-Treat."
Think of it this coming Halloween.
Order a copy of "Trick-or-Treat" by following this link:
[ Cover image by Eugene Kim. ]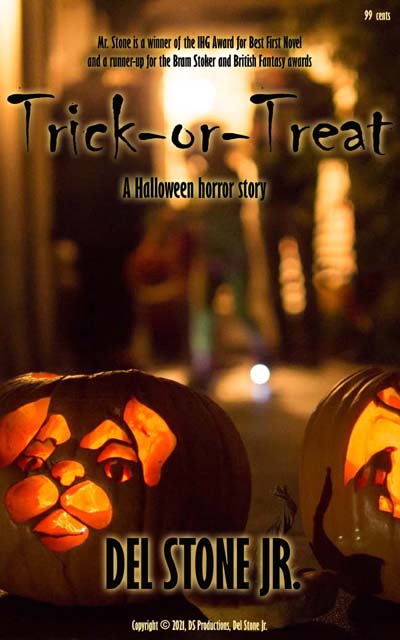 From Amazon
"While short enough to be called flash fiction, this story delivers the impact of a good horror story. Concise with no wasted words. Excellent read for Halloween."
– Richard A. Bamberg, author of "The Hunters: Monster Hunting 101"
Trick-or-Treat: Revised, updated and enhanced with additional content, this micro-story punches far above its weight.
Clifton's girlfriend Lisa has told him goodbye and he is not happy about it.
Not happy at all.
She said she needed space, and time. Clifton has no need of space or time, and now that Halloween is here, with all those happy kids ringing his doorbell and demanding candy, Clifton is ever reminded of his girlfriend, and her class of fourth-graders, and her young daughter, all of them gone now … or maybe not.
Because this Halloween, Clifton has a surprise for Lisa, and all the children in her life.
About the author:
Del Stone Jr. is a professional fiction writer. He is known primarily for his work in the contemporary dark fiction field, but has also published science fiction and contemporary fantasy. Stone's stories, poetry and scripts have appeared in publications such as Amazing Stories, Eldritch Tales, and Bantam-Spectra's Full Spectrum. His short fiction has been published in The Year's Best Horror Stories XXII; Alfred Hitchcock's Mystery Magazine; the Pocket Books anthology More Phobias; the Barnes & Noble anthologies 100 Wicked Little Witch Stories, Horrors! 365 Scary Stories, and 100 Astounding Little Alien Stories; the HWA anthology Psychos; and other short fiction venues, like Blood Muse, Live Without a Net, Zombiesque and Sex Macabre. Stone's comic book debut was in the Clive Barker series of books, Hellraiser, published by Marvel/Epic and reprinted in The Best of Hellraiser anthology. He has also published stories in Penthouse Comix, and worked with artist Dave Dorman on many projects, including the illustrated novella "Roadkill," a short story for the Andrew Vachss anthology Underground from Dark Horse, an ashcan titled "December" for Hero Illustrated, and several of Dorman's Wasted Lands novellas and comics, such as Rail from Image and "The Uninvited." Stone's novel, Dead Heat, won the 1996 International Horror Guild's award for best first novel and was a runner-up for the Bram Stoker Award. Stone has also been a finalist for the IHG award for short fiction, the British Fantasy Award for best novella, and a semifinalist for the Nebula and Writers of the Future awards. His stories have appeared in anthologies that have won the Bram Stoker Award and the World Fantasy Award. Two of his works were optioned for film, the novella "Black Tide" and short story "Crisis Line."
Stone recently retired after a 41-year career in journalism. He won numerous awards for his work, and in 1986 was named Florida's best columnist in his circulation division by the Florida Society of Newspaper Editors. In 2001 he received an honorable mention from the National Lesbian and Gay Journalists Association for his essay "When Freedom of Speech Ends" and in 2003 he was voted Best of the Best in the category of columnists by Emerald Coast Magazine. He participated in book signings and awareness campaigns, and was a guest on local television and radio programs.
As an addendum, Stone is single, kills tomatoes and morning glories with ruthless efficiency, once tied the stem of a cocktail cherry in a knot with his tongue, and carries a permanent scar on his chest after having been shot with a paintball gun. He's in his 60s as of this writing but doesn't look a day over 94.
Contact Del at [email protected]. He is also on Facebook, twitter, Pinterest, tumblr, TikTok, Ello and Instagram. Visit his website at delstonejr.com .
About this book:
"Trick-or-Treat" is a 756-word short story. It has never been published before.
The book's total length is 3,516 words.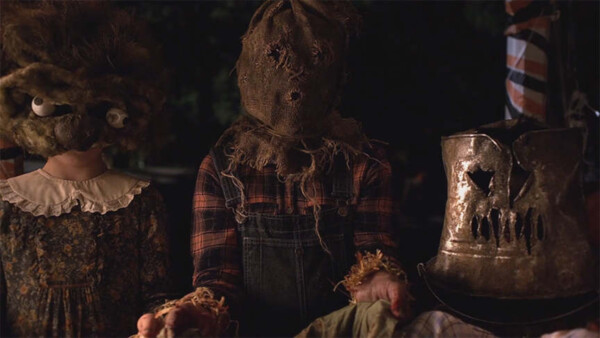 "Hellions" Starring Chloe Rose, Robert Patrick, Rossif Sutherland. Directed by Bruce McDonald. 80 minutes. Unrated.
Del's take
My ever-present quest for those hidden gems of cinema, the obscure horror movie, recently carried me to "Hellions," a new offering on Netflix. "Hellions" is hidden for a reason, although sadly I had to sit through it to find out why.
The movie begins promisingly enough. Seventeen-year-old Dora is planning a Halloween night liaison with boyfriend Jace at a Halloween party, but first she must drop by that pesky health clinic to see why she's been summoned. Probably just want her to pick up a prescription or something.
Too bad it wasn't BCPs because the doctor has news for Dora – she's knocked up. That'll sure take the fun out of a night of canoodling with your dope-smoking teen boy.
Dora decides to kick back at the house while her mom and little brother head out for a children's Halloween party. But later, Jace calls and Dora changes her mind, partly because she wants Daddy Dearest to hear the news ASAP. As she waits for Jace to pick her up, the doorbell rings and a devilishly dressed moppet holds out a trick-or-treat bag.
That's where the trouble begins, in terms of plot and the movie itself.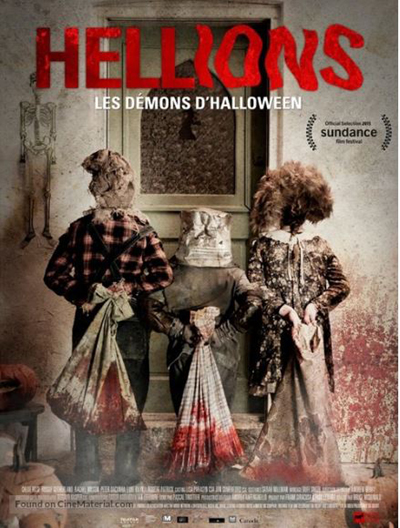 What follows is a near incomprehensible descent into … something. I'm not sure what to call it. A fever dream? Madness? An alternate universe?
Suffice it to say Dora and her unborn child, which is rapidly maturing within her belly into some kind of monster, become the targets of a cadre of demon children who want the baby whatever-it-is for something. I never quite figured that out.
I also never figured out the movie's odd color palette – a kind of faux infrared – and it's weird soundtrack. Oh, and I almost forgot the exploding pumpkins. Musn't forget the exploding pumpkins.
"Hellions" is skillfully assembled in technical terms, and it shows flashes of originality and brilliance. But McDonald loses me, and what I predict will be most viewers, about 15 minutes into the movie when events become inexplicably strange, and not really very interesting.
I don't want to discourage McDonald because I think if he reins in these excursions into visual excess, he should make some decent movies. But "Hellions" isn't one of them.
I would give it a D+, and the plus is for the inventive costumes.
Del Stone Jr. is a former journalist and author.