It really is OK for men to cry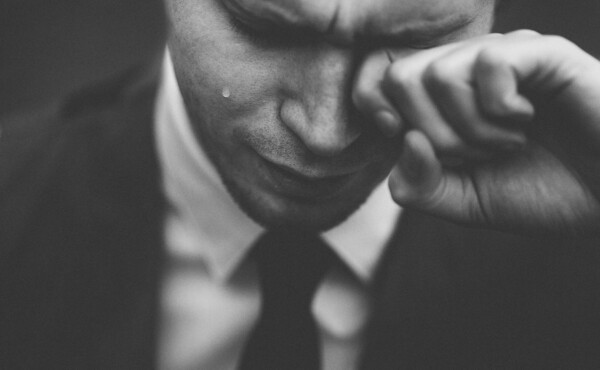 I've become a cry baby in my old age.
I cry at movies – moments where the couple meet and finally – FINALLY – realize they love each other, and as the music swells, their lips come together … and my eyes get all smeary wet with tears.
Videos of soldiers coming home from deployment and surprising their kids and their spouse. I'm a sucker for those.
Especially animals that are found starving, covered in ticks, their fur matted, their tails protectively curled between their legs. Once they've been restored to health – and happiness – I'm grabbing the Kleenexes.
Lord, I'm a mess.
I was a crybaby when I was a kid. I remember crying at the movie "Born Free," where Elsa the lioness returns to the Adamsons after raising a family of her own. I cried when "Old Yeller" died. And, of course, I sobbed whenever I fell off my bicycle, or the neighborhood bully gave me a bloody nose, or I shot the dove in my front yard with my pellet rifle as its mate stood nearby, confused, until I finally got too close and it flew away. I cried because for the first time I realized life was precious, and I had taken another life. These days I don't kill much of anything except cockroaches.
I cried whenever I felt like it, until I reached my mid-teens or thereabouts. Then, something happened. I think it happens to most boys around that age.
We learn not to show our emotions. The world teaches us that. It teaches us that men who show their emotions are weak. Men who cry are babies.
Cry babies.
It's sad, because there were many, many times during those years when I would like to have cried but didn't, when I held my jaw in place, my lips trembling, and focused so ferociously on everything but my pain that my eyes never softened with tears.
Looking back, I wish I'd done it differently. I wish I'd cried like a baby. All it would have meant is that my heart was whole. There's no shame in that.
I no longer believe the myth of the stiff upper lip. Strength is a virtue, yes. We all want to be strong, especially us guys. But there's such a thing as "too strong," where you cut yourself off from many of the feelings and emotions that make us human, and I don't want to be strong that way. I don't want to be a robot, or a machine. I want to live, and part of living is feeling, pain and all.
I'll spend the remaining quarter of my life unlearning some of the things I learned in the first three-quarters, and showing my emotions is one of them. I don't want to be the American concept of manhood.
I believe women refer to it as being "emotionally unavailable." No thanks. I want to be emotionally available, even if it's just to myself.
I am giving myself permission to cry.
About the author:
Del Stone Jr. is a professional fiction writer. He is known primarily for his work in the contemporary dark fiction field, but has also published science fiction and contemporary fantasy. Stone's stories, poetry and scripts have appeared in publications such as Amazing Stories, Eldritch Tales, and Bantam-Spectra's Full Spectrum. His short fiction has been published in The Year's Best Horror Stories XXII; Alfred Hitchcock's Mystery Magazine; the Pocket Books anthology More Phobias; the Barnes & Noble anthologies 100 Wicked Little Witch Stories, Horrors! 365 Scary Stories, and 100 Astounding Little Alien Stories; the HWA anthology Psychos; and other short fiction venues, like Blood Muse, Live Without a Net, Zombiesque and Sex Macabre. Stone's comic book debut was in the Clive Barker series of books, Hellraiser, published by Marvel/Epic and reprinted in The Best of Hellraiser anthology. He has also published stories in Penthouse Comix, and worked with artist Dave Dorman on many projects, including the illustrated novella "Roadkill," a short story for the Andrew Vachss anthology Underground from Dark Horse, an ashcan titled "December" for Hero Illustrated, and several of Dorman's Wasted Lands novellas and comics, such as Rail from Image and "The Uninvited." Stone's novel, Dead Heat, won the 1996 International Horror Guild's award for best first novel and was a runner-up for the Bram Stoker Award. Stone has also been a finalist for the IHG award for short fiction, the British Fantasy Award for best novella, and a semifinalist for the Nebula and Writers of the Future awards. His stories have appeared in anthologies that have won the Bram Stoker Award and the World Fantasy Award. Two of his works were optioned for film, the novella "Black Tide" and short story "Crisis Line."
Stone recently retired after a 41-year career in journalism. He won numerous awards for his work, and in 1986 was named Florida's best columnist in his circulation division by the Florida Society of Newspaper Editors. In 2001 he received an honorable mention from the National Lesbian and Gay Journalists Association for his essay "When Freedom of Speech Ends" and in 2003 he was voted Best of the Best in the category of columnists by Emerald Coast Magazine. He participated in book signings and awareness campaigns, and was a guest on local television and radio programs.
As an addendum, Stone is single, kills tomatoes and morning glories with ruthless efficiency, once tied the stem of a cocktail cherry in a knot with his tongue, and carries a permanent scar on his chest after having been shot with a paintball gun. He's in his 60s as of this writing but doesn't look a day over 94.
Contact Del at [email protected]. He is also on Facebook, twitter, Pinterest, tumblr, TikTok, Ello and Instagram. Visit his website at delstonejr.com .