Okaloosa Island development plans smell fishy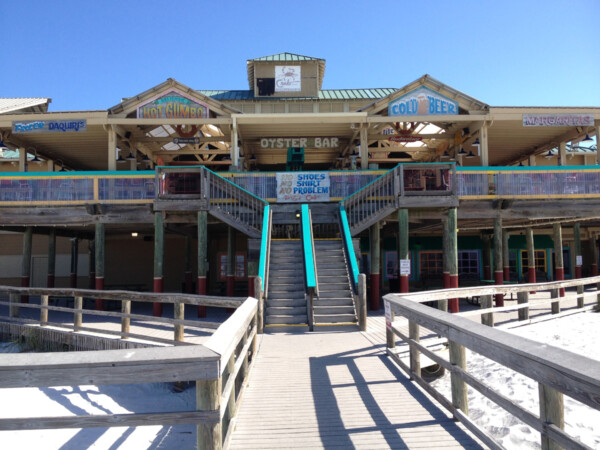 Good morning, Okaloosa County, and welcome to $4.3 million worth of new development on Okaloosa Island, courtesy of park leaseholders Surfside Ventures and your overly friendly County Commission.
Say what? You didn't know about any development proposal for Okaloosa Island?
You're not alone. Most people didn't.
In fact, had the sun risen over the wrong end of Okaloosa Island on Tuesday, we couldn't have been more surprised.
That's because it was buried on the commission's agenda, which was faxed to the media last Thursday at 4:45 in the afternoon.
And when commissioners met Tuesday morning, following the three-day Martin Luther King Jr. holiday weekend, this multimillion dollar project was approved after less than a scan half-hour's discussion.
The development calls for an expansion of facilities at Newman C. Brackin Wayside Park on Okaloosa Island. Coming are Sheriff's Office and Emergency Medical Services substations, a stage for outdoor bands, a wedding chapel and a go-cart track.
The expansion also includes a festival site, a department store, an extreme sports site, specialty stores, a restaurant and bar, and a slide, gazebos, public picnic pavilion and yogurt shop.
The leaseholder is Surfside Ventures, comprised of Bob Bonezzi, Beach Resort owner Fred Tolbert, Atlanta developer Mahammad Malas, Richard Rausch and A.J.'s owner Alan Laird.
No matter what you believe about development on Okaloosa Island, you should be mad as hell, because while commissioners violated no laws, they conducted their business in a way that essentially deprived YOU, the public, of a chance to express an opinion.
As if it needed saying, that's wrong, wrong, wrong.
"We didn't mean to sneak it up anybody," commission Chairman Nick Nicholson said when asked by Staff Writer Jeff Newell if the expansion required more notice to the public or a public hearing. "If there was a requirement for a public hearing, our attorney would have advised us of that."
Said Nicholson, "I don't think it was the intent to do it quietly or loudly. We just acted on it from a business standpoint, from the leaseholders' request."
How reassuring that the county is looking out for the interest of its leaseholders. What about the interests of the public, whom commissioners are alleged to represent.
Can anybody spell V-A-S-E-L-I-N-E?
Truth is, had the Daily News spotted the innocuous entry on the county's agenda Thursday night, Newell couldn't have turned a story around until Saturday's newspaper, when commissioners would have been conveniently unavailable until Tuesday morning.
Perhaps angry mobs at Tuesday's commission meeting could have altered events. Or maybe that's why things happened as they did.
But somebody needs to remind commissioners that government is a cooperative venture between politicians and people, and when you alter that equation, the result is something that falls horribly short of democracy.
This column was published in the Jan. 20, 1999 Northwest Florida Daily News and is used with permission.
About the author:
Del Stone Jr. is a professional fiction writer. He is known primarily for his work in the contemporary dark fiction field, but has also published science fiction and contemporary fantasy. Stone's stories, poetry and scripts have appeared in publications such as Amazing Stories, Eldritch Tales, and Bantam-Spectra's Full Spectrum. His short fiction has been published in The Year's Best Horror Stories XXII; Alfred Hitchcock's Mystery Magazine; the Pocket Books anthology More Phobias; the Barnes & Noble anthologies 100 Wicked Little Witch Stories, Horrors! 365 Scary Stories, and 100 Astounding Little Alien Stories; the HWA anthology Psychos; and other short fiction venues, like Blood Muse, Live Without a Net, Zombiesque and Sex Macabre. Stone's comic book debut was in the Clive Barker series of books, Hellraiser, published by Marvel/Epic and reprinted in The Best of Hellraiser anthology. He has also published stories in Penthouse Comix, and worked with artist Dave Dorman on many projects, including the illustrated novella "Roadkill," a short story for the Andrew Vachss anthology Underground from Dark Horse, an ashcan titled "December" for Hero Illustrated, and several of Dorman's Wasted Lands novellas and comics, such as Rail from Image and "The Uninvited." Stone's novel, Dead Heat, won the 1996 International Horror Guild's award for best first novel and was a runner-up for the Bram Stoker Award. Stone has also been a finalist for the IHG award for short fiction, the British Fantasy Award for best novella, and a semifinalist for the Nebula and Writers of the Future awards. His stories have appeared in anthologies that have won the Bram Stoker Award and the World Fantasy Award. Two of his works were optioned for film, the novella "Black Tide" and short story "Crisis Line."
Stone recently retired after a 41-year career in journalism. He won numerous awards for his work, and in 1986 was named Florida's best columnist in his circulation division by the Florida Society of Newspaper Editors. In 2001 he received an honorable mention from the National Lesbian and Gay Journalists Association for his essay "When Freedom of Speech Ends" and in 2003 he was voted Best of the Best in the category of columnists by Emerald Coast Magazine. He participated in book signings and awareness campaigns, and was a guest on local television and radio programs.
As an addendum, Stone is single, kills tomatoes and morning glories with ruthless efficiency, once tied the stem of a cocktail cherry in a knot with his tongue, and carries a permanent scar on his chest after having been shot with a paintball gun. He's in his 60s as of this writing but doesn't look a day over 94.
Contact Del at [email protected]. He is also on Facebook, twitter, Pinterest, tumblr, TikTok, Ello and Instagram. Visit his website at delstonejr.com .