Del reviews 'Don't Look Up'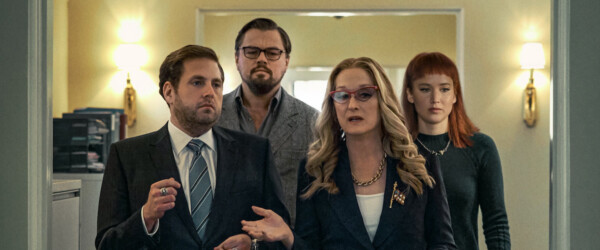 "Don't Look Up" Starring Leonardo DiCaprio, Jennifer Lawrence, Meryl Streep, Cate Blanchett, Rob Morgan, Jonah Hill, Mark Rylance, Tyler Perry, Timothee Chalamet, Ron Pearlman, Ariana Grande, Kid Cudi and others. Directed by Adam McKay. Two hours, 18 minutes. Rated R. Netflix.
Del's take
An existential threat is hurtling our way and what does the president of the United States want to do?
"Sit tight and assess," decides President Orlean (Meryl Streep), who fears an approaching apocalypse might cost her party the midterm elections.
That's the message of "Don't Look Up," a hilarious yet stinging denunciation of many things – our leadership's response to the climate change crisis, the empty-headedness of American culture, the corrosive influence of social media and metrics, and the dehumanizing fist of runaway capitalism. It is the new "Idiocracy" and it arrives just in time to skewer all the people who deserve a sharp stick in the eye.
The story is about a milquetoast, Walter Mitty-style astronomer (Leonardo DiCaprio as Professor Randall Mindy) and his edgy PhD candidate assistant (Jennifer Lawrence as Kate Dibiasky) who discover a planet-killing comet that will smack Earth in six months. They discreetly sound the alarm only to discover the authorities, who don't understand the science and don't care, will not respond to the crisis unless it serves their interests. So Mindy and Dibiasky whistleblow the story to the media, where it lands with an apathetic thud. Most people are more invested in the breakup of two popular singers, Riley Bina (Ariana Grande) and DJ Chello (Kid Cudi). As doom becomes an undeniable reality the government staggers into action by entrusting the fate of the planet to a whackjob Elon Musk-style billionaire (Mark Rylance as Peter Isherwell), who wants to break up the comet into smaller pieces and let them collide with the Earth so the fragments can be mined – by his telecommunications company, Bash – for precious metals crucial to the manufacture of smart phones. All that's left is negotiating with the countries to be annihilated over how much money they want for their dead.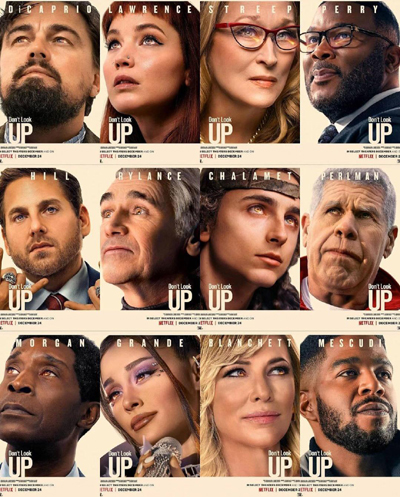 "Don't Look Up" offers more Oscar-fueled star power than a map of the Milky Way, and many of the performances are better than strong. DiCaprio as hapless Dr. Mindy channels a furious Howard Beale (Peter Finch in "Network") when he finally revolts against the frustrating ennui of 21st century America, while Jennifer Lawrence effectively portrays the optimism of youth as it dashed against the rocks of the corrupt, self-serving inertia that serves as leadership these days. Meryl Streep evokes a dumb-as-a-box-of-rocks, Donald Trump-style president whose only strong suit is a kind of animal cunning, while Cate Blanchett, as the glib yet shallow peroxide blonde who leads Dr. Mindy astray and then abandons him when he becomes a liability, perfectly portrays the fickleness of American media.
A few other performances worth mentioning: Ariana Grande is a hilarious Riley Bina, as is Mark Rylance as Isherwell, which I suspect is a composite of Musk and Steve Jobs. And Jonah Hill as the juvenile White House chief of staff (and Orlean's son) makes you want to reach through the screen and slap him. The one performance that left me cold was Timothee Chalamet's Yule, though at one point he offers a prayer for the ages.
"Don't Look Up" has gotten mixed reviews. Nick Allen of RogerEbert.com calls it "McKay's worst film yet" while Charles Bramesco of The Guardian dismisses it as a "disaster." The New York Times and CNN were more merciful. The complaint centers around the jokes and caricatures, which they say are lowbrow. I would argue that in an age where attention spans near a half-life of a nanosecond, the lack of "razor-sharp wit" is as much commentary as the jokes and characters themselves.
I enjoyed the hell out of "Don't Look Up" and I thought it communicated exactly what the "Let's Go Brandon" crowd needs to hear – that they're a bunch of fucking idiots who are screwing up the country and the planet with their selfish ignorance. The fact that this message was delivered with a hammer, not a scalpel, is a strike in the movie's favor. Do you seriously think people who believe vaccines are evil and Donald Trump is still the president would notice or respond to "razor sharp wit"? Give me a break.
Isherwell brags that his algorithms are so good they can predict when and how President Orlean will die. She will be eaten by a "bronteroc."
I won't tell you what that means. To find out you must watch past the credits. But it's pretty damned funny.
Meanwhile, check out "Don't Look Up." Pay no heed to the critics – it's funny as hell and I think you'll enjoy it, unless you're one of the people being skewered. And who knows? If you have a sense of humor, you too might get a laugh.
I rate it a solid A.
Del Stone Jr. is a former journalist and writer.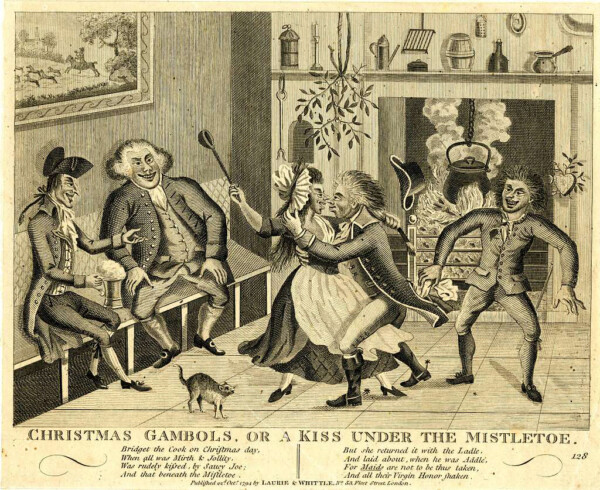 Greetings from Stockholm, where I am receiving the Nobel Prize for chemistry. I thought invite you, but only people with IQs above 185 are allowed.
I have been very busy the past year. I not only conquered my fear of flying but obtained my commercial airline pilot's license, which enabled me to ferry the president and his concubine aboard the Concorde on a fact-finding tour of Bali.
And that little weight problem I grappled with last year? Not only did I get back into shape, I recently posed for the Mr. November foldout of the Undergear catalog. Good thing my washboard abs were honed to a glistening edge by my personal trainer, Arnold Schwarzenegger.
My goal for the coming year is to occupy the top 10 positions on the New York Times best seller list – simultaneously.
My wife, Carolyn Murphy, the supermodel, finished that shoot in Milan and came home to complete her doctorate's – magna cum laude, of course – in quantum mechanics. She will complete her Grand Unification Theory aboard the International Space Station, once she's finished carving that sculpture of the president into Mount Rushmore.
Our daughter, Zelda, recently won the best actress Academy Award for her portrayal of Juliet Capulet in James Cameron's new movie, "Shakespeare vs. The Terminator," which grossed over $2 billion in worldwide ticket receipts. Now it's back to Oxford – assuming they grant her tenure. If not, she's been asked to serve a term as prime minister of Japan.
Meanwhile, our son Abercrombie defeated the Russian Federation representative for the world chess crown and recently established radio contact with the Antareans, a race of superbeings who inhabit a distant planet and have promised to share their secrets of immortality and galactic peace with humanity. He's a clever scamp. Now if I could only get him to make his bed!
Even the family dog, Clytemnestra, has news. She received a presidential citation for leading the passengers and crew of a grounded cruise liner to safety, and recently disarmed a gang of thugs trying to make off with the Spode. If you see her story on "60 Minutes" pay close attention to the tile in the entryway – it's Tuscany, and I quarried, cut, polished laid it myself (with a little help from Bob Vila).
Lastly, our house has been declared a national sanctuary by federal wildlife officials after a rare orchid, thought to have been extinct 100 million years ago, was discovered growing in our back yard amidst the kiwi grove.
Well, enough about me and my family. How was your tawdry, hollow shell of an existence for the year?
This column was originally published in the Dec. 3, 1997 edition of the Northwest Florida Daily News and is used with permission.
About the author:
Del Stone Jr. is a professional fiction writer. He is known primarily for his work in the contemporary dark fiction field, but has also published science fiction and contemporary fantasy. Stone's stories, poetry and scripts have appeared in publications such as Amazing Stories, Eldritch Tales, and Bantam-Spectra's Full Spectrum. His short fiction has been published in The Year's Best Horror Stories XXII; Alfred Hitchcock's Mystery Magazine; the Pocket Books anthology More Phobias; the Barnes & Noble anthologies 100 Wicked Little Witch Stories, Horrors! 365 Scary Stories, and 100 Astounding Little Alien Stories; the HWA anthology Psychos; and other short fiction venues, like Blood Muse, Live Without a Net, Zombiesque and Sex Macabre. Stone's comic book debut was in the Clive Barker series of books, Hellraiser, published by Marvel/Epic and reprinted in The Best of Hellraiser anthology. He has also published stories in Penthouse Comix, and worked with artist Dave Dorman on many projects, including the illustrated novella "Roadkill," a short story for the Andrew Vachss anthology Underground from Dark Horse, an ashcan titled "December" for Hero Illustrated, and several of Dorman's Wasted Lands novellas and comics, such as Rail from Image and "The Uninvited." Stone's novel, Dead Heat, won the 1996 International Horror Guild's award for best first novel and was a runner-up for the Bram Stoker Award. Stone has also been a finalist for the IHG award for short fiction, the British Fantasy Award for best novella, and a semifinalist for the Nebula and Writers of the Future awards. His stories have appeared in anthologies that have won the Bram Stoker Award and the World Fantasy Award. Two of his works were optioned for film, the novella "Black Tide" and short story "Crisis Line."
Stone recently retired after a 41-year career in journalism. He won numerous awards for his work, and in 1986 was named Florida's best columnist in his circulation division by the Florida Society of Newspaper Editors. In 2001 he received an honorable mention from the National Lesbian and Gay Journalists Association for his essay "When Freedom of Speech Ends" and in 2003 he was voted Best of the Best in the category of columnists by Emerald Coast Magazine. He participated in book signings and awareness campaigns, and was a guest on local television and radio programs.
As an addendum, Stone is single, kills tomatoes and morning glories with ruthless efficiency, once tied the stem of a cocktail cherry in a knot with his tongue, and carries a permanent scar on his chest after having been shot with a paintball gun. He's in his 60s as of this writing but doesn't look a day over 94.
Contact Del at delstonejr@yahoo.com. He is also on Facebook, twitter, Pinterest, tumblr, TikTok, Ello and Instagram. Visit his website at delstonejr.com .