Today, I did a bad thing – spent money on fun!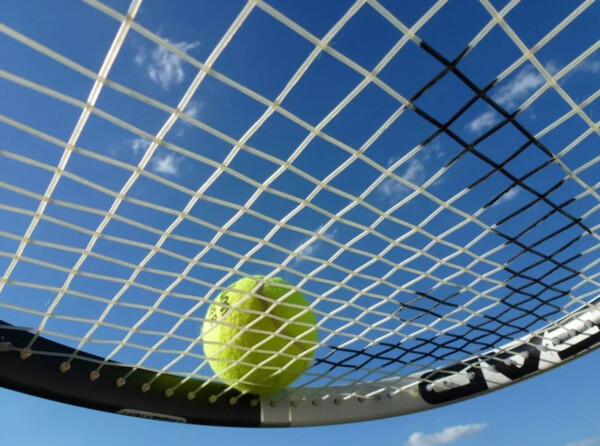 I'm known throughout the land as a pennypincher.
A quarter of my paycheck goes to the 401(k). I stash money in savings every month. I grill insurance agents for the lowest possible premium. The T.Mobile rep said he couldn't give me a cheaper rate because the one I have is so low it no longer exists.
But today, I did something notoriously out of character. It started this way:
I was talking to my friend Dusty and mentioned I hadn't won a tennis tournament this decade. I won in the '70s, '80s and '90s. I missed the '00s. And now, 38 years after taking up tennis, I had a hankering to win one more. Problem is I had only one racket, an ancient Prince I bought back in 1992. It is to tennis rackets what black-and-white is to TVs. To play in a tournament I'd need a racket and a back-up. They'd have to be the same racket, same weight, same grip size, same balance, same string gauge, same tension … you get the picture.
So today Dusty and I dropped by the Fort Walton Beach Tennis Center so I could try out some demos from Erik Stenberg's pro shop. The choices were bewildering, so I gathered up an armful and hit the courts.
I quickly discovered I did NOT like the lighter rackets, the 9-ounce jobs. A 10.6-ounce racket seemed to suit my game. Grip size became an issue. I'd always used 4 1/2, but the 4 3/8 rackets worked better for me.
It came down to two Babolats, one that was weighted at the top, the other with a more even weight distribution. I settled with even. Dusty looked online to check the price, which came in at $185. OK, let's see, $185 times two, with two $30 string jobs … that's $430.
I cringed. Erik's would probably be higher, let's say $20 per racket. A $470 dent in my checking account would take months to repair. But in the end I decided I wanted to buy local. Erik's a local businessman and I've known him for decades. My relationship with him and his wife, Christie, is a lot more important than a few bucks. Besides, I'm pushing 60 and I haven't bought a tennis racket in 19 years. These might be the last rackets I buy.
So I took the plunge … except it wasn't as deep a plunge as I feared. For starters, Erik's price was substantially below that of the online tennis wholesaler. And at his pro shop the first string job is free – for both rackets!
So while I'm feeling a tad guilty about spending that kind of money on something as frivolous as a tennis racket, I'm happy that now I can begin pursuing my goal of winning one more tennis tournament.
And I'd like to add I'm extremely happy I bought local. Not only did I support a local businessman but I saved money. I know that can't be true in every case but I believe relationships with my local business community are just as important as money.
So if you're looking for a tennis racket in the Fort Walton Beach area give Erik Stenberg at FWBTC a call. I'm very happy I did.
About the author:
Del Stone Jr. is a professional fiction writer. He is known primarily for his work in the contemporary dark fiction field, but has also published science fiction and contemporary fantasy. Stone's stories, poetry and scripts have appeared in publications such as Amazing Stories, Eldritch Tales, and Bantam-Spectra's Full Spectrum. His short fiction has been published in The Year's Best Horror Stories XXII; Alfred Hitchcock's Mystery Magazine; the Pocket Books anthology More Phobias; the Barnes & Noble anthologies 100 Wicked Little Witch Stories, Horrors! 365 Scary Stories, and 100 Astounding Little Alien Stories; the HWA anthology Psychos; and other short fiction venues, like Blood Muse, Live Without a Net, Zombiesque and Sex Macabre. Stone's comic book debut was in the Clive Barker series of books, Hellraiser, published by Marvel/Epic and reprinted in The Best of Hellraiser anthology. He has also published stories in Penthouse Comix, and worked with artist Dave Dorman on many projects, including the illustrated novella "Roadkill," a short story for the Andrew Vachss anthology Underground from Dark Horse, an ashcan titled "December" for Hero Illustrated, and several of Dorman's Wasted Lands novellas and comics, such as Rail from Image and "The Uninvited." Stone's novel, Dead Heat, won the 1996 International Horror Guild's award for best first novel and was a runner-up for the Bram Stoker Award. Stone has also been a finalist for the IHG award for short fiction, the British Fantasy Award for best novella, and a semifinalist for the Nebula and Writers of the Future awards. His stories have appeared in anthologies that have won the Bram Stoker Award and the World Fantasy Award. Two of his works were optioned for film, the novella "Black Tide" and short story "Crisis Line."
Stone recently retired after a 41-year career in journalism. He won numerous awards for his work, and in 1986 was named Florida's best columnist in his circulation division by the Florida Society of Newspaper Editors. In 2001 he received an honorable mention from the National Lesbian and Gay Journalists Association for his essay "When Freedom of Speech Ends" and in 2003 he was voted Best of the Best in the category of columnists by Emerald Coast Magazine. He participated in book signings and awareness campaigns, and was a guest on local television and radio programs.
As an addendum, Stone is single, kills tomatoes and morning glories with ruthless efficiency, once tied the stem of a cocktail cherry in a knot with his tongue, and carries a permanent scar on his chest after having been shot with a paintball gun. He's in his 60s as of this writing but doesn't look a day over 94.
Contact Del at [email protected]. He is also on Facebook, twitter, Pinterest, tumblr, TikTok, Ello and Instagram. Visit his website at delstonejr.com .