Mladen and Del review 'The Midnight Sky'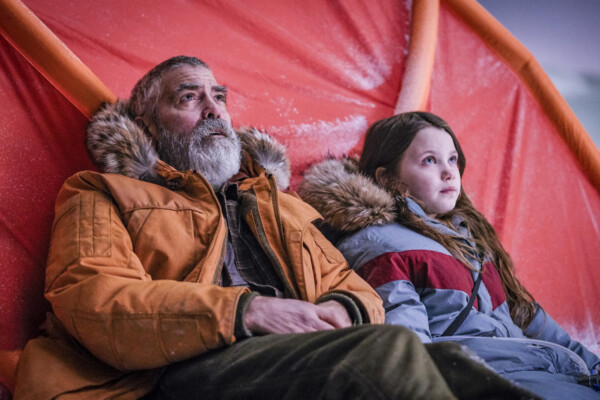 "The Midnight Sky" starring George Clooney, Felicity Jones, David Oyelowo, Caoilinn Springall, Kyle Chandler, Demian Bichir, Tiffany Boone, and others. Directed by George Clooney. Runtime 118 minutes. Rated PG-13. Netflix
Mladen's take
Rank the essential components – acting, directing, score, cinematography, and script – of "The Midnight Sky" individually and the results vary from good to very good. Combine the essential components of this Netflix production and the result is mediocrity.
It's not that "Midnight," despite its Adam-and-Eve ending and a twist that turned out to be, what, a terminal-cancer-driven hallucination, is entirely disappointing. It's that its subplots weren't particularly absorbing. Nor were its way-too-many characters consistently worth caring about.
In "Midnight," the year is 2049 (maybe that's a nod to 2017's "Blade Runner 2049") and the jig is up for humanity. Actually, it's the end for anything that breathes air as we know air today – mostly nitrogen, some oxygen, and a little bit of carbon dioxide, i.e. not enough to poison us. Before our planet's atmosphere turned into a swirl of unbreathable toxic gases, mankind mounted an expedition to a newly discovered Jovian moon that could support complex life. The crew of the vessel was on its way home from a recon of moon K-23 when Mother Earth, reacting to our abuse of her, transformed into Serial Killer Earth. Augustine, portrayed by George Clooney, and accompanied by a young girl, has to make way for a weather station that likely has the capability to communicate with the spaceship returning to Earth. He wants to warn the crew that our planet is no longer habitable and offer a suggestion – return to Jupiter's moon to re-plant our species on a pristine solar system body.
Why cosmologist Augustine feels he has to alert the crew of a spaceship built to probe a moon for signs it can support life that Earth is unsafe for them is beyond me. As the spaceship approached Earth, it was clearly visible to its crew that the planet's atmosphere, now a green-yellow, had changed since they departed two years earlier. I'm no astronaut, but a discolored home world would have me saying something like, "Ensign, give me scans of the planet in UV and IR. What's the spectroscopy saying about chemical composition of the atmosphere?"
The spaceship has a crew of five, one of them Felicity Jones's Sully, a pregnant communications specialist. As the spaceship's sub-story unfolds through a course deviation, collisions with space rocks, and an assortment of personal anguish, one crew member dies, two decide to return to Earth the Stomper of Life via a lander, and two slingshot back toward K-23.
I predict Del will like this movie, giving it a B+. He's like one of the dudes in "Midnight" who decides to go home, though home will kill you for sure. Del will strain to find the positive in "Midnight" like the movie's Earth returners hoped to find family still alive. Don't be fooled. "Midnight" ain't that good.
The best you can expect from "Midnight" is a few bits of good storytelling backed by consistently good acting. The film's score is sturdy, if not exceptional. It helps the tale by setting up moods. The visual effects in "Midnight" are very good. I enjoyed the cinematography the most when it conveyed the austere and stark blue whiteness of snow cover and ice pack in the North Pole. But, even that simple joy was harassed by an achy nagging at the back of my brain. As mentioned above, "Midnight" takes place in 2049. Ain't no way there'll be any ice pack or glaciers anywhere on Earth in 28 years. Want ice then? Place your glass beneath the ice dispenser on your refrigerator.
"The Midnight Sky" gets a C+ from me. Del, on the other hand, will likely nominate it for a best picture Oscar.
Del's take
Merry Christmas, you old coot. Sounds like you're sipping more of the "nog" than the "egg."
You think I liked "The Midnight Sky"?
Piffle. Do I like any movie?
Folks may think I'm a serial hater but trust me, there are movies I adore – "Being There," "Doctor Strangelove," and "Die Hard" to name a few. "Midnight Sky" ain't one of them.
Not to nerd out on all three of our readers but "Midnight" lost me at the opening narrative where we are informed mankind has discovered a "new moon" around the planet Jupiter, one that has the ability to support terrestrial life.
Oh, sweet Jesus, somebody hand me one of George Clooney's barf bags.
To put it politely, that's a preposterous crock of ca-ca. There is no more an undiscovered moon of Jupiter capable of supporting "The Property Brothers" than the Earth is flat, climate change ain't happening and Donald Trump was an effective and cordial president.
(Yes, I did have to get my Trump bash in.)
With all the space probes we've sent to Jupiter – hell, we've got one there right now photographing everything from moons and lightning bolts to Jupiter getting out of the shower – the chances of a large moon escaping our carefully studied inspections are nil. Not almost nil. Totally, completely and incontrovertibly nil. Nil nil nil, as in where have you been the past 30 years and you're an idiot for even suggesting such a stupid departure from reality.
Seriously, it isn't written in stone that a movie's science must be accurate. Obviously the science of "Star Wars" is so far off the mark it qualifies as fantasy, and let's not talk about movies like "Godzilla" and "Transformers." But if you, the moviemaker, present the science as a pillar of the film's premise, then you must make sure it's consistent – or at least plausible – with what we already know. Had the makers of "Midnight" consulted a single astronomy buff they could have adjusted their ca-ca premise.
OK, enough nerd stuff. I can see two of our readers are asleep. Suffice it to say the scientific implausibilities that I mentioned, along with those Mladen noticed even in his nogged-out state, pretty much ruined the movie for me.
The rest of "Midnight" is a depressing pastiche of tropes and science fiction clichés interspersed with scenes of George Clooney throwing up. Was anybody else grossed out by the vomit in his Unabomber beard? Funny, the ca-ca Hollywood thinks people want to see. As for Mladen's "consistently good acting," I'm sorry but what the hell was he smoking? Clooney's narcoleptic performance failed to impress despite the bombastic promotionals. The only actor who showed the tiniest sign of life was Kyle Chandler, who uttered one laugh-out-loud line. The plot consisted of a series of contrived and impossible cliffhangers. The script seemed inspired by "A Recipe for Seduction" in terms of silliness and the movie as a whole struck me as Frankensteined from bits and pieces of "Gravity," "Interstellar" and other mediocre SF films.
By the way, "We messed up" is not sufficient explanation for the end of the world.
What's good about "The Midnight Sky"?
The special effects are pretty. Sound of crickets chirping. I can't think of anything else.
What irritates me is "Midnight" could have been an excellent movie. The problems could have been fixed easily enough so that grouchy old bastards like Mladen and me could go back to grumping about our prostates. It's just sloppiness and laziness, and as a storyteller myself it pisses me off.
I've recommended a lot of Netflix movies lately but if you miss this one you haven't missed much. I give it a C-.
Mladen Rudman is a former journalist and technical writer. Del Stone Jr. is a former journalist and author.