Mladen and Del review 'The Thing'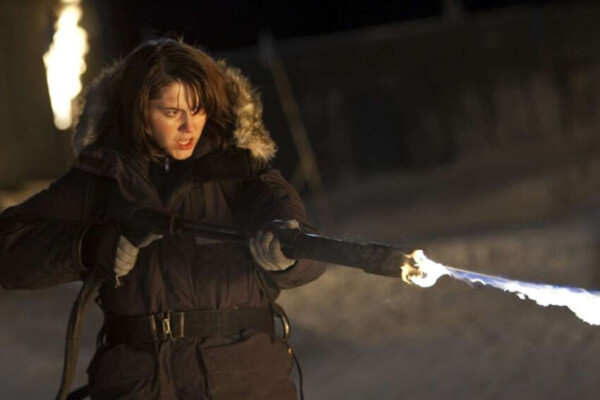 Image courtesy of Universal Pictures.
—
"The Thing" Starring Mary Elizabeth Winstead, Joel Edgerton and Ulrich Thomsen. Directed by Matthijs van Heijningen Jr. 103 minutes. Rated R.
Mladen's take
Let's call Director John Carpenter's 1982 film "The Thing, A." Let's call Director Matthijs Van Heijningen's released-on-Friday movie "The Thing, B." I do that for two reasons. Those are the grades each movie deserves – actually it's A+ and B+, respectively. And, it'll be easier to keep track of which movie I'm referring to because comparisons are inevitable. "The Thing, B" is the prequel to "The Thing, A."
The "Thing, A" in one of the two finest sci-fi horror movies made. The other is "Alien."
The formula for success is retained in "The Thing, B." An isolated group of humans, in this case a multinational research team in the Antarctic. A creature that mercilessly and vividly parasitizes bodies. And, suspense.
My pal Del will probably disagree with the last attribute. Always grumpy and a quibbler, he'd exchange "suspense" for "cheap-shot fear" because there are at least three jump-out-of-your seat moments in "The Thing, B."
To a degree, I agree with Del.
In the superb "The Thing, A," the body-snatching, body-cloning alien is portrayed as an amorphous, almost cautious being. It'd prefer to nail you when you're handy and lashes out only when pursued. That makes the creature scarier because it's clearly thinking.
In the "The Thing, B," the alien has a shape of its own. In its original state, the technologically sophisticated arthropod looks like an overgrown wood louse. And, rather than being an ambush predator, like say a praying mantis, it's an aggressive stalker of anything that moves, like say former U.S. vice president Dick Cheney. That makes the creature more of a monstrosity.
There are implausible moments in the "The Thing, B." The lead Norwegian scientist ignores American paleontologist Kate Lloyd, portrayed very effectively by Mary Elizabeth Winstead, when she urges that carefully controlled laboratory techniques, including isolation, be used to un-entomb the alien from the ice in which it's frozen.
Also, the soundtrack used to frame "The Thing, B" is very weak. A day after seeing the film, I'm unable to recall its rhythm or tempo. This is in stark contrast to Ennio Morricone's foreboding, subtly pulsing, and ingenious score in "The Thing, A." Sometimes, simple is better. Much, much better.
But, let's not quibble.
"The Thing, B" takes advantage of the unique elements at its disposal.
Computer-generated graphics are very good and used to enhance the plot, not substitute for it.
Van Heijningen imagines very nicely what would likely happen to a small group of humans confronted by a terrifying fact: If it walks like a human, if it talks like a human, if it behaves like a human, it might not be a human. The scientists act rationally and irrationally as each tries to avoid becoming food for the alien's DNA. Most notably, as the situation at the Antarctic research outpost deteriorates, the Norwegians and Americans periodically rely on nationality as a source of trust to form us-against-them alliances, though the Thing is uninterested in which flag would hang above its next human victim's grave. Assuming, of course, there's anything of the victim's own remains to recover.
There's another reason to see "The Thing, B" while it's in theaters.
Van Heijningen pays tribute, maybe it's more like deference, to Carpenter's "The Thing."
To appreciate the gesture, make sure you've seen Carpenter's film before seeing Heijningen's and stick around for the credits. Many in the audience started to leave, only to stop, while standing, to watch the end of "The Thing, B."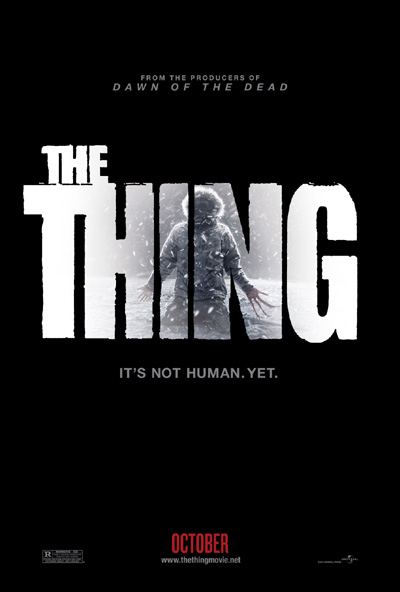 Del's take
Despite Mladen's warning that I "expect to be disappointed," I sat down to watch "The Thing" with a degree of hope and not a few questions:
Billed as a prequel to John Carpenter's 1982 horror-science fiction classic of the same name, would 2011's "The Thing" merely replicate its masterful predecessor or bring something new to the story?
Would it scare me intellectually or, like so many "scary" films today, employ a CGI festival of fake gore and monsters jumping out of closets to generate cheap thrills?
How successfully would director Heijningen marry this film to – again – Carpenter's 1982 horror-science fiction classic? (And I emphasize that Carpenter's film is a classic despite the scorn of critics and moviegoers of the Reagan era. "The Thing" is a testament to tension done right. Heijningen stands much to lose by treading on such ground, as did the creators of the Keannu Reeves sapfest "The Day the Earth Stood Still").
First, a word about "The Thing's" lineage. In 1938 author-editor John W. Campbell wrote a novella for a pulp magazine, Astounding Stories, called "Who Goes There?" about a group of Antarctic explorers who discover a crashed UFO and its pilot frozen into the ice. They accidentally destroy the ship but recover the pilot's body which, upon thawing, reanimates and begins assimilating the crew, mimicking their appearances and manners. What ensues is the familiar, creepy tale of a small group of human beings struggling for survival against a faceless foe, a story that resonates well with today's terrorism-infused culture in which the enemy walks among us, unseen.
In 1951 "Who Goes There?" became a movie, "The Thing from Another World," directed by Christian Nyby (although many consider Howard Hawks the real director). It was loosely based on Campbell's story but deviated in significant and disappointing ways. In 1982 Carpenter's iteration more closely followed the plot laid down by Campbell and featured nausea-inducing special effects and a depressing storyline that torpedoed the movie at the box office. Fortunately the movie survived in video, then digital form, to become a cult favorite and, dare I say, a mainstream draw for audiences inured to gory nihilism in moviemaking. Both movies effectively conveyed a building sense of dread that pitted an isolated group of humanity against an invisible enemy – in 1951 it was communism; in 1982 it was ourselves.
Along comes Heijningen's prequel, which takes up a few days before Carpenter's movie began. Kate Lloyd is an American anthropologist brought to Antarctica by Dr. Sander Halvorson (Thomsen) to examine a mysterious structure and "specimen" the Norwegians have discovered under the ice. When the specimen is recovered and an ill-advised tissue sample taken, shape-shifting hell breaks loose as the thing goes after the camp crew with the ultimate goal of reaching the larger world, where it can infect everybody.
I have a number of gripes with this "Thing," some small, some not. The small stuff first:
Score: Marco Beltrami's score is at best forgettable, at worst an opportunity lost. It conveys little of the tension so effectively embodied by Ennio Morricone's score for the Carpenter film.
Continuity: As a period piece "The Thing" looks pretty much like a 1982 movie. Computer monitors are correctly hulking and snippets of popular music, from bands like Men at Work, reflect the flavor of the times. But then you have lines of dialogue from, let's say, a character who's been told to go and get something and answers, "I'm on it." That expression wasn't used in 1982 and I know this because I was around in 1982.
Who's in charge? In Carpenter's "The Thing" we knew from the first scene that Kurt Russell was in charge. Even when he wasn't in charge, he was in charge. In this version Winstead oscillates between leadership and submission. You might think that's an understandable consequence of a woman being immersed in a 1982-era all-male community, but that's not what I'm talking about. Authority springs from viewpoint, and authority is not effectively conveyed through Winstead's character. Sigourney Weaver has proved what an effective female lead can do within an all-male community.
My larger gripes include this iteration's duplication of the Carpenter movie. At times I thought it was the Carpenter movie. Several scenes seem lifted directly from the earlier film, and the overall structure of "The Thing" copies what Carpenter did in 1982 – with some unfortunate exceptions:
While Carpenter filled his movie with quirky, quixotic characters – almost all of whom were dysfunctionally sympathetic – Heijningen's prequel features only one person I actually cared about, a lethal deficiency for a horror movie. None of the characters stands out as an individual with a unique personality; they're all just cardboard cut-outs filling roles as they scream their way down the alien's gullet.
Worse, this version of "The Thing" does not emulate the brooding, palpable dread Carpenter built into his 1982 film. We are quickly thrown into the fray and forgettable people start dying, stalked by a malevolent force, yet another deviation from Carpenter's classic. In that film you could almost feel a whiff of sympathy for the creature – it was, after all, a hapless castaway thrust into a hostile environment and was trying to survive the only way it knew how. But now we have a stalking predator that, if it wants to escape to the larger world and propagate, thwarts its own intentions time and again.
On a positive note Heijningen brings his movie to a perfect conclusion, matching it directly to Carpenter's film. This takes place as the end credits roll so be sure not to leave the theater. It's actually very cool.
Still, the 2011 "The Thing" has assimilated its earlier classic and produced an inferior copy. On a scale of 1 to 10 I would rate it a 5.
Mladen Rudman is a former journalist and technical editor. Del Stone Jr. is a former journalist and author.