Justice isn't justice if it isn't equal for all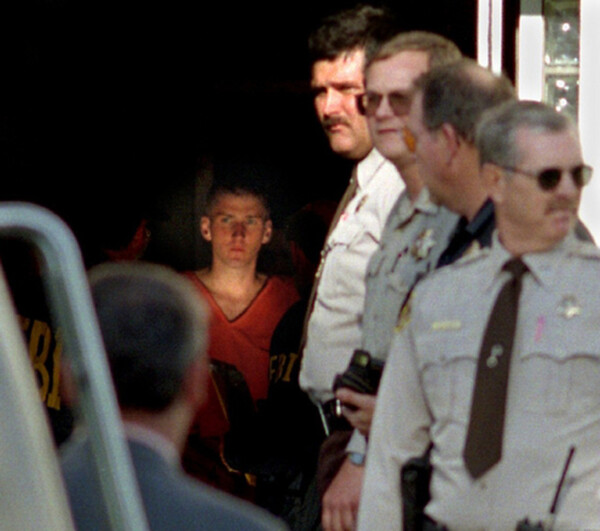 The death penalty? The righteously wrathful were rubbing their palms last week as jurors in the penalty phase of the Timothy McVeigh murder and conspiracy trial decided he should die for his crime.
His crime – the April 19, 1995 bombing of the Alfred P. Murrah Building in Oklahoma City that killed 168 people – was undeniably horrible.
But while death penalty advocates declared their satisfaction and pundits hailed the trail as proof the U.S. legal system "works," some of us held our noses and waited for the stench of sanctimony to pass on by.
Timothy McVeigh's trail was many things, but it was not a test for the workability of American justice – not when they're letting convicted felons run free after serving mere fractions of their sentences, and certainly not after O.J.
Also, I'd wonder about a government that could execute Timothy McVeigh while granting diplomatic recognition to a butcher like Yasser Arafat, or proffering most-favored nation trading status to a genocidal autocracy like the People's Republic of China.
I believe the operative word here is "hypocrisy."
For a system to "work," it must work for all.
Charity bowl: Daily News columnist Kelly Humphrey has organized the Bowl for Red Cross fund-raiser, and now that she's done all the work, we can do the fun part:
Bowl!
The Bowl for Red Cross happens Saturday at Destin Lanes from 10 a.m. to 3 p.m. The owners will donate 25 percent of the proceeds to the Red Cross, which is helping the flooded folks of Fargo, N.D. mop up after the Red River jumped its banks earlier this year and did an Opal-like number on the while town. What makes this worse for our northern cousins is their unenviable lack of WARM TEMPERATURES and a MOSQUITO-FREE EXISTENCE while cleaning up the mess.
We had ICE in our Cokes, not our debris.
Come out Saturday and bowl a few lines. I'll need somebody to show me how to use the scoring computers, so bring the kids. It'll be a good time – you betcha!
This week's wire weirdness: MIAMI (AP) – The U.S. government has rejected Raul Blanco's to become a citizen five times. But the 53-year-old Cuban immigrant hasn't given up.
Ten fingerprints are required from applicants and Blanco only put down seven.
But that's all he has – seven whole fingers.
The clerks who read Blanco's application failed to see the explanation: "amputated."
Years ago, he lost the ring finger and the tips of the index and middle fingers of his right hand after an accident at a Cuban sugar mill.
James Minton, deputy chief of the Immigration and Naturalization Service's Miami office, acknowledged the agency goofed.
"Our office is going to call him," Minton said.
Words that should be words: "Pupkus," as in: The moist residue left on a window after a dog presses its nose to it.
Headlines that did not work: "Lung Cancer in Women Mushrooms."
Redneck computer terms: "LAN": To borrow, as in: "Hey Billy Joe, LAN me yore truck."
This column was previously published in the June 18, 1997 Northwest Florida Daily News and is used with permission.
About the author:
Del Stone Jr. is a professional fiction writer. He is known primarily for his work in the contemporary dark fiction field, but has also published science fiction and contemporary fantasy. Stone's stories, poetry and scripts have appeared in publications such as Amazing Stories, Eldritch Tales, and Bantam-Spectra's Full Spectrum. His short fiction has been published in The Year's Best Horror Stories XXII; Alfred Hitchcock's Mystery Magazine; the Pocket Books anthology More Phobias; the Barnes & Noble anthologies 100 Wicked Little Witch Stories, Horrors! 365 Scary Stories, and 100 Astounding Little Alien Stories; the HWA anthology Psychos; and other short fiction venues, like Blood Muse, Live Without a Net, Zombiesque and Sex Macabre. Stone's comic book debut was in the Clive Barker series of books, Hellraiser, published by Marvel/Epic and reprinted in The Best of Hellraiser anthology. He has also published stories in Penthouse Comix, and worked with artist Dave Dorman on many projects, including the illustrated novella "Roadkill," a short story for the Andrew Vachss anthology Underground from Dark Horse, an ashcan titled "December" for Hero Illustrated, and several of Dorman's Wasted Lands novellas and comics, such as Rail from Image and "The Uninvited." Stone's novel, Dead Heat, won the 1996 International Horror Guild's award for best first novel and was a runner-up for the Bram Stoker Award. Stone has also been a finalist for the IHG award for short fiction, the British Fantasy Award for best novella, and a semifinalist for the Nebula and Writers of the Future awards. His stories have appeared in anthologies that have won the Bram Stoker Award and the World Fantasy Award. Two of his works were optioned for film, the novella "Black Tide" and short story "Crisis Line."
Stone recently retired after a 41-year career in journalism. He won numerous awards for his work, and in 1986 was named Florida's best columnist in his circulation division by the Florida Society of Newspaper Editors. In 2001 he received an honorable mention from the National Lesbian and Gay Journalists Association for his essay "When Freedom of Speech Ends" and in 2003 he was voted Best of the Best in the category of columnists by Emerald Coast Magazine. He participated in book signings and awareness campaigns, and was a guest on local television and radio programs.
As an addendum, Stone is single, kills tomatoes and morning glories with ruthless efficiency, once tied the stem of a cocktail cherry in a knot with his tongue, and carries a permanent scar on his chest after having been shot with a paintball gun. He's in his 60s as of this writing but doesn't look a day over 94.
Contact Del at [email protected]. He is also on Facebook, twitter, Pinterest, tumblr, TikTok, Ello and Instagram. Visit his website at delstonejr.com .