What happens when the artist creates his own monster?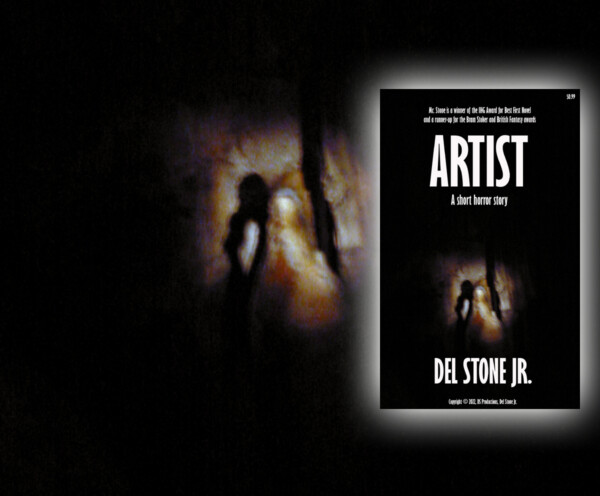 What do I remember about this story? Well, this:
The year was 1982 or thereabouts. I was living with my parents, but things were looking up. I had a career-track job and a steady income. I had lost my baby fat and people were telling me I had become a handsome young man. The future was ripe with possibilities and I was loving life.
That's what I remember. Oh, and I desperately wanted to become a published writer in the horror genre, another Dennis Etchison or Stephen King. This story constitutes one of my efforts to realize that dream.
"Artist" is an old-school horror tale that belongs to what I call my "ironic" movement. It's a one-off, worthy of a "Night Gallery" episode but not much else. I didn't expect to see it enshrined as a horror classic but I hoped it would be published, if not in a paying market then one of the ubiquitous small press magazines. I had recently discovered the Small Press Writers and Artists Organization, and I was paying my dues. SPWAO and the markets they listed were the farm teams of the professional publications, and while I intended to become a professional writer – meaning I would be paid professional rates for my work – I would not turn my nose up at a smaller market.
Alas, "Artist" was never published. I must have sent it to every market I could fine, both in SPWAO and The Writer's Market. Mostly I received form letter rejections but occasionally an editor would take time to give me a personal response, and always the story was "too this" or "too that."
Little did I know but the story had been done before. I was rewatching the original "Twilight Zone" series on Netflix and came across an episode that was based on a similar premise. I guess it's true great minds think alike (insert smirky grin).
"Artist" is not a "deep" story with multiple layers of meaning. It's about a writer, much like myself, who discovers something terrible while writing a short story. You might recognize the protagonist in this story. He writes his stories longhand, using loose-leaf binder paper held in a clipboard. He lies on his bed while writing, stomach down. I know for a fact that when he finishes the manuscript and gives it a first read-through, he'll type up a rough draft and edit that version, because the typed version is always somehow different than the handwritten version. It's a matter of pacing, and certain scenes receiving the "weight" they deserve. After that second read-through he'll type the final version, make a photocopy at the post office, then start shipping it to the magazines.
Where it will be rejected by all, until technology provides another solution – this solution – and it finally sees the light of print.
(Cover image by Zde by way of a Creative Commons license.)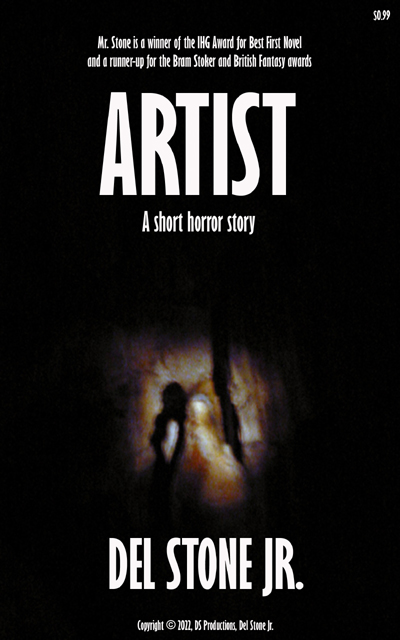 From Amazon:
Revised, updated and enhanced with additional content, "Artist" embodies every horror writer's nightmare: the possibility that what they are writing might actually become reality.
Stevenson is a struggling horror writer of the old school stripe – he writes by hand on loose-leaf binder paper. It's a laborious process but it lends an authenticity to his work that Stevenson appreciates …
… until he hears something growling and clawing at the door, something that bears an uncanny resemblance to the antagonist of the story he is currently writing.
A weird solution presents itself to Stevenson, but the question becomes: Can he pull it off in time?
About the author:
Del Stone Jr. is a professional fiction writer. He is known primarily for his work in the contemporary dark fiction field, but has also published science fiction and contemporary fantasy. Stone's stories, poetry and scripts have appeared in publications such as Amazing Stories, Eldritch Tales, and Bantam-Spectra's Full Spectrum. His short fiction has been published in The Year's Best Horror Stories XXII; Alfred Hitchcock's Mystery Magazine; the Pocket Books anthology More Phobias; the Barnes & Noble anthologies 100 Wicked Little Witch Stories, Horrors! 365 Scary Stories, and 100 Astounding Little Alien Stories; the HWA anthology Psychos; and other short fiction venues, like Blood Muse, Live Without a Net, Zombiesque and Sex Macabre. Stone's comic book debut was in the Clive Barker series of books, Hellraiser, published by Marvel/Epic and reprinted in The Best of Hellraiser anthology. He has also published stories in Penthouse Comix, and worked with artist Dave Dorman on many projects, including the illustrated novella "Roadkill," a short story for the Andrew Vachss anthology Underground from Dark Horse, an ashcan titled "December" for Hero Illustrated, and several of Dorman's Wasted Lands novellas and comics, such as Rail from Image and "The Uninvited." Stone's novel, Dead Heat, won the 1996 International Horror Guild's award for best first novel and was a runner-up for the Bram Stoker Award. Stone has also been a finalist for the IHG award for short fiction, the British Fantasy Award for best novella, and a semifinalist for the Nebula and Writers of the Future awards. His stories have appeared in anthologies that have won the Bram Stoker Award and the World Fantasy Award. Two of his works were optioned for film, the novella "Black Tide" and short story "Crisis Line."
Stone recently retired after a 41-year career in journalism. He won numerous awards for his work, and in 1986 was named Florida's best columnist in his circulation division by the Florida Society of Newspaper Editors. In 2001 he received an honorable mention from the National Lesbian and Gay Journalists Association for his essay "When Freedom of Speech Ends" and in 2003 he was voted Best of the Best in the category of columnists by Emerald Coast Magazine. He participated in book signings and awareness campaigns, and was a guest on local television and radio programs.
As an addendum, Stone is single, kills tomatoes and morning glories with ruthless efficiency, once tied the stem of a cocktail cherry in a knot with his tongue, and carries a permanent scar on his chest after having been shot with a paintball gun. He's in his 60s as of this writing but doesn't look a day over 94.
Contact Del at [email protected]. He is also on Facebook, twitter, Pinterest, tumblr, TikTok, Ello and Instagram. Visit his website at delstonejr.com .
About this book:
"Artist" is a 2,512-word short story and was written in 1982. It has never been published. Copyright © 2022, Del Stone Jr.
The book's total length is 4,383 words.