An excerpt from my novel 'Black Tide'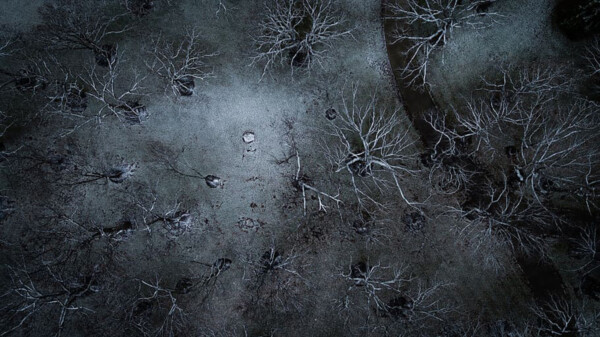 This is a scene from my novel "Black Tide," which I hope to begin shopping to an agent later this year or next.
In this scene, Fred, Heather and Scotty are trapped on a spoil island in Santa Rosa Sound after a killer phytoplankton moved through the area the day before, releasing a toxic cloud that transformed animals and people into maniacal killers that are extremely light-sensitive – they burst into flames when their skin is touched by sunlight or even the light of a flashlight.
A man by the name of DeVries tried to rescue them the night before but was attacked by one of these changed people and is now undergoing the change himself. They have placed him in one of their tents to protect him from the light.
—
We slept until late in the morning, almost 11. We'd been awake all night, none of us daring to nod off, none of us able to relax to the point that sleep could overtake us. The island was surrounded by stealthy noises – surreptitious splashing, the plod of wet feet on sand, the occasional animal cry of pain. And from the mainland there were strange goings-on too, occasional flickers of light, weird hooting sounds, and other occurrences that set our nerves on edge. Once I thought I saw movement over there, something big. But my mind rejected it because it was impossible. Nothing that big could move. Scotty had kept a frantic vigil with the flashlight until about 5:30 or so, when the sun had warmed the eastern horizon with a suffocating pinkish hue. The sounds of disturbance had faded, then, as the things moved to deeper water. Scotty and Heather took the opportunity to drag DeVries, who had begun to moan and squirm, into one of the tents. If the flashlight was capable of causing his flesh to combust, the full light of the sun would produce a more … energetic reaction. The tent would afford at least some protection.
All of us, then, had collapsed into what for me was fugue-like sleep.
I awakened to find Scotty and Heather standing on the beach, taking in a very different and unfriendly world in the light of day.
Across the water, fires still burned out of control. From the bridge to the east to as far as I could see west, individual plumes of oily black smoke merged into a single pall that drifted northward. I uttered a silent prayer of thanks for that – all we needed was a stinking smoke cloud to add another layer of misery to our already miserable situation. In some areas, forestland had been ignited and was burning in a solid wall of flames producing sheets of whitish smoke. I couldn't imagine what the damage from this catastrophe would be.
Closer, Santa Rosa Sound presented an equally unsettling sight. The surface was layered with dead fish, dead birds, dead animals … and in some cases the bodies of people floating amidst the carnage. Why these animals and people had not been transformed into the things that had attacked us at night, I couldn't be sure. Their exposure to the toxin had been sufficient to cause death, but they had not undergone the strange metamorphosis that had changed people into nocturnal lurkers. In a former life I would have been intrigued by the challenge of researching what had happened here. But given our circumstances, all I wanted was to get off this island.
DeVries had said the authorities were sending people to find out what had taken place and look for survivors. If we could signal them – enough debris had washed ashore that we could lay out an SOS on the sand using boards and other flotsam. Or we could start a fire – not that one more fire would work as a signal. To be honest, I had no other ideas.
As we stood there, pondering the awfulness of the world around us, DeVries' voice carried through the nylon weave of the tent at a near-shriek: 'I'm thirsty!'
Heather sighed and turned to go up the beach. "I don't know why he keeps saying that," she mumbled, more to herself than anyone else. "I give him water but he won't drink it."
"That's 'cause it's not blood," Scotty murmured and cast a furtive glance my way. He had turned his hat around so that the bib faced forward, the MAGA staring me directly in my face. Ironic, I thought. America, or at least this cranny of America, didn't seem so great at the moment. Looking at no one, he whispered it again, "Blood," and I didn't respond, partly because I knew if I did it would only encourage him to further provocations, and partly because there was the chance he was right … in a way. If it were not fresh water the creatures craved, then some other component of human metabolism must be involved. At the moment I was too tired and frightened to think about it.
Heather had crawled halfway into the tent to check on DeVries when she called, "Guys. I think you'd better come look at this." I didn't want to look at anything, to be honest, and I could tell Scotty felt the same way because for a moment, neither one of us moved. Then Heather shouted again, "Guys!" and we both rotated and began tramping through the sand toward the pair of tents. Heather's ass jutted from the flap and I tried not to appear too interested. I didn't glance Scotty's way to see if he were appraising my level of interest. Instead, I let my gaze drop to the sand.
Heather backed out of the tent, her face pinched into an expression of worry. She looked at me and said, "Fred, something's … happening."
I dropped to my knees and crawled forward, into the tent, which reeked of unnameable odors, some human and others unidentifiable. It was stifling inside, yet DeVries' body vibrated as if a high-voltage current were arcing through his nerves. I recalled old black-and-white film reels on YouTube about the Pacific campaign during World War II, and the men who'd been stricken with malaria. This looked just like that. I laid the palm of my hand across DeVries' forehead, expecting it to be clammy, but instead felt an uncharacteristic chill. His head whipped back and forth and he whispered, "Thirsty – thirsty – " as saliva flecked with blood leaked from the corner of his mouth. I peeled away the sticky mat of T-shirt that covered his wound and reared back, revolted by what I saw. The bite was blackened as if cauterised. Tendrils the color of road tar had begun spidering through the flesh, following the paths of blood vessels. It looked for all the world as if an alien infection were consuming his body. Osmotic pressure within the veins caused them to bulge to obscene proportions.
"I'm thirsty!" DeVries moaned, this time with greater vigor. In fact, the tone of his voice carried the hint of a demand.
"Heather, can you get me a bottle of water? Let's see if I can get him to drink."
She scrambled away as Scotty said something in a low voice about DeVries and how we should have gotten rid of him the night before. I felt a hot breath surge through me but I bit back on commenting. Then Heather was back, handing me the water through the tent flap. Though it had been sitting out in the sun, the bottle felt worlds cooler than the sweat lodge of a tent. I unscrewed the cap and placed the lip of the bottle at DeVries mouth. "Try to drink some of this," I told him, and reached around to hold up his head.
"I'm thirsty!" he shouted. Spit flew. I felt squeamish disgust as a fleck landed on my cheek.
"I'm thirsty!" he whispered as I tilted the bottle and poured the water between his lips. I began to feel a crawling sensation of tension, knowing that something was about to happen.
"Thirsty thirsty thirsty – " he chanted, shaking his head and spraying the inside of the tent with blood-tainted water. I rocked back on my heels and the bottle slipped from my fingers, the water gurgling out in languid gulps to pool in the tent bottom.
"Thirsty!" DeVries whispered again and sat up, bending at the waist, a ventriloquist's doll brought to sudden and horrible life. His eyes snapped open and they were as blank and blanched as boiled eggs. I felt the hair on the back of my neck stand on end.
His head rotated as he seemed to sense me, and some horrid recognition of appetite crept into his features, and at this moment I could swear a smile formed on those chapped and scorched lips so that I scrabbled away toward the opening in the tent. His hand flew out lightning fast, faster than I would have believed anybody in his condition could have moved, and he whispered "I am thirsty" and opened his mouth to reveal teeth that were coated with a kind of dark, clinging mucus that hung in snotty, glutinous strands as he grabbed my hair and began dragging me toward him.
I shoved my palm into his chest and blurted, "Shit – shit – shit, he's got me! Pull me out!" and heard Scotty swear and rip open the flap to grab my arm. DeVries snarled and leaned in close, his teeth snapping as they sought hold of my flesh. I pushed with all my strength, made stronger by the electric current of terror burning through me, and held him away as he gibbered and writhed and struggled to bring me into his embrace. Scotty was hauling me back and now Heather had grabbed me around the waist, and I began to slide toward the tent opening. DeVries uttered puppy-like whining noises and redoubled his efforts, and I felt my body going back inside, toward what I knew would be a certain and grotesque death. I used my free hand to punch him in the testicles – one, two, three times in rapid succession – and his reaction was to let loose with an animal cry of rage and yank on my head with superhuman strength.
"Jesus Christ! Get him!" Scotty yelled and Heather grunted, "I'm trying!" I could smell the swampy, fetid stench of DeVries' breath, and his skin rippled beneath my touch as though I were grasping a plastic bag filled with live eels. I shifted my grip from his chest to his throat and I could feel him trying to bend at the neck to get his teeth into my wrist.
Scotty wrapped his arms around my chest and heaved a mighty heave and I heard a tearing sound, like a Velcro fastener being undone, and a swath of my hair ripped loose as the three of us tumbled out the opening. We stared at each other – I'm not sure we understood what had happened – when DeVries growled and launched himself from the tent.
I threw myself out of his path and jumped to my feet as he came at me. His arms were outstretched and his fingers hooked into claws, and as he sprinted toward me his flesh began to wrinkle and burn.
I ran.
He began screaming as he chased me down the beach, his voice gone beyond anything that sounded human. I snatched a quick glance over my shoulder and saw that he was consumed by fire, a trail of greasy smoke unfurling behind him. His eyes had begun to smoulder and as I watched, they popped into blowtorches of flame.
Still, he came after me.
I felt my chest heaving and my lungs burning, my lack of conditioning now a fatal flaw. I moved out of the soft sand and into the hardpack area between the island proper and the water to improve my footing, and when I looked back he not only was still there but was gaining on me, now an obscene caricature of a human being, blackened and trailing smoke and flames. My thighs began to ache. A knot was forming in my side. I did not know what was worse – the physical pain I was feeling or the horror of seeing this … this thing pursuing me.
Finally, I could run no more. The pain was too great. I could not take another step.
The shoreline was littered with debris. I snatched up a board and whirled around, holding it before me like a knight prepared for a joust. DeVries slammed into the end of the board, nearly knocking it from my grasp, and reached out with flaming arms to grab me.
His reach was short. Thank God.
And I held him that way, as the fire cooked his flesh into sizzling black chunks and his screams of hunger and rage diminished to an inhuman croaking. I held him at board-point and felt myself crying as his tendons snapped and his muscles gave way to the flames and he dropped to his knees.
I was still standing there as he burned to a crisp in front of me.
END OF EXCERPT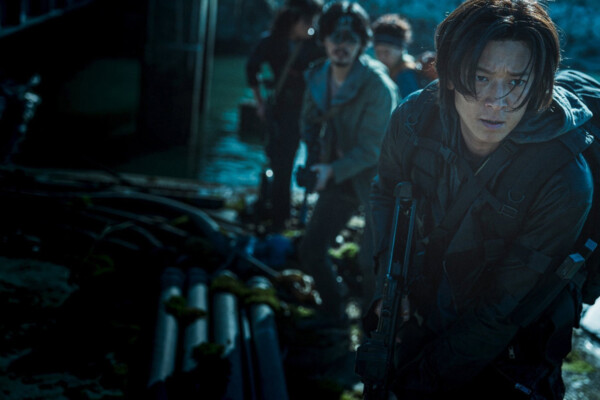 "Train to Busan Presents: Peninsula." Starring Lee Jung-hyun, Dong-won Gang, Re Lee, Ye-won Lee, Hae-hyo Kwon, Kyo-hwan Koo, and others. Directed by Sang-ho Yeon. 115 minutes. Rated PG-13. Amazon pay-to-stream
Mladen's take
There I sat, wavering. It was about three-fifths of the way through the South Korean movie "Train to Busan Presents: Peninsula." My qualms included a meditation on the film's weird title, which was clearly an example of success exploitation marketing. Was this semi-sequel to the excellent film "Train to Busan" worthy of a good grade or does it deserve a bad grade? And, then, came the straight-faced line: "Let's get Mom." Poof, I dropped into the "Better than Average" column, but only just.
Before I sum the plot, you're owed a warning. Del the zombie-phile will praise this movie, maybe even slip it an A-. He'll be wrong. The movie is one full grade lower, but worth watching. It cost me 55 cents to lease a 48-hour viewing window on Amazon.
Recall that "Train to Busan" introduced us to some very good action horror with an unremarkable plot very well executed. A bioengineering laboratory accidentally releases a contagion that transforms people into something akin to the rampaging quasi-dead hungry we first met in 2010's "28 Hours Later." In "T to B," the story was driven by a father trying to keep his daughter alive, if I recall accurately, as the infected multiply and the state rapidly loses control of law and order. "T to B" possessed stunning special effects. The locomotive slowly motoring along while zombies clinging to the back of the machine pile on each other to make a squirming, yet flowing tail of organic debris was something else.
That "something else" was missing in "Peninsula." The computer-generated special effects lacked believable physics of motion. The vehicles bulldozing through zombies, jumping roads, or smashing into each other seemed like Matchbox cars running the gauntlet of a plastic race course. Also, at times, "Peninsula" seemed very "Casshern"-like or "Alita: Battle Angel"-ish. The difference is that "Casshern," a 2004 Japanese movie, and "Alita" of 2019 intentionally deployed the tinge of anime as part of the storytelling. "Peninsula," which imagined quarantined South Korea four years after the "T to B" virus was unleashed, often portrayed dilapidated urban terrain or action scenes with the patina of a video game that had mated with anime to create an almost-cartoon. In short, the visual effects in "Peninsula" were surprisingly crappy.
Oh, the plot. A South Korean soldier loses his sister and nephew to zombie-itis, but manages to save his brother-in-law. A few years later, the pair gets sucked into returning to South Korea to retrieve a truck load of American dollars for an American gangster based in Hong Kong. If they and a couple of others succeed, they get half of $20 mil. That's money that would get them out of the political limbo of being microbe-induced refugees. Naturally, the return to the Peninsula, get it, goes astray. Dong-won Gang, playing South Korea Army Capt. Jung Seok, gets pulled off a zombie dinner plate by feisty, hard-driving teenager Jooni, played by Re Lee, and her younger sister Ye-won Lee as Yu Jin. They flee to their hideout, where Jung meets resourceful, determined, and very pretty Min Jung. Min is played by Lee Jung-hyun. She's the mom in "Let's get Mom." While Jung, Min, and the girls are good and likeable characters in the film, most of the bad guys are all pretty much clichés and fail to be unlikeable. The exception was Captain Seo, nicely portrayed by Kyo-hwan Koo as desperate and scheming to the end. He has no trouble shooting the old man and Mom to get the hell off the Peninsula.
The soundtrack in the film is good enough. There was a moment when I thought I heard a few stanzas, verses, whatever you call pieces of music, that sounded like an adventure tune in the video game "Halo."
OK, Del, take it away with your take. Please don't let the blubbery family scenes in "Peninsula" color your judgment as they did when you watched the last film we reviewed. We owe it to our growing readership to assess correctly the merits of a film.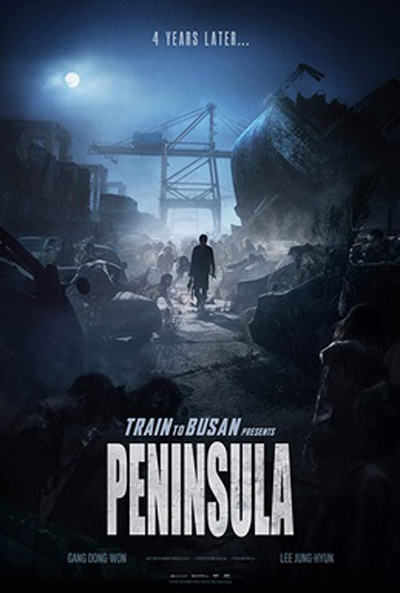 Del's take
It was I who recommended to Mladen that we review "Peninsula." It was not I who recommended that he tap the cooking sherry before writing his review.
He's correct when he describes the putative prequel to "Peninsula," "Train to Busan" as excellent. I remember foraging through Netflix one night, searching for something to watch, when I stumbled across "T to B." Another hokey foreign zombie flick, I warned myself, before clicking the "play" button. Imagine my surprise when I discovered a modern classic in science fiction-horror, one I've added to my DVD collection. "T to B" is that good. I would rate it up there with the Zack Snyder remake of "Dawn of the Dead."
So it was with great expectations that I forked over my 99 cents to watch "Peninsula." (I'd like to know how Mladen managed to do that for 55 cents. Did he get the cooking sherry discount?)
To put it succinctly, I was not impressed. For these reasons:
1. It's derivative. Take the premise of "28 Weeks Later," throw in some "Escape from New York" and using crude, Frankensteined stitches graft on any road chase sequence from the "Mad Max" movies and you've got "Peninsula."
2. Mladen was right about another aspect of the film – the special effects. They weren't just bad. They were cartoonish, on par with "Speed Racer." They completely ruined the movie for me because I've seen car chases and motorized mayhem done right – all that metal-crunching comprises a story of its own. You want a car chase? Consult George Miller. You don't hand it to the CGI folks, and that's what the creators did with "Peninsula." Those scenes screamed "Fake!" and threw me out of the zombie-infested universe Sang-ho Yeon sought to create.
3. Many of the major characters were unlikable. As Mladen explained, the point of this group's return to zombie-infested South Korea is to recover a truckload of American dollars. The deal is a small group will find the truck and drive it back to an Inchon dock, where it will be loaded aboard a ferry. The group gets half the $20 million and the crooks get the other half. Ahem. Of course. The crooks will most definitely abide by their end of the deal. Have you never heard of honor among thieves?
The movie is really about Gang Dong-won's character attempting to redeem himself after refusing to help a family in need during the initial, hyper-frantic days of the zombie outbreak. As subtexts go it's about as subtle as a Mar-a-Lago powder room and Jung-seok is such a weak and altruistic tormented-soul type that by mid-movie you're hoping one of his putrid antagonists makes a snack of him.
4. Nitpicks. Why does a director spend a considerable chunk of screen time building tension and setting a deadline, and when that deadline arrives the director allows his characters to engage in long, deadline-busting soliloquies and dénouements?
How is it that a car will start after sitting idle four years?
Why are children always precocious and infallible?
Why are the elderly characters always expendable?
Why does a highway choked with wrecked and abandoned vehicles always have a lane open?
Why was South Korea simply abandoned? Is its net worth beneath the scope of recovery?
5. The version I saw was not subtitled. It was dubbed. Have I ever told you how much I hate dubbing? When you can see the character's mouth moving while the dialogue track stopped three seconds ago?
Enough fussing. Bottom line: I was hoping for a movie that matched the off-the-rail entertainment punch of "Train to Busan" and what I got for my 99 cents (Really, Mladen? Fifty-five cents?) was something altogether different and, dare I say, less everything. I could wax all movie-review poetic and talk about the film's emotional core or its resonance to the genre template but this is not a thirst trap for pretty words. Suffice it to say "Peninsula" was a disappointment.
For much better fare about the undead try "Cargo" or the unbelievably good series "Black Summer," both on Netflix at no extra charge. For an even weirder take on the zombie genre try Arnold Schwarzenegger in "Maggie," which you can find in some DVD bargain bins.
"Peninsula" gets a grade of C from me.
Mladen Rudman is a former journalist and technical writer. Del Stone Jr. is a former journalist and author.