A ceiling fan is the line that separates life from mere existence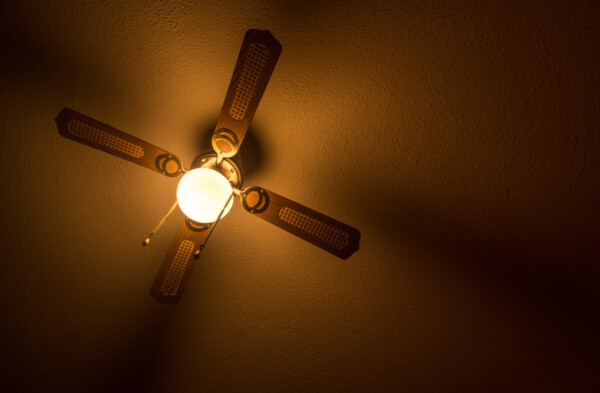 When I walk into my living room these days, I no longer see the Big Empty. I see a proper home.
I own the same cat-ripped furniture, the same TV from the Permian, the same Salvation Army coffee table.
But there, swirling lazily from the ceiling is a spanking new Hunter fan.
Ah, what a miracle it is to own a ceiling fan. How did I live all these years without one? I'll tell you: I didn't. A ceiling fan is the line that separates life from mere existence.
It took the guys only a few minutes to do the installation, a job that would have dragged on for years had I tried it – plus I would have blown up the entire townhouse complex, or hooked up the fan to the garbage disposal, or had it flying around south Fort Walton Beach like a prop from a Japanese UFO movie.
Now, with the flick of a switch, I have "Casablanca."
Another advantage: It scares the hell out of the cats.
They think it's a pterodactyl about to scoop them up for dinner. They slink around the edges of the room, staring balefully at those big, walnut-colored paddles, growling low in the throat, with malevolent Dr. Ceiling Fan's Inviso Electro Rays standing their fur on end. It's pretty hilarious.
But I expect my true appreciation of the fan will bloom this spring, when I delay the annual christening of the AC – and those three-figure power bills. How shall I spend the saving? Probably on cat psychiatry bills.
For now, the fan is a welcome interruption in the Big Empty of the living room ceiling, and a sanctuary from cloying and clawing kitties.
Come to think of it, that upstairs bedroom can get pretty stuffy in the afternoon. …
Happy belated Valentine's Day: In addition to my "hard-copy" Valentines, I received my first batch of Virtual Valentines off the Internet, which were very cool. More cool than very, they forced me to go looking for, download, and install software that would allow the computer to PLAY MUSIC. The Valentines crooned and we all swooned.
The cyberknowledge curve is lower than dirt around here, but we have our moments.
Even more wire weirdness: This from the Associated Press: "Toymakers at Lego are upset that a Polish artist used their donated building blocks to make model concentration camps, complete with gas chambers and chimneys. Zhignew Libera's exhibit at a Copenhagen gallery consists of seven box sets bearing the Lego logo and photos of what the famed plastic bricks can build: not model planes or skyscrapers this time, but detention barracks with helmeted guards and skeletons."
S.O.C.K.S., a no-kill cat shelter headquartered on Racetrack Road, is sponsoring a craft show March 15 at the Niceville Recreation Center from 9 a.m. to 4 p.m. All you crafters who want to enter a table should call either Vana Gilliland at 862-4213, or Sara DeMonbrum at 863-1432.
This week's word that should be a word: "burgacide," as in: When a hamburger can't take any more torture and hurls itself through the grill into the coals.
About the author:
Del Stone Jr. is a professional fiction writer. He is known primarily for his work in the contemporary dark fiction field, but has also published science fiction and contemporary fantasy. Stone's stories, poetry and scripts have appeared in publications such as Amazing Stories, Eldritch Tales, and Bantam-Spectra's Full Spectrum. His short fiction has been published in The Year's Best Horror Stories XXII; Alfred Hitchcock's Mystery Magazine; the Pocket Books anthology More Phobias; the Barnes & Noble anthologies 100 Wicked Little Witch Stories, Horrors! 365 Scary Stories, and 100 Astounding Little Alien Stories; the HWA anthology Psychos; and other short fiction venues, like Blood Muse, Live Without a Net, Zombiesque and Sex Macabre. Stone's comic book debut was in the Clive Barker series of books, Hellraiser, published by Marvel/Epic and reprinted in The Best of Hellraiser anthology. He has also published stories in Penthouse Comix, and worked with artist Dave Dorman on many projects, including the illustrated novella "Roadkill," a short story for the Andrew Vachss anthology Underground from Dark Horse, an ashcan titled "December" for Hero Illustrated, and several of Dorman's Wasted Lands novellas and comics, such as Rail from Image and "The Uninvited." Stone's novel, Dead Heat, won the 1996 International Horror Guild's award for best first novel and was a runner-up for the Bram Stoker Award. Stone has also been a finalist for the IHG award for short fiction, the British Fantasy Award for best novella, and a semifinalist for the Nebula and Writers of the Future awards. His stories have appeared in anthologies that have won the Bram Stoker Award and the World Fantasy Award. Two of his works were optioned for film, the novella "Black Tide" and short story "Crisis Line."
Stone recently retired after a 41-year career in journalism. He won numerous awards for his work, and in 1986 was named Florida's best columnist in his circulation division by the Florida Society of Newspaper Editors. In 2001 he received an honorable mention from the National Lesbian and Gay Journalists Association for his essay "When Freedom of Speech Ends" and in 2003 he was voted Best of the Best in the category of columnists by Emerald Coast Magazine. He participated in book signings and awareness campaigns, and was a guest on local television and radio programs.
As an addendum, Stone is single, kills tomatoes and morning glories with ruthless efficiency, once tied the stem of a cocktail cherry in a knot with his tongue, and carries a permanent scar on his chest after having been shot with a paintball gun. He's in his 60s as of this writing but doesn't look a day over 94.
Contact Del at delstonejr@yahoo.com. He is also on Facebook, twitter, Pinterest, tumblr, TikTok, Ello and Instagram. Visit his website at delstonejr.com .