Few foods surpass the simple virtues of the apple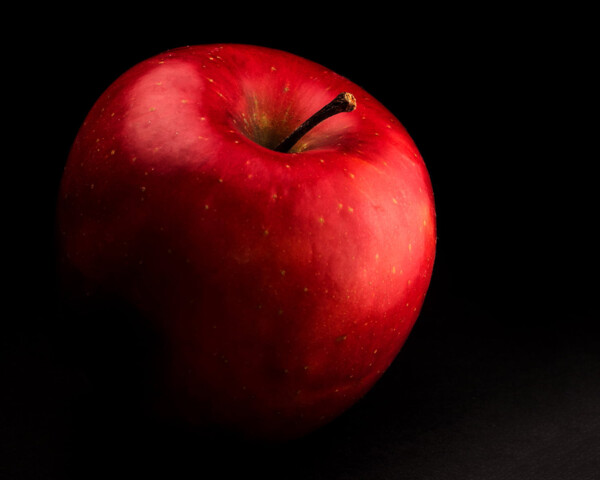 Image courtesy of Wallpaper Flare.
—
One a day: Few foods surpass the simple virtues of the apple.
For instance, the shape is sculpted to fit the human hand. It is not round but oval, with a top that is wider than the bottom, which allows it to fit the concavity of the palm, with a largeness above to accommodate the longer fingers and a tapering at the bottom to support the thumb and pinky.
An apple's shape is a good indicator of the flavor and its texture. What you want is a slight tartness that underlines a moist sweetness. When you bite into an apple, the meat should glisten with an off-white color, leaning to pale yellow. It should be firm, producing a distinctive chomp sound.
Those characteristics are most often found in red delicious apples, which are oval-shaped and have lobes that provide leverage for biting. For those reasons, and others, the red delicious is the apple of choice.
I wouldn't trust a round apple. The rounder the apple, the more bitter the taste, which hits you at the back of your jaw, just below your ears. Also, round apples can be very hard, which makes biting them a test. Will I or will I not chip that front tooth? Better to avoid round apples.
Another important apple characteristic is color. The best tasting apples have skins that are deeply red and streaked with shallow threads of yellow.
The red delicious apples we get at local grocery stores have sometimes passed the red stage to become a plum-like purple. While this color makes for a fine-looking specimen to display in a produce case, the applies inside may be soft and dry.
Since you cannot wander the grocery aisle taking bites to choose apples that have reached the correct stage of ripeness, you must use your best judgment. Go with the apple that appears not to have reached a reddish-purple hue.
I have found a supply of apples that are consistently sized and ripened to perfection. I won't tell you where they are, because you will take them away from me. But know that I'm enjoying them greatly.
When it comes to apples, I'm a selfish, possessive man.
Redneck computer terms: "Keyboard," as in: a place to hang your truck keys.
This week's word that should be a word: "Eiffelites," as in: gangly people sitting in front of you at the movies who, no matter what direction you lean in, follow suit.
This week's weirdness from the wires: BANGKOK, Thailand (AP) – A pet peacock mauled his master, killing him in a freak attack, hospital officials and relatives say.
Vichai Thongto, 30, was feeding his family's four caged peacocks in the western province of Ratchaburi on Sunday when a male bird hurled itself at him, clawing his head.
Vichai soon began suffering headaches and fell into a coma by the time relatives got him to a hospital.
A nurse at Ratchaburi Hospital's neurological department said doctors found a tiny puncture wound above Vichai's left ear, and that a CAT scan revealed a blood clot in his brain.
About the author:
Del Stone Jr. is a professional fiction writer. He is known primarily for his work in the contemporary dark fiction field, but has also published science fiction and contemporary fantasy. Stone's stories, poetry and scripts have appeared in publications such as Amazing Stories, Eldritch Tales, and Bantam-Spectra's Full Spectrum. His short fiction has been published in The Year's Best Horror Stories XXII; Alfred Hitchcock's Mystery Magazine; the Pocket Books anthology More Phobias; the Barnes & Noble anthologies 100 Wicked Little Witch Stories, Horrors! 365 Scary Stories, and 100 Astounding Little Alien Stories; the HWA anthology Psychos; and other short fiction venues, like Blood Muse, Live Without a Net, Zombiesque and Sex Macabre. Stone's comic book debut was in the Clive Barker series of books, Hellraiser, published by Marvel/Epic and reprinted in The Best of Hellraiser anthology. He has also published stories in Penthouse Comix, and worked with artist Dave Dorman on many projects, including the illustrated novella "Roadkill," a short story for the Andrew Vachss anthology Underground from Dark Horse, an ashcan titled "December" for Hero Illustrated, and several of Dorman's Wasted Lands novellas and comics, such as Rail from Image and "The Uninvited." Stone's novel, Dead Heat, won the 1996 International Horror Guild's award for best first novel and was a runner-up for the Bram Stoker Award. Stone has also been a finalist for the IHG award for short fiction, the British Fantasy Award for best novella, and a semifinalist for the Nebula and Writers of the Future awards. His stories have appeared in anthologies that have won the Bram Stoker Award and the World Fantasy Award. Two of his works were optioned for film, the novella "Black Tide" and short story "Crisis Line."
Stone recently retired after a 41-year career in journalism. He won numerous awards for his work, and in 1986 was named Florida's best columnist in his circulation division by the Florida Society of Newspaper Editors. In 2001 he received an honorable mention from the National Lesbian and Gay Journalists Association for his essay "When Freedom of Speech Ends" and in 2003 he was voted Best of the Best in the category of columnists by Emerald Coast Magazine. He participated in book signings and awareness campaigns, and was a guest on local television and radio programs.
As an addendum, Stone is single, kills tomatoes and morning glories with ruthless efficiency, once tied the stem of a cocktail cherry in a knot with his tongue, and carries a permanent scar on his chest after having been shot with a paintball gun. He's in his 60s as of this writing but doesn't look a day over 94.
Contact Del at [email protected]. He is also on Facebook, twitter, Pinterest, tumblr, TikTok, Ello and Instagram. Visit his website at delstonejr.com .