The giving of advice has become an industry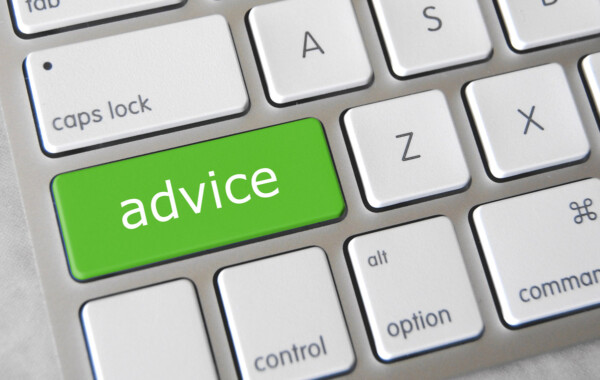 A word of advice: Ever get the feeling you're being overwhelmed with advice?
I have here a press release from the National Headache Foundation, which I've been keeping since last month. The NHF wanted me to have a "headache-free Valentine's Day," and listed tips on how I might avoid this awful malady.
(Stay away from chocolate, avoid gifts of flowers and perfume, watch what I eat and drink, and consult my doctor. Sounds like a fun Valentine's Day – for Woody Allen.)
I have another press release from the folks at Shout! The laundry stain remover, which says if I want to look terrific this summer I must carry an emergency fashion kit that contains the following items: blotting paper, facial powder, a mineral water mister, Shout Wipes, an emery board, safety pins, a portable hair brush, makeup fundamentals, hand cream with sunblock, and deodorant. (Whew! With a sash like that I could ride out Armageddon!)
I get tons of these press releases, every one of them as obsessively helpful, and after a point I reach a state of dazed unawareness in which all these "hints" and "tips" and "suggestions" form a lump in my brain that blocks the entry of any other thought.
Enough!
If I followed all this advice, I'd never leave the house, unless I were driving a Winnebago loaded with emergency junk.
Which is exactly what they want, right? They're not giving "advice." They're selling things. "Buy lots of stuff on threat of not looking cool if you get caught without your wipes."
Puh-leeze.
Garrison Keillor said that capitalism has bestowed the land with a "profound ugliness."
In this case, ugly is only as deep as the stack of mail on your desk.
Mini-movie review: "The Rage" continues a long line of catastrophic movie sequels. This follow-up to Stephen King's breakout book "Carrier" follows a predictable path of teen angst, sexual tension and social dynamics – with far less pyrotechnical results. If you saw "Carrie" you saw the better movie. Save "Rage" for video.
A bad omen: I was driving home when five black balloons appeared in the street, carried by the wind, and bounced toward my car. I ran over one. Uh oh, I thought. This could be bad.
Sure enough, five minutes later my doorbell rang. An angry-looking man stood there. "You the man with the Rottweiler?" he snarled. Before I could stammer that I'm a cat man, his friend pointed down the street, and off they went.
Bad luck balloons, huh.
La aqua del flora: Mary LeCompte of Destin wants to know where to find Florida Water, that magical, beautiful stuff the Daily News featured on a recent Health page. We've been unable to track down a local connection, so I told Mary I'd ask our best source – YOU!
Mailbag: I get the most fascinating mail.
Somebody who signed his name "tTt" (that's three crosses) invited me to be baptized. I wonder which heresy prompted that?
Then there's the guy who wrote to say he wishes I would simply fall asleep and never wake up. Now that is a loving and charitable thing to say to a columnist. Top o' the mornin' to ya on this St. Patty's Day, Sir.
This column was originally published in the March 17, 1999 edition of the Northwest Florida Daily News and is used with permission.
About the author:
Del Stone Jr. is a professional fiction writer. He is known primarily for his work in the contemporary dark fiction field, but has also published science fiction and contemporary fantasy. Stone's stories, poetry and scripts have appeared in publications such as Amazing Stories, Eldritch Tales, and Bantam-Spectra's Full Spectrum. His short fiction has been published in The Year's Best Horror Stories XXII; Alfred Hitchcock's Mystery Magazine; the Pocket Books anthology More Phobias; the Barnes & Noble anthologies 100 Wicked Little Witch Stories, Horrors! 365 Scary Stories, and 100 Astounding Little Alien Stories; the HWA anthology Psychos; and other short fiction venues, like Blood Muse, Live Without a Net, Zombiesque and Sex Macabre. Stone's comic book debut was in the Clive Barker series of books, Hellraiser, published by Marvel/Epic and reprinted in The Best of Hellraiser anthology. He has also published stories in Penthouse Comix, and worked with artist Dave Dorman on many projects, including the illustrated novella "Roadkill," a short story for the Andrew Vachss anthology Underground from Dark Horse, an ashcan titled "December" for Hero Illustrated, and several of Dorman's Wasted Lands novellas and comics, such as Rail from Image and "The Uninvited." Stone's novel, Dead Heat, won the 1996 International Horror Guild's award for best first novel and was a runner-up for the Bram Stoker Award. Stone has also been a finalist for the IHG award for short fiction, the British Fantasy Award for best novella, and a semifinalist for the Nebula and Writers of the Future awards. His stories have appeared in anthologies that have won the Bram Stoker Award and the World Fantasy Award. Two of his works were optioned for film, the novella "Black Tide" and short story "Crisis Line."
Stone recently retired after a 41-year career in journalism. He won numerous awards for his work, and in 1986 was named Florida's best columnist in his circulation division by the Florida Society of Newspaper Editors. In 2001 he received an honorable mention from the National Lesbian and Gay Journalists Association for his essay "When Freedom of Speech Ends" and in 2003 he was voted Best of the Best in the category of columnists by Emerald Coast Magazine. He participated in book signings and awareness campaigns, and was a guest on local television and radio programs.
As an addendum, Stone is single, kills tomatoes and morning glories with ruthless efficiency, once tied the stem of a cocktail cherry in a knot with his tongue, and carries a permanent scar on his chest after having been shot with a paintball gun. He's in his 60s as of this writing but doesn't look a day over 94.
Contact Del at [email protected]. He is also on Facebook, twitter, Pinterest, tumblr, TikTok, Ello and Instagram. Visit his website at delstonejr.com .