Next Halloween, remember this story, 'Trick-or-Treat'
This is a short story, and it is short even for that. I say up front because I don't want you to think you've been tricked out of your money (pardon the seasonal pun). At 99 cents, "Trick-or-Treat" is priced the lowest Amazon allows. If you don't think a story of that length is worth a buck, please don't buy this book.
Now, about "Trick-or-Treat": I wrote the story back in the '80s, and you'll notice dated references to corded telephones and so forth. True story: The first cordless phone I ever saw was in the film "Terms of Endearment." I remember thinking it was a trendy piece of technology I would never be able to afford, but a few years later I would own, and cherish, a Sony cordless phone.
I present to you the story as I wrote it, warts and all. I have not rewritten it or revised it in any way except to correct typos and misspellings.
Of the story I remember it was my first Halloween away from my parents. I had bought an old house across town and was a little nervous about being a homeowner. Suddenly I was responsible for a monster debt – $45,000 – and a huge obligation of repairs and maintenance. It meant I could not quit my job, nor could I suddenly up and leave for a job in another state. I was home "bound."
The genesis of the story itself, I'm unsure of. The protagonist, Clifton, bears no resemblance to anyone I know either physically or spiritually. I have never experienced his kind of anger – I wouldn't want to.
The story is set in the living room of that old house, and when I envision the activities taking place, they are framed by that house and neighborhood. I can see the yellowish door with the diamond-shaped window. I can see the tan shag carpeting, the sloped driveway, the buggy carport and the paint peeling from the frame.
I can even see Clifton standing in the living room during the climax that, to this day, shocks me and makes me wonder what the heck is wrong with a person who could think of a resolution so diabolical.
If you gave me your 99 cents (of which I get to keep 35; Amazon collects the rest), then I thank you and hope you enjoy "Trick-or-Treat."
Think of it this coming Halloween.
Order a copy of "Trick-or-Treat" by following this link: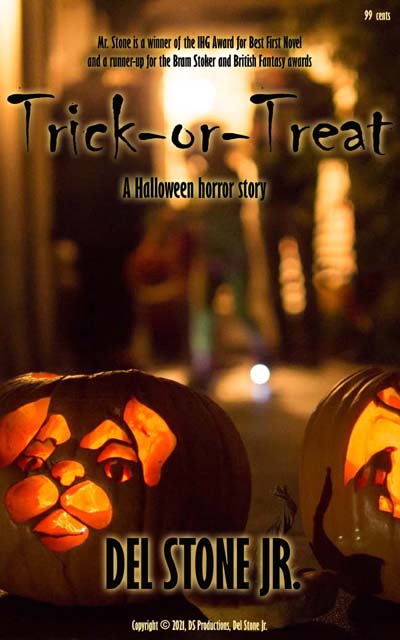 From Amazon
"While short enough to be called flash fiction, this story delivers the impact of a good horror story. Concise with no wasted words. Excellent read for Halloween."
– Richard A. Bamberg, author of "The Hunters: Monster Hunting 101"
Trick-or-Treat: Revised, updated and enhanced with additional content, this micro-story punches far above its weight.
Clifton's girlfriend Lisa has told him goodbye and he is not happy about it.
Not happy at all.
She said she needed space, and time. Clifton has no need of space or time, and now that Halloween is here, with all those happy kids ringing his doorbell and demanding candy, Clifton is ever reminded of his girlfriend, and her class of fourth-graders, and her young daughter, all of them gone now … or maybe not.
Because this Halloween, Clifton has a surprise for Lisa, and all the children in her life.
A nasty surprise.
—
Del Stone Jr. is the winner of the International Horror Guild Award for best first novel. His work has also been a finalist for the IHG, Bram Stoker and British Fantasy awards, and was nominated for a Pushcart Prize. His novella "Black Tide" and short story "Crisis Line" were optioned for film.
About this book: "Trick-or-Treat" is a 756-word short story. It has never been published before.
The book's total length is 3,516 words.