Judi, and now everyone, is gone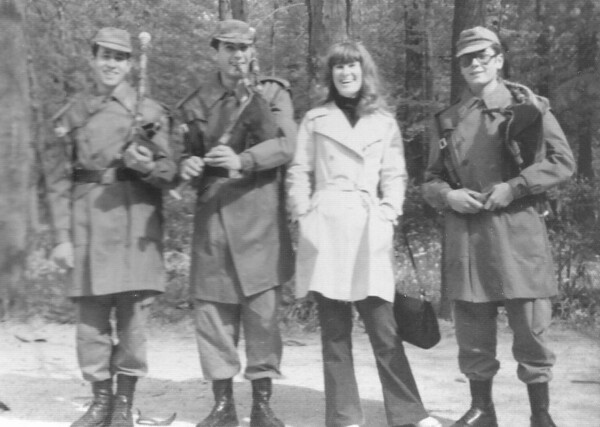 Judi Baller-Fabian poses with members of the Guardia Seville at Retiro Park in Madrid, Spain, in this photo taken during a vacation trip in the late 1970s and retrieved from Judi's Facebook profile.
—
Mom's friend Judi was killed in a hit-and-run the other day, and I didn't know what to say to Mom, or even if I should say anything at all. I guess I was still in shock myself.
She had known Judi since the early 1960s. Dad, who was active duty Air Force, had just been transferred to Torrejon Air Base outside Madrid. We flew to Spain on an ancient C-124 Globemaster, a four-engined, propeller-driven behemoth with a top speed of 350 mph. Needless to say it took us all day and night, with a refueling stop in the Azores, and half the following day to reach Torrejon.
We settled into our quarters at an American enclave called Royal Oaks and began making friends with some of our neighbors including Judi and her husband, Paul, who lived across the ditch that separated our quad from theirs.
What I remember of Judi is that she had a quick wit, was always cracking off-color jokes, and owned a Skye Terrier named Marky. Years later, when we got our own first dog, an English Springer Spaniel, we named her Marky in honor of Judi's pup.
She and Mom became fast friends and spent much time together. They had a similar sense of humor. One of their shared jokes was the "blinking red eye of Royal Oaks," a flashing red light on a nearby radio tower. To their imaginative eyes – perhaps with the help of a few Aguilas, the local beer – that light became the blinking eye of a tall creature that only came out at night.
We left Spain in 1963 and from what Judi told us later, it was a sad day for her. She felt all alone in a foreign country that did not particularly like Americans.
They kept in touch over the years, and even started a new tradition: Every Halloween they would exchange cards and joke about the blinking red eye of Royal Oaks.
Judi later became an author. "The Officer's House" is the story of two women who fall in love with the same man. She paid Mom the ultimate compliment by creating a character based on her for the book. Mom still has her copy and I think that's pretty cool. How many people can say they were the inspiration for a book character?
The news that Judi had been killed arrived via Facebook. She and I had been friends there, and she had befriended one of my Facebook friends. It was she who had tried to contact Judi and had not gotten a response. After a couple of days she began searching and found news articles about Judi's death – apparently she had been trying to cross a busy street and was struck by a car. The driver fled but was later apprehended. He has yet to stand trial, but no punishment will ever make up for the fact that Judi is dead.
I didn't want to tell Mom because the news of Judi's death would bring another blow in a constant stream of blows. Her parents were gone, most of her siblings were gone and many of her nieces and nephews had died. Her friends had dwindled to a cherished few. It seemed the longer she lived, the longer death's shadow reached over her. And now, with Judi's violent end, it had edged a bit closer.
I considered that old aphorism, the one about sleeping dogs and how they should not be disturbed if you don't have to disturb them. Next Halloween I could buy a card, put Judi's name on it and mail it to Mom. With luck she wouldn't notice the Pensacola postmark.
But the more I thought about it, the more I came to believe that despite the pain, Mom would want to know. Old friends are not like old soldiers; they don't just fade away. Eventually Mom would wonder, and find answers to her questions, and somehow know I had kept the news from her. Moms figure out those things.
So on a chilly, rainy morning about three days after Judi's death, I told her.
She seemed to take the news as well as could be expected. She was sad, of course, but when you live to be Mom's age, sadness is part and parcel to the experience. She noted that Judi's death placed her in the company of all of Mom's other friends, who had also passed away.
While we all wish for a long and healthy life, it places us in the unenviable position of seeing the world from a decades-long perspective and noticing that everyone we have known and everything we thought was important has departed from this world, and with each day we become a little more alone. The opportunities to make new friends, find new love and enjoy new experiences become fewer and fewer, until a kind of entropy sets in and we become nothing but nostalgic for the good old days, when we could walk and talk and laugh.
I try to get Mom out of the house every day, and I try to get her to try new things. Sometimes I succeed but the weight of the decades is awfully heavy and most of the time Mom is content to coast along on the inertia life has given her.
She will remember Judi as her crazy Jewish friend from Torrejon who wrote novels and sent her Halloween cards each year. And that little bit of the world will one day pass.
But not unnoticed. Not if you have read this to the end.
—
Author's note: Contact me at delstonejr@yahoo.com. To read more of my opinion and humor pieces, visit delstonejr.com . I also write fiction – horror, science fiction and contemporary fantasy. If you're a fan of such genres please check out my Amazon author's page. Print and e-books are both available, and remember: You don't need a Kindle device to read a Kindle e-book. Simply download the free Kindle app for your smart phone or tablet.